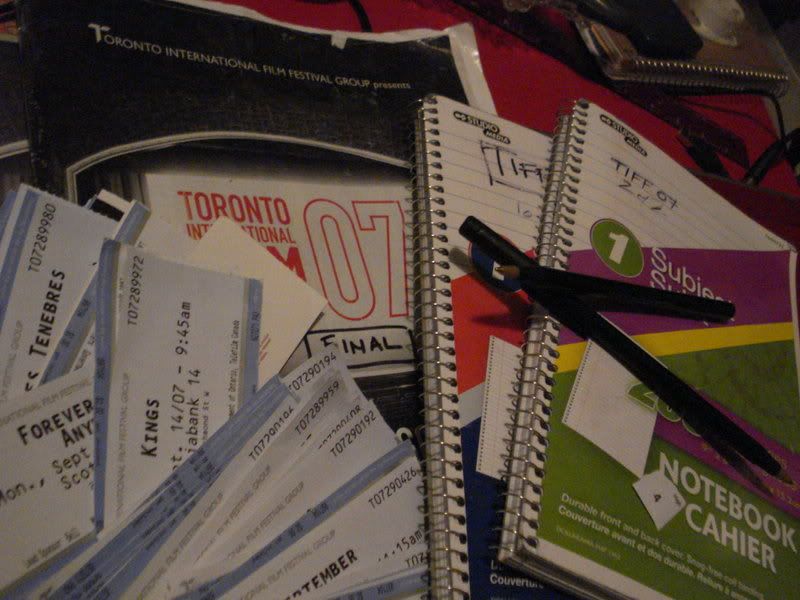 Was it only a week ago today that we all woke up without a schedule of multiple films to see in one day? How quickly the time has passed. Here are some of my favourite moments and films for TIFF 07, after 10 days, 2 pens running out, 2 notebooks filled, multiple cups of tea and 41 films later.
Stand out Films:
Action
:
Chrysalis, SUKIYAKI WESTERN DJANGO, Flash Point
Drama:
Boy A, Wolfsbergen, The Stone Angel, Contre toute espérance, Le Cèdre penché
Documentary:
The Wild Horse Redemption
Unclassifiable artistic works of wonder:
My Winnipeg, M
Favourite Program:
Midnight Madness ties with Contemporary World Cinema in terms of proportionate enjoyment factor of the films I saw in each program overall which historically is consistent for me. The most surprizing to me is that program I tend to avoid, Vanguard, had a huge rate of success in terms of the films I as really impressed with (
Boy A, Chrysalis
), but it also included ones I wasn't as fond of.
Best Experience
:
The Midnight Madness Screening of SUKIYAKI WESTERN DJANGO
, by far. There is really nothing like the crowd at these screenings, it's completely wild and fun (
see footage of the intro here
). I would highly consider reshifting my whole TIFF process to included going to the Midnight Madness films at midnight and then have no morning films. The only thing is - seating at the Ryerson, not my favourite thing especially if anything is subtitled. I guess I'll decide that next year.
Funnest collective experience
: The mighty collective anti-piracy 'Arggggggg!'
Best Q&A's:
Lee Myung-se for M
and
Dario Argento for The Mother of Tears
(
see footage here
).
Weirdest repeated Q&A question:
How much of the film was improv?
Still has me thinking:
Man of Cinema: Pierre Rissient - "
It's not enough to like a film, you have to like it for the right reasons"
Nos vies privé / Our Private Lives -
fascinating look at intimacy
Mongol -
thought provoking issues involving power, responsibility, social dynamics and the right to choose
The weird and bizarre:
Shadows, DAINIPPONJIN, Glory to the Filmmaker!
Most impressive first feature:
Blood Brothers
Weirdest reoccurance:
Canadian documentaries that aren't about Canada or Canadians, but still really great films and compelling issues:
The Wild Horse Redemption
and
A Promise to the Dead: The Exile Journey of Ariel Dorfman
.
Repeating themes
: Social isolation
Fullest Screenings:
SUKIYAKI WESTERN DJANGO, Encounters at the End of the World, Paranoid Park, DAINIPPONJIN
Wish I hadn't missed:
Secret Sunshine
Thanks everyone for visiting over the amazing 10 days of TIFF and beyond! Please feel free to bookmark,
blogline
and return regularly as I will be posting reviews, TIFF Q&A's and more festivals in the future.
To see all of my posts on TIFF 07
click here
.
To see the results of all of the polls posted on Movie Moxie for TIFF 07
click here
.
Here are some great resources and sites to visit for more TIFF 07 info and commentary:
TIFF 07
(official site)
TIFF's Blogs
1st Thursday
TIFF Talk
Midnight Screenings
Movie Martyr at Tiff
TIFF Reviews
TOFilmfest.ca