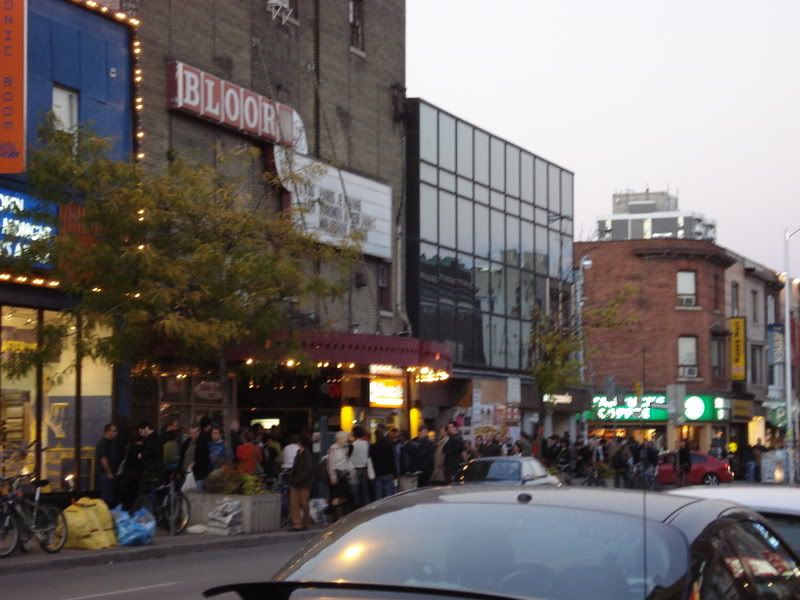 The
Toronto After Dark Film Festival
started out with a bang on with a full and energetic house piled in The Bloor Cinema to see the zombie film
Mulberry Street
. The room was full of energy as festival director Adam Lopez introduced both the short and feature films of the day, as well as the festival itself. It was a treat to have special guests at the event including Jim Mickle (director) and Nick Damici (actor/writer) from
Mulberry Street
.
Latchkey's Lament
Dir: Tory Nixey
Canada
Short film
Impressions:
Interesting concept involving a creature whom abducts keys, this short film is very successful in producing a very creepy setting and premise. The costuming of the creature is wonderfully bizarre along with is paired with an overall rich and creepy setting.
(Adam Lopez along with cast and crew of
Mulberry Street
)
Mulberry Street
Dir: Jim Mickle
Cast: Nick Damici, Antone Pagan, Sarah Dickinson, Kim Blair, Ron Brice, Bo Corre, Larry Fleischman, Javier Picayo, Lou Torres, John Hoyt
USA
Impressions
:
After being introduced as not like a regular zombie movie, but has an emotional kick to it, I wasn't sure what to expect from Mulberry Street. I believe that can be a great way to approach a film and in this case it was. The suspense and the story draw you in over time, and the depiction of the infected rats whom create zombies, was really creepy and accompanied by an excellent use of sound. An unnerving feel is achieved by confining the majority of the film to an apartment building where the main character, Clutch, lives. The neighbours fill in the roles of a large supporting cast and bring a full and realistic feel to this film. You quickly get a sense of who everyone is shortly after their onscreen appearance and grow attached to them, which is a dangerous thing given the nature of zombie films! All in all,
Mulberry Street
was a delightful zombie film full of scares, thrills and not only brains but also heart.
Q&A Highlights:
An audience asked what the logistics of working with the rats were to which director Jim Mickle replied that the star is Nick, and other than that the start is the rats. One of which they caught footage on the street but other than that they made a set and had a rat wrangler and hoped to get the shot. Also, the indoor apartment scenes were shot all in Nick Damici's apartment, painted in different ways.
Highlight of the day:
The crowd! Packed to the gills and cheering along ("Brains!!") this is one of the things that makes festivalling so special. So come on out and be a part of it!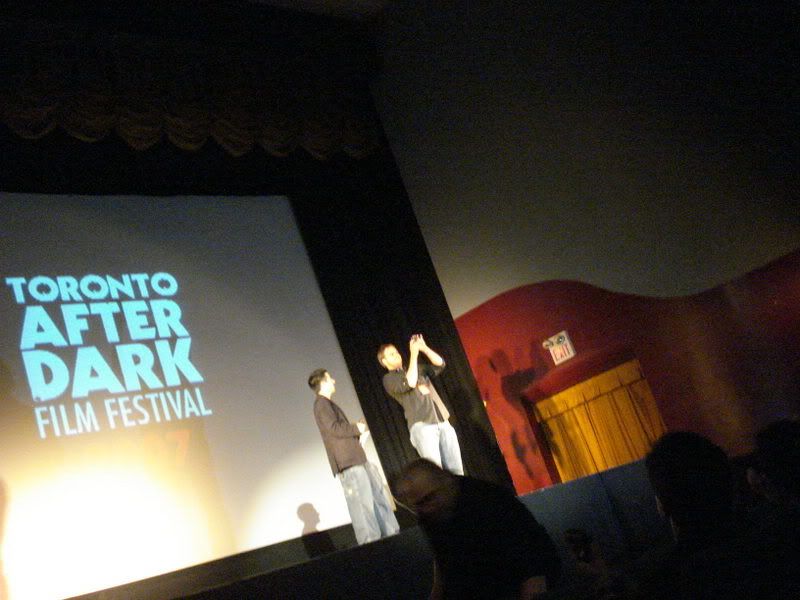 (Jim Mickle, director of
Mulberry Street
capturing the crowd at TADFF 07)
The
Toronto After Dark Film Festival
runs October 19-25/07 at the
Bloor Cinema
, Toronto, Ontario, Canada.