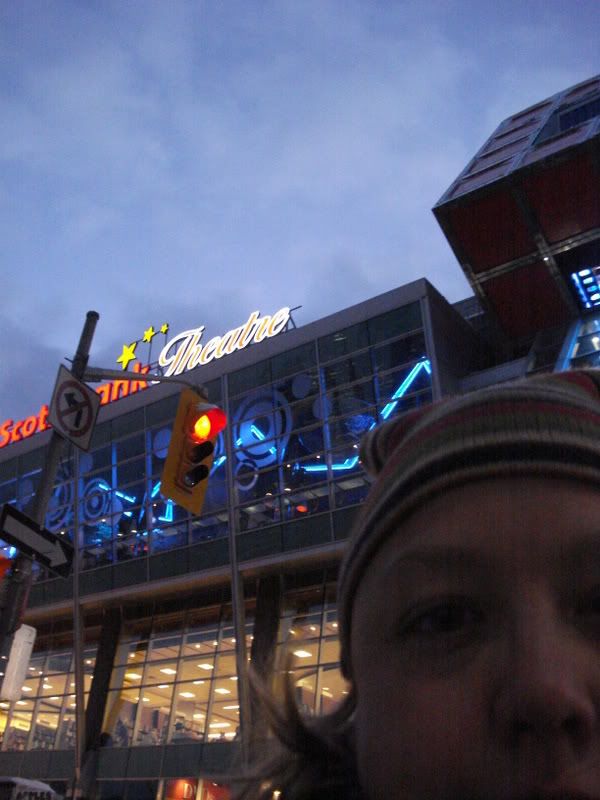 Completed: December 27/06 - December 18/07
I think it is fitting that it started where it all began, although what was the 'Paramount' Theatre is now 'Scotiabank'. I had a few tries before this worked out, third time was definitely the charm and I didn't really get into the groove of it until around summer (amazing how much easier it was to fit in after my gym membership ran out). But, then it just became the norm to do as so many habits are. It was also easier to do when I stuck to the same day of the week, Tuesday was movie day and that was that. Sometimes I saw films strictly due to the convenience of the time they were being shown at but that did not provide me with the best films to see.
Here are the numbers:
52 consecutive weeks of seeing films in the theatre
119 films seen
6 is the most films seen in 1 day
0 walkouts (although I was very close to doing so at Poultrygeist)
Some highlights and lowlights:
Feb 4/07 headed out to see 2 films due to loss of heat in my apartment. 10C isn't fun. Did I mention this was Superbowl Sunday and although it did get resolved that day the heat went off again the next day?
June 5, 2007 seeing Brand Upon the Brain at the Elgin theatre, an amazing silent film by Guy Maddin with live orchestra, narration and foley artists. Truly awesome experience!
One film, which I'll leave unnamed, I was the only person in the audience. Surreal.
Schizophrenic summer. LOVED the films I saw at the beginning of the summer: Harry Potter and the Order of the Phoenix, Sunshine, The Bourne Ultimatum and Hairspray, but was disappointed towards the end with: Transformers, The Last Legion and War. Ok to be fair I wasn't expecting much from The Last Legion.
Where to watch? The majority of films I saw either at Scotiabank (great venue for sound/picture, stadium seating) or
The Bloor
(great selection of old and new-ish, often a festival venue, surprizingly good sightlines and I love that I can get change back from a $5 with a medium popcorn with real butter and a tea). I still love the selection at the Carlton especially for foreign film, but I wasn't over there as much.
Best Experience - TIFF Midnight Madness showing of SUKIYAKI WESTERN DJANGO. Unbelievable energy in the room, 2 members of the cast at the preshow introduction and freaking awesome film to boot. What a ride.
Click here for the full list of films seen in the theatre during the 52 weeks.