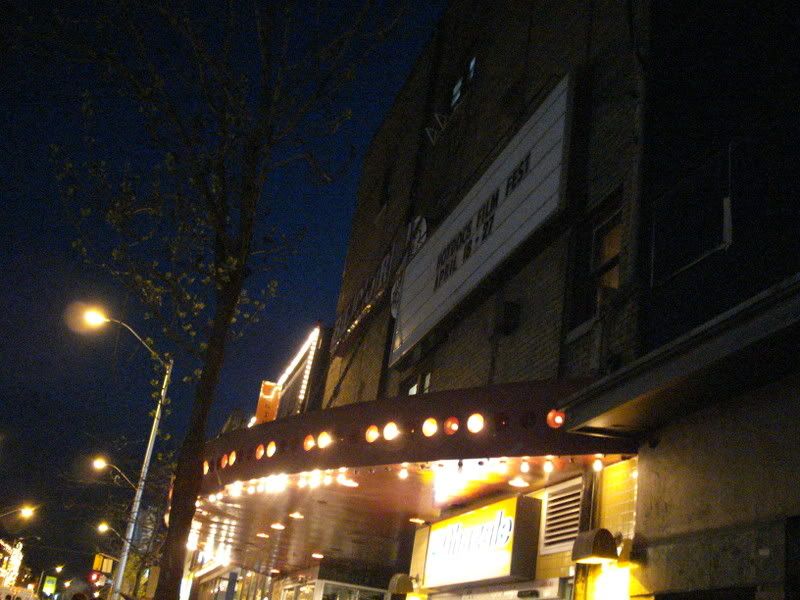 Day 8 was another stellar day at
Hot Docs
looking at a fair number of serious and social issues from skin lightening to the complex nature of relationships with androids. After all the seriousness it ended on a fantastic and fun note with
Eleven Minutes
, about Project Runway winner Jay McCarroll.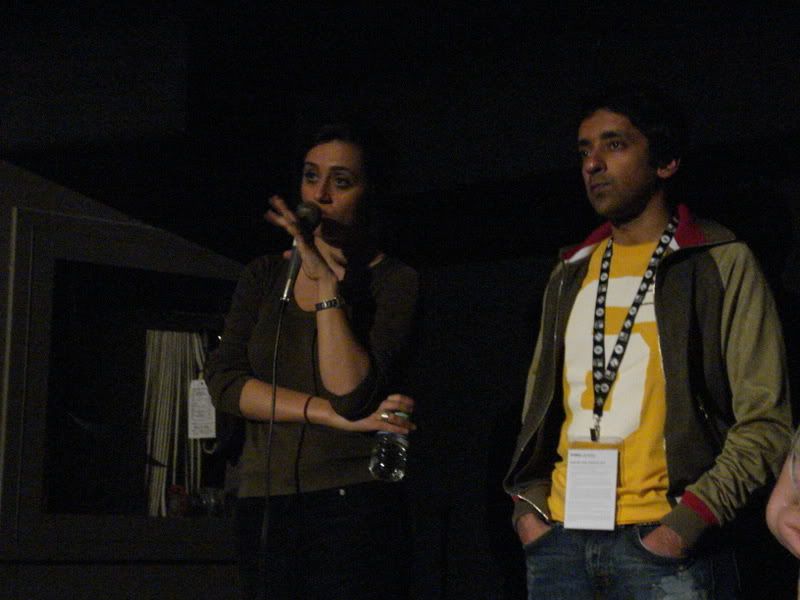 (
Be Like Others
director Tanaz Eshaghian,
The Unbearable Whiteness of Being
director Faisal Aziz)
Unbearable Whiteness of Being, The
Dir: Faisal Aziz
Short, Scotland/UK
A fascinating look at a brother-sister duo that sells a natural skin lightening product in the UK, and the reactions to the product and the stereotypes that go along with being lighter or darker skinned. The Q&A with the director created very interesting discussion on the issue including how it isn't parallel to tanning because in general when people are trying to darken their skin they are not trying to change there ethnicity.
Be Like Others
Dir: Tanaz Eshaghian
Canada/Iran/UK/USA
This film explores people undergoing sex change operations in Iran, where homosexuality is punishable by death but the sex change operations are available when someone is declare by a psychiatrist as transsexual. It was an eye opening experience to see a window into this world, but overall I felt saddened as I wanted the people involved to be able to accepted as themselves without having to go through such drastic measures especially where there was an indication that they didn't really want to do it but felt the need to out of limited choices. I was impressed at the depth of knowledge on the subject the film explored on all levels be they personal, medical or religious and cultural.
(
Peter and Ben
director Pinny Grylls)
Peter and Ben
Dir: Pinny Grylls
Short, UK
This is a heart warming and whimsical film about two souls whom fled their flock, one of humans and one of lambs. An absolutely beautiful short film.
Mechanical Love
Dir: Phie Ambo
Denmark
This film shows a variety of interactions between humans and robots or androids. Will humans accept and relate to electronic facsimiles in their own likeness? Or the likeness of a pet? How will this be received by others in society? It appears that there is no one answer to this question. I enjoyed the wild perspective of the Japanese engineer whom created a gemanoid (android in this own likeness, therefore a 'copy' of him), but was fascinated and also slightly disturbed by some of the experiments. Of course, going into this film I completely forgot that androids scare me, and the gemanoid was so lifelike it felt like being inside a science fiction world. The film gives us a rare opportunity to see research in action, which was very compelling indeed.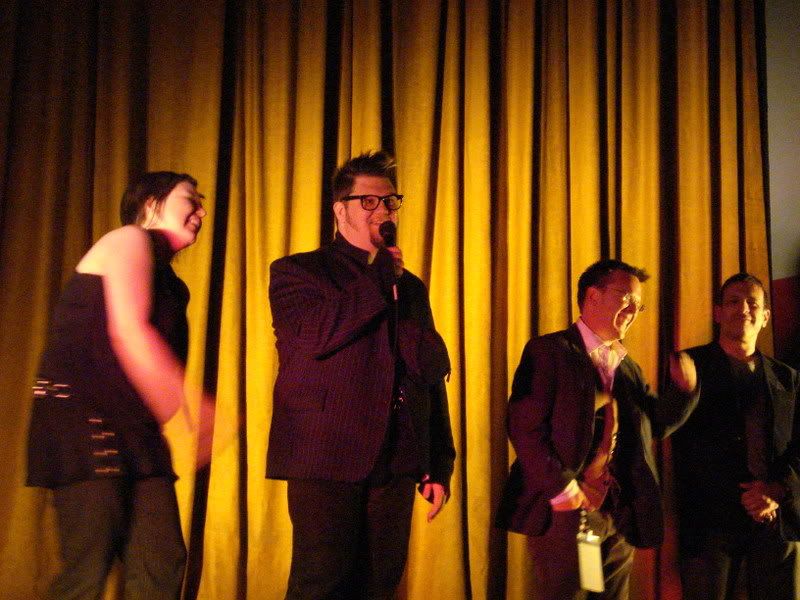 (Hot Docs staff with Jay McCarroll and
Eleven Minutes
directors Rob Tate and Michael Selditch)
Eleven Minutes
Dir: Michael Selditch/Rob Tate
USA
This film definitely had the ladies out in droves to see the story of Jay McCarroll (Project Runway winner, Season 1) compile his first collection for Fashion Week in New York. This film is a must see for fashionistas and fans of the artistic process. I have to admit, it made me miss the creative process of designing, even with all the crazy unsure moments and conflicts. It was amazing to see how much work is put into what eventually is eleven minutes on the runway.
It was a treat that the directors Michael Selditch and Rob Tate were in attendance with the one and only Jay McCarroll, who was very entertaining for the Q&A including making someone whom was asking a question tell everyone her name, where she was from and if she was single or not. It also became very clear that the Jay we see and love on screen is the same person in person. This was one of the huge highlights of the festival. The film is screening again on Friday April 25/08 at 11:45PM at the Bloor.
Hot Docs
runs from April 17-27/08 in Toronto, Ontario, Canada