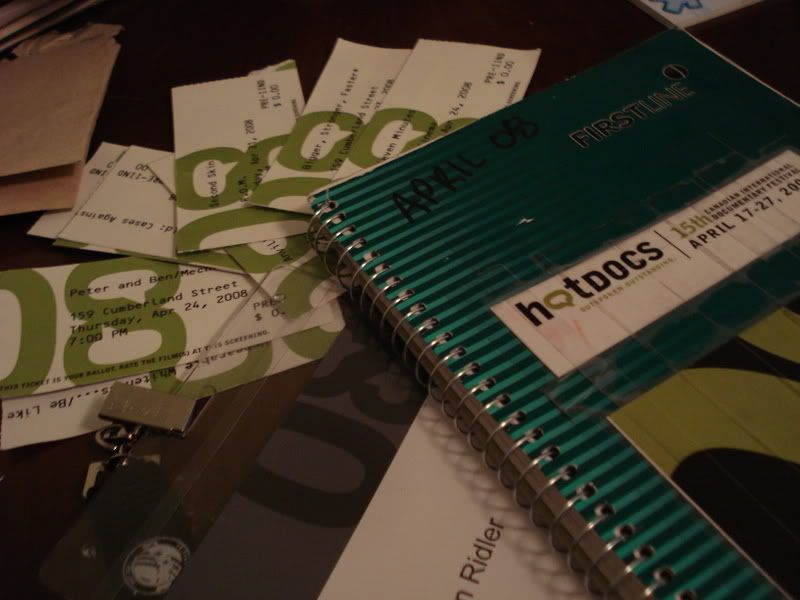 I have to say that Hot Docs was quite the experience! Never have I seen that many documentaries in such a short period of time: 20 films in about a week. It was clear that the fans love their documentaries as there was always energy in the theatre and healthy rush lines. Let's take a look at some of the stand out films:
Artistic work of wonder:
Man on Wire
, it is amazing to see someone with such a strong, singular artistic vision. Absolutely astounding.
Most Haunting:
Men of the Lake
Most Inspiring:
Taking Root: The Vision of Wangari Maathai
, a beautiful film and well deserved of receiving a standing ovation
Quintessentially Canadian:
Passage
, where some moments reminded me of
Canadian Heritage Minutes
.
Best Day:
Day 7
, all the films were fantastic:
Passage
,
Man on Wire
and
Bigger, Stronger, Faster *
Best Line:
"Mindblowing!" -
Shot in Bombay
Best experience & audience:
Anvil! The Story of Anvil
, the audience was so pumped, there were Anvil fans all about and the band & director were present for the Q&A. Tons of fun.
Best Q&A's:
Eleven Minutes
with Jay McCarroll and directors Rob Tate and Michael Selditch. Very entertaining.
Still has me thinking:
Corridor #8
,
Mechanical Love
,
The Unbearable Whiteness of Being
,
Second Skin
and
Bigger, Stronger, Faster *
The weird and bizarre:
Green Porno, Isabella Rossellini as various bugs delightfully bizarre.
Favourite Short:
I'm including two,
Peter and Ben
because it was the cutest film I've seen in ages and
Kids + Money
for it's shocking insight to LA kids and their relationship with money
Almost to hard to watch:
Be Like Others
. I can't imagine what it would be like to be faced with having a sex change operation to hopefully lead to being accepted for who you are.
Wasn't expecting:
TTC Strike! Totally through a wrench in the works for the final weekend, and leads right into .....
Wish I hadn't missed:
Planet B-Boy
,
Dreams with Sharp Teeth
and
Blast!
Unexpectedly loved:
Bigger, Stronger, Faster *
. Although I'm not American and it's been years since I lifted weights I felt very connected to the common experience of growing up watching wrestling and action movies.
Fullest Screenings:
Passage
,
Man on Wire
,
The Unbearable Whiteness of Being
and
Be Like Others
Most Enthusiastic Crowd:
Eleven Minutes
,
Man on Wire
The festival experience was more than the films, but full of film lovers too. I got catch up with Bob from
Eternal Sunshine of the Logical Mind
as well as meet James from
Toronto Screen Shots
and
Milton
.
Hot Docs 2008
ran from April 17-27/08 in Toronto, Ontario, Canada