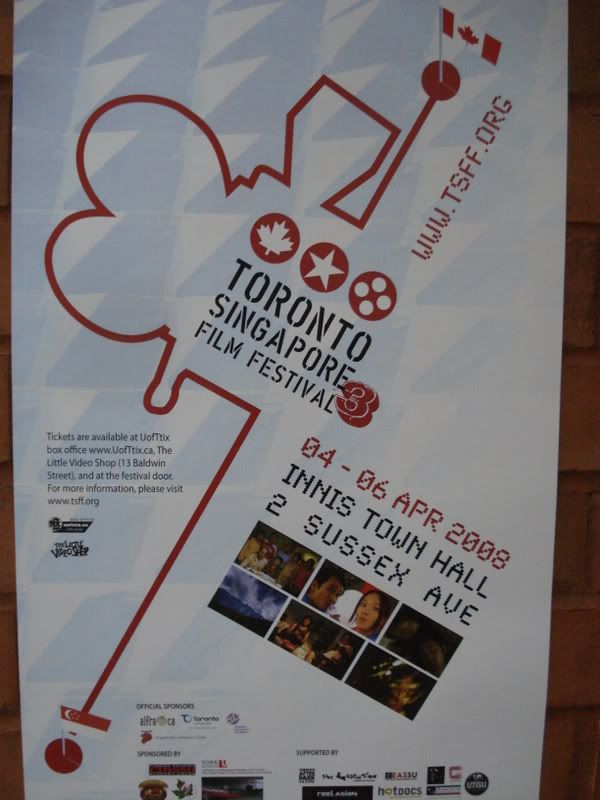 Tonight was the Opening Night of the 3rd
Toronto Singapore Film Festival
, a film festival with the focus on introducing Singapore film to Canadians. Many of the filmmakers were in attendance and had the opportunity to speak during the introduction. Throughout the festival there will be dialogues with a number of the guests including: Jacen Tan (dir: Zogang), Kelvin Sng (dir: Kichiro) Elgin Ho (dir: 19/20s) and Lee Chee Tian.
(Yeow Tong Chia, Festival Founder & Director)
Old Times
Writer/Dir: Chew Tee Pao
14 minutes
Impressions:
A look on a romantic relationship from the current back to the old times. Succinct in message and varying in tone this short film ponders the staying power of true love.
18 Grams of Love
Writer/Dir: Han Yew Kwang
Cast: Adam Chen, Yeo Yann Yann, Alaric Tay, Magdalene
Impressions: What a treat this film was. It starts with a simple premise of two friends (Zihua and Ah Hui) whom are concerned their wives are cheating on them and their idea to find out for sure. Not only is it a fascinating tale, it's a brilliant character study of the four leads and their relationships with each other. The creative narrative style and phenomenal acting play a huge part in the success of this film and its ability to flow seamlessly from comedy to heart wrenching drama. A marvellous film, I highly recommend it and would watch it again in a heartbeat.
The
Toronto Singapore Film Festival
runs from April 4-6/08 at
Innis Town Hall
in Toronto, Ontario, Canada.