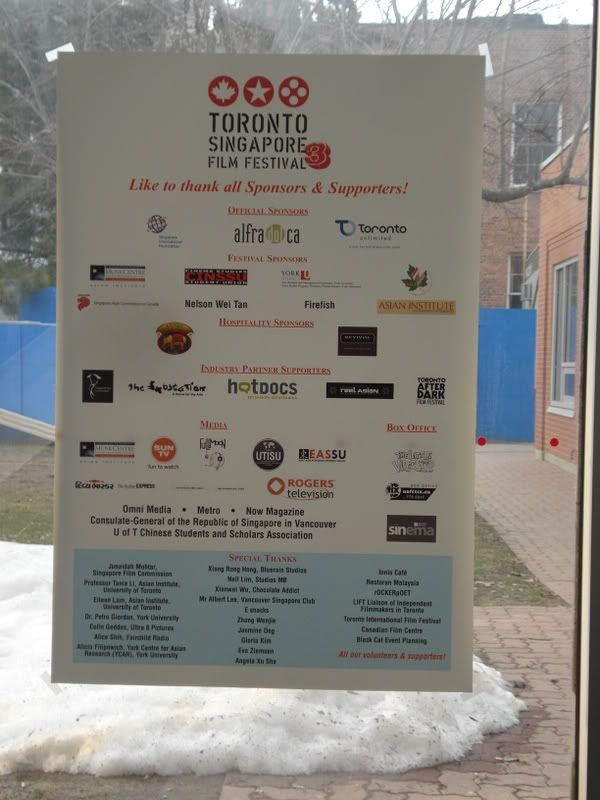 The second day of the
Toronto Singapore Film Festival
brought us a variety of films from comedies, to films surrounded in violence to contemplative dramatic explorations. Each screening included a short and a feature centred on one of these themes.
(Jacen Tan, writer/director/producer of
Zo Gang
)
Zo Gang
Writer/Director/Producer: Jacen Tan
Cast: Wesley Wong
9 minutes
Impressions:
This hilarious short follows a man who has a life ambition to work in film but has to Zo Gang (go work) at a regular job. We follow him on his journey as he comments on the state of his own life as well as film stereotypes and pitfalls. A fantastic and humorous film.
Q&A Highlights:
The script was written in 2-3 hours and reflects what was on Jacen Tan's mind at that time. The main actor is a cameraperson, and the film was made over the period of a month (as they had to zo gang). Jacen Tan said he hopes it reminds Singaporeans of home.
Zo Gang can be
seen here
on the
Hosaywood.com
, also check out
Jacen Tan's filmography
for more information on his work
Just Follow Law
Dir: Jack Neo
Cast: Fann Wong, Gurmit Singh, Brandon Wong, Suhaimi Yusof, Lina Ng, Amy Cheng, Moses Lim, Steven Woon
Impressions:
Just Follow Law
is a fantastic film set in the world of red tape and the lives of two civil servants. Although the film is steeped firmly in the comedic world of their daily work life, it easily presents touching moments and all the while comments on class issues and family dynamics. Overall, it makes you question the value of following the rules, even when they are to your favour.
See the trailer for
Just Follow Law
on YouTube
here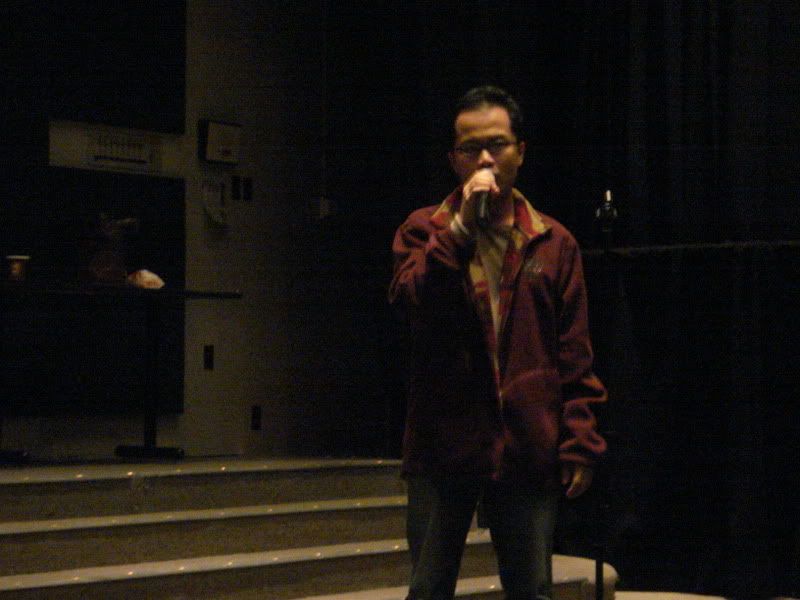 (Kelvin Sng, writer/director of
Kichiro
)
Kichiro
Writer/Director: Kelvin Sng
Cast: Ken Makio, Andie Chen
20 minutes
Impressions:
This violent and expressive short explores the new friendship of two young men who both have a thirst for violent films and superficial families. Although I found it was rather hard to watch at some points, it did strike home a strong message and is an impressive film.
Q&A Highlights:
The film was created as an homage to Japanese ultra-violent films, and was the director Kelvin Sng's thesis. When asked about the level of violence and reason behind making it, he explained that it is a personal choice and that the film was a learning process to see how far he could stretch not only in 35mm format but also in exploitation films. It's a style not usually seen in Singaporean film. Whether the audience likes it or not, that is up to them.
I have to say I was very impressed at Kelvin Sng's honesty and openness to welcoming comments and criticism, it's also wild to see such a violent film from someone who was so nice and discussed the importance of family.
See the
Kichiro

trailer here
(warning: violence)
(left to right: Pamela, Kelvin Sng writer/director of
Kichiro
, Emile Dirks - Festival Coordinator)

Perth
Writer/Director: Djinn Ong
Producers: Juan Foo, Duncan Jepson, Damon Chua
Cast: Lim Kay-tong, Liu Qiulian, Ivy Cheng, Sunny Pang, Victory Selvan, Kevin Murphy
Impressions:
During the Q&A Juan Foo explained that
Perth
is an homage to the films
Falling Down
and
Taxi Driver
. For that, I give it kudos as it hits the mark by depicting a man (Harry played by Lim Kay-tong) whom is out of time in terms of his skills and the current culture and therefore looking the means to get to his goal: to get to Perth. Although I think the film was done quite well, I found it hard to be with these characters for so long. With the exception of Harry's old army buddy Raja, I found the characters devoid of redeeming qualities be that if they were part of the world of crime he falls into or not. That being said I am in no way the target audience. If you are into films that depict harsh measures, crime and revenge in a realistic setting, than
Perth
is for you.
Q&A Highlights:
Explanation of the context of Perth is that it is to Singaporeans is like Florida to North Americans, it's a place to retire and holds a paradise-like status. In terms of violence in film, Juan Foo mentioned that it there is a lot of violence in Hollywood films and that people (in Singapore) have become used to in. In Perth, the the violence was a part of the story and the intent was to portray it realistically in terms of the setting.
See the trailer for
Perth
on YouTube
(warning: violence)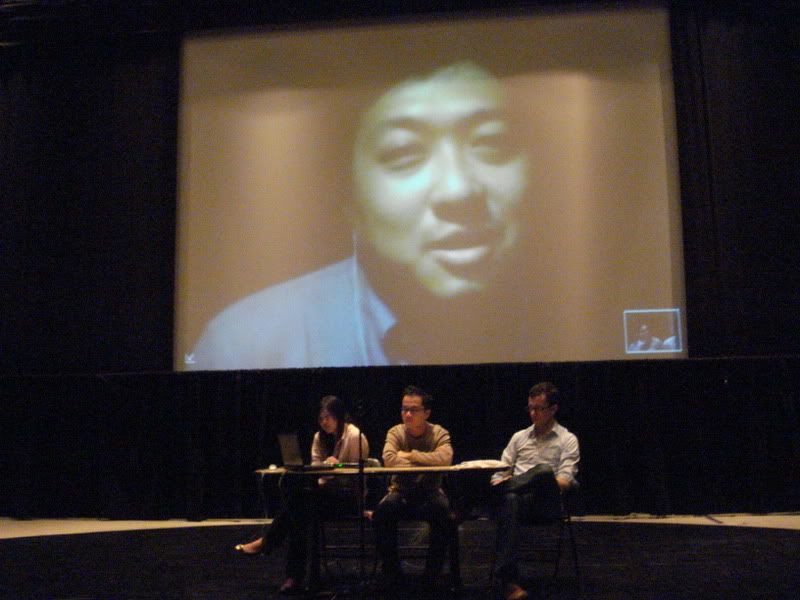 (Juan Foo producer of
Perth
, via webcam during the Q&A)
Yesterday's Play
Dir: Ryan David Tan Weiliang
Cast: Glenn Koh, Angeline Chang, Zechariah Koh
Impressions:
An engrossing short depicting the interplay, be it active or passive, of a mother/son relationship. I was sceptical at first with the description indicating a berating mother, but this short completely won me over.
4:30
Dir: Royston Tan
Cast: Zhang Xiao Wu, Xia Li Yuan
Impressions:
This touching and absorbing film follows a boy through his lonely life, and his subtle but sometimes awkward attempts to connect with a Korean tenant. This film is a journey through two lives, with such realism that you feel quite connected to the characters. It's a beautiful film with a gentle pace and unexpected humour throughout. My favourite of the day.
Day 2 of the festival had more than film, but food as well. There were Singaporean culinary delights as well as bubble tea.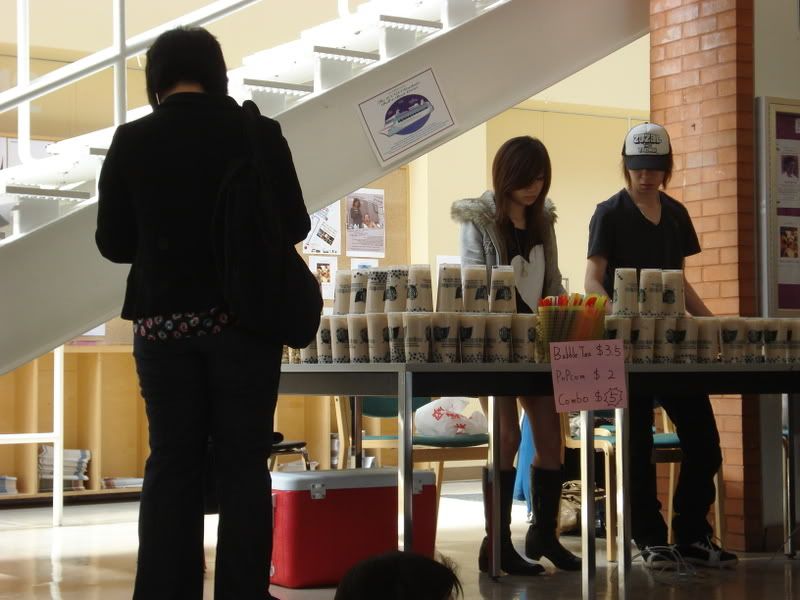 The
Toronto Singapore Film Festival
runs from April 4-6/08 at
Innis Town Hall
in Toronto, Ontario, Canada.