Day 3 brings the
Toronto Singapore Film Festival
to a close, and it feels like it was over so quickly! Short and sweet it leaves us with memories that will last and last. The good news it next year will bring us a new festival. I'm sure it will continue to bring excellent films to choose from and enjoy. But before I get too ahead of myself, let's look at the adventures of the day
Ashwatthama Unbound
Dir: Maneka Karthigasu
6 minutes
Impressions:
This compelling film tells an interesting story by a concurrent tale of the before/during/aftermath of a son's deadly encounter and a father seeking peace.
Feet Unbound
Writer/Director/Producer: Ng Khee Jin
Narrator/Cast: : Elly Zhen Ying
Impressions:
This documentary follows the untold story of the female soldiers in through The Long March from 1934 to 1937, a massive military retreat that lasted 12,500 km. This is a powerful story of the women who survived and many who did not.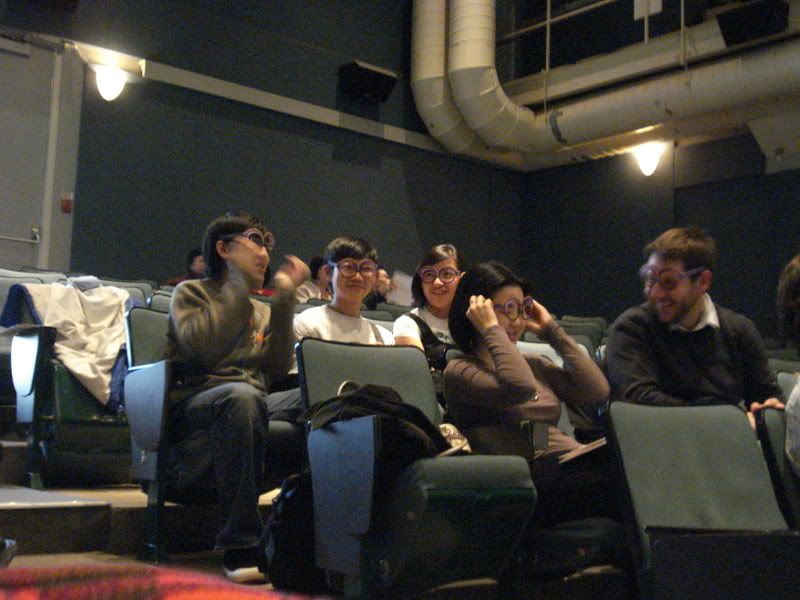 (the crowd cheerfully puts on themed glasses for
Colours
, part of the shorts presentation)
Here are some highlights from the afternoon
short film presentation
:
Fonzi
Writer/Dir:Kirsten Tan
Cast: Teo Min Bi
22 minutes
Impressions:
This wild and surreal short presents us with and engaging cinematic experience that challenges our perceptions of who are the people we watch. Brilliant and completely creepy!
When We Were Bengs
Writer/Director/Producer:Alaric Tay
Cast: Alaric Tay, Terence Tay, Ben Yeung and Caroline Cheong
12 minutes
Impressions:
Watching this short was a fun ride with its comic book styling and action. It holds a real sweetness, but also has heavy punk tendencies. Wild.
See more at the When We Were Bengs
website
The Alien Invasion
Writer/Director/Producer: Rich Ho Kok Tai
Cast: 80+ staff, faculty members & students from the Singapore Management University18 minutes
Impressions:
I really enjoyed this short film which has a great textural DIY feel to and creative interpretation of contemporary culture in an alien invasion setting. As the credits played along outtakes of the film were shown, and it looked like it was a really fun experience. A total blast.
Watch The Alien Invasion online
here
at the
Richmanclub Studio's website
, founded by writer/director/producer Rich Ho.
Singapore Standard Time
Dir: Joycelyn Khoo & Serene Ng
Documentary
26 minutes
Impressions:
A fascinating look at the overwhelming yet subtle obsession with time. How can things be done quickly, but also achieve maximum effect? Is this the ideal? What is the value of a quick fix or a quick win versus growth through a longer development period. The film poses many great questions and shows us some wild examples of speed from a contest for the quickest SMS messaging to a 20 minute alternative to facelifts.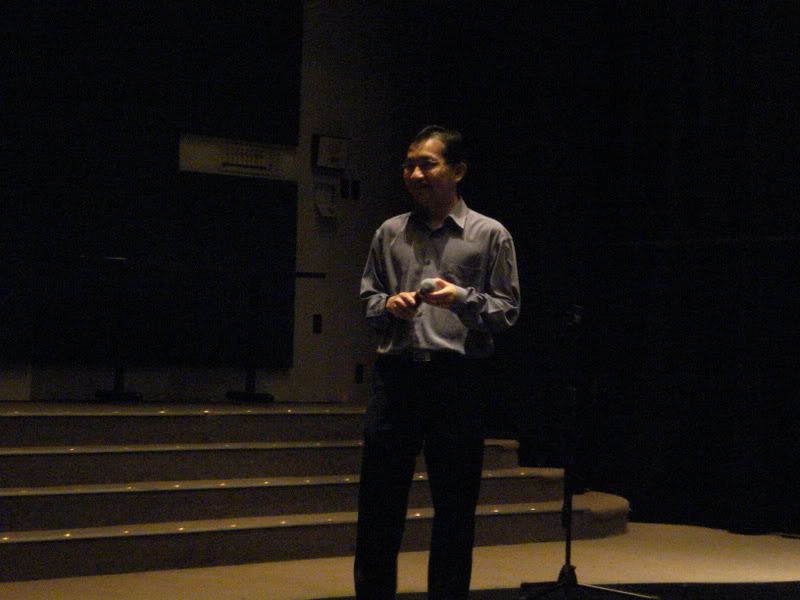 (Lee Chee Tien - writer & producer of
Colours)
Colours
Dir: Derrick Lui
Writer/Producer: Lee Chee Tien
Cast: Elise Delos Santos, Eunice Chew
9 minutes
Impressions:
This brilliant short film displays a tender touch to the isolating world of one colour blind young girl. Through creativity and optimism it shows us with great care how seeing is believing.
Highlights from the Colours Q&A
with writer/producer Lee Chee Tien in attendance
Any screening that comes with props is cool to me. Before heading into the shorts screening, all festival attendee's were handed colourful cut out glasses frames and all were willing to sport them on for the screening. Writer/producer Lee Chee Tien shares with us that this film is a metaphor for the things we are born without, and how in going through the process of finding what we want we can sometimes go overboard and lose focus. In response to an audience question about the casting, the young girl who plays the lead is not Singaporean but Filipino and was found while studying at a ballet school in Singapore. She was 11 years old during the filming process. Lee Chee Tien shared that he came to Toronto through the overseas grand via the
Singapore Film Commission
(through which the majority of the short films received funding from) and is very thankful to have the opportunity to share the film as well as having a cultural exchange.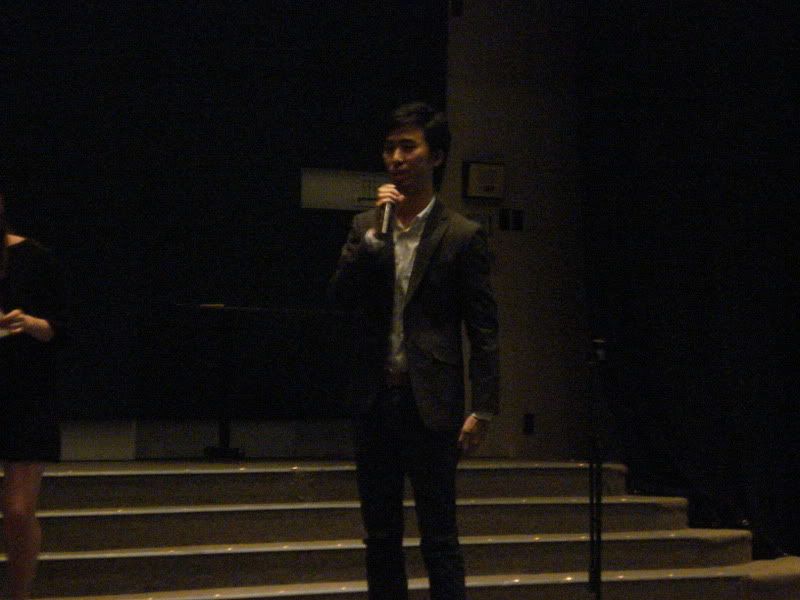 (Elgin Ho introduces his short film
19/20s
)
19/20s
/
Nineteen Twenties
Writer/Director/Producer: Elgin Ho
7 minutes
Impressions:
A touching tribute and exploration film expressing the tale of the filmmakers relationship with his blind sister. This film is notated as dedicated to all of those whom are nineteen.
Elgin Ho introduced the film for use as a video essay to his sister. He said that the sharpest criticism of it can be made from those who love Singapore. This film is a part of his 1st year work. He is currently studying Digital film at the Nanyang Technological University School of Art, Design and Media.
Singapore Dreaming
Writers/Directors/Producers: Yen Yen Woo & Colin Goh
Cast: Richard Low, Alice Lim Cheng Peng, Serene Cheng, Yeo Yann Yann, Lim Yu-Beng, Dick Su
Impressions: This complicated family drama portrays many inter-dependant relationships. What stuck me on this film was throughout no one seemed happy. There was always the (possibly insurmountable) goal or the wish to strike gold and have all their financial worries be pushed to the side. And in that, how settling financial situations often creates new issues and that plays a prominent here. The film has a brilliant plot supported by superb acting leads us though many journeys all in one. When it all boils down, is it really about money? Recognition? Value? Or something else interely.
Singapore Dreaming
explores it all.
Official Singapore Dreaming website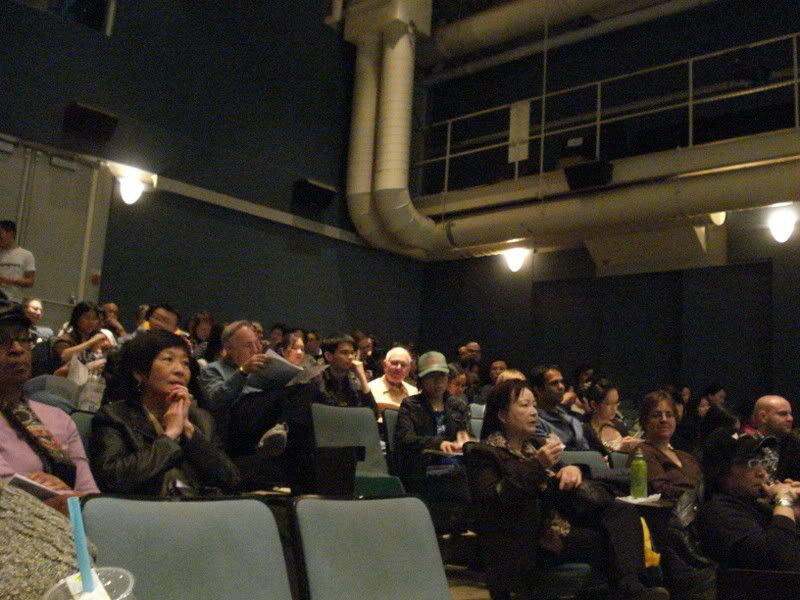 (the lively crowd for the closing night screening of
Singapore Dreaming
)
The
Toronto Singapore Film Festival
runs from April 4-6/08 at
Innis Town Hall
in Toronto, Ontario, Canada.