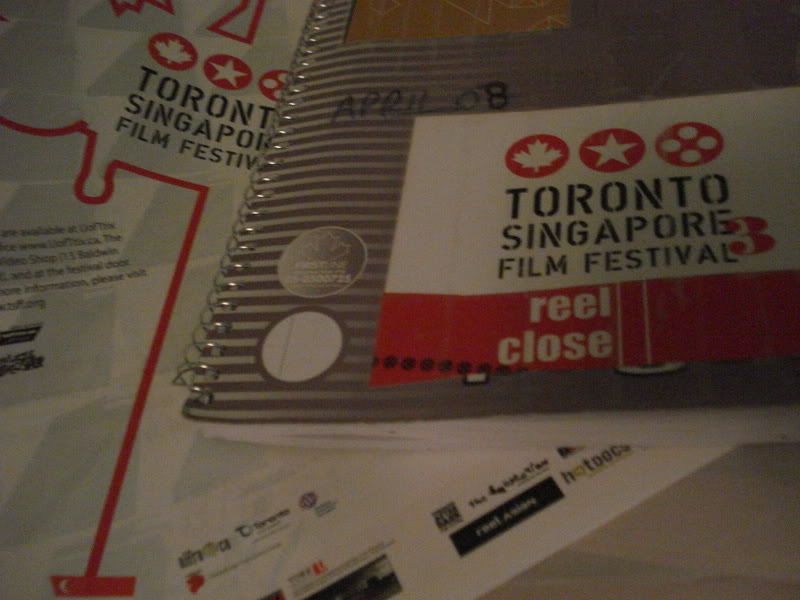 Favourite Feature:

Tie -

18 Grams of Love

on Day 1 and

4:30

on Day 2.



Favourite Short:

Zo Gang

from Day 2. I have watched this short at least 3 times since the festival, it's hilarious and cracks me up every time.

Zo Gang

can be seen here on the Hosaywood.com site.



Themes:

Pressure of work & social status, loneliness/isolation amongst others, money, gambling/lottery and quirky humour



Best Attended & Most Enthusiastic Crowd:

Singapore Dreaming

on Day 3



Scariest:

Fonzi

, a short from
Day 3. It's not a scary film per se, but it creeped me out,
as it had a dreamlike/alternate reality feel to it.



Still thinking about:

Kichiro

from
Day 2. It's definitely ultra violent
which isn't my thing, but it sure keeps coming to mind.



Best Day:
Day 1 not only because I enjoyed both the films that day but also got to share the events with my sister Jamie.




Wasn't expecting:

So many filmmakers in attendance: Jacen Tan, Kelvin Sng, Elgin Ho and Lee Chee Tian. What a treat it was to have so many introductions and Q&A's over the three days.



Best Q&A:

On
Day 2 there was a great Q&A with Kelvin Sng (

Kichiro

) as well as Juan Foo (producer:

Perth

) via webcam.




Festival First:

I actually made it to each and every screening! That is one of the joys of a 3 day festival that starts Friday night and goes through to Sunday night. It was a real treat to have the full festival experience.




The Toronto Singapore Film Festival ran from April 4-6/08 at Innis Town Hall in Toronto, Ontario, Canada.