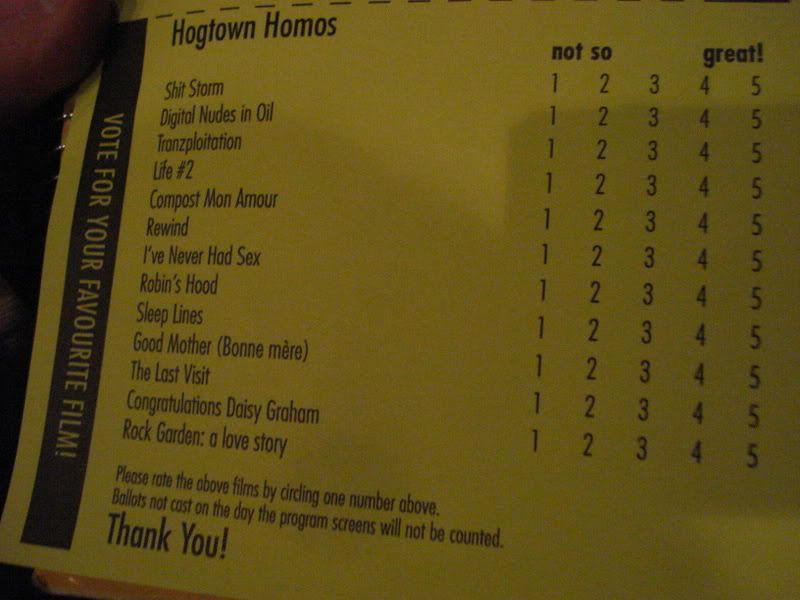 Day 7 started off to a bit of a rocky start for me, I was paranoid about being late for what was sure to be a packed house for the Hogtown Homos shorts program. Then, I ended up misjudging time and being early. Then for some reason I thought it was at the ROM but it was actually at the Bader, which meant I was even earlier as it was closer and they tend to open the house later than the ROM. On top of all that it was a little chilly and gently raining and of course I didn't bring an umbrella. What a way to start the night! It's a good think the films kicked butt, and made it all worthwhile. Let's get to the are the highlights.
Hogtown Homos - shorts program of films by local Toronto filmmakers
Tranzploitation
Dir: Rachel Matlow
Canada, 8 minutes
Brilliant tongue in cheek film commenting not only on Kalib's journey but also the many Trans references in everyday life. Delightful.
Life #2
Dir: Dennis Day
Canada, 5 minutes
Blending dimensions in this exploration of common activities through a filter of meditative notions.
Compost Mon Amour
Dir: Lesley Loksi Chan
Canada, 12 minutes
Beautiful story of Louanne Chan mixes nostalgia with a timeless tale of repeating patterns and inevitable effects. A wondrous sense of openness paired with luck and chance leave every turn a combination of the familiar and unexpected. A joy to watch.
Rewind
Dir: Andrew Hull
Canada, 5 minutes
A wild experience of watching a visuals running backwards as the story is told from the linear start to finish perspective.
I've Never Had Sex
Dir: Robert Kennedy
Canada, 2 minutes
Beautiful with it's simplicity and honest responses, this film contains cell phone captures of the back and forth conversations of party game "I've never has sex..... ". One of the best short films I've seen.
Sleep Lines
Dir: Kathleen Mullen
Canada, 7 minutes
Absolutely gorgeous film that bridges dream and waking life through a gentle sentiment with beautiful washed out high contrast black and white aesthetic. Delicious, I could watch this film again and again.
Rock Garden: a love story
Dir: Gloria Kim
Canada, 10 minutes
It was lovely to have the opportunity to see this fantastic short film again. I am astounded by the high production value. See more at
Reel Asian 07 Day 2
.
It was such a treat to see this program, and the audience appeared to agree as the majority of the films were met with thunderous applause. Many of the filmmakers were in attendance and kudos to Inside Out for having each and every filmmaker be given the opportunity to speak before the film.
Left to Right: Kathleen Mullen (Sleep Lines), bee sack (The Last Visit), Kent Monkman and Gisèle Gordon (Robin's Hood), Maxime Desmons (Good Mother / Bonne mere), Cassandra Nicolaou (Congratulations Daisy Graham), Lesley Loksi Chan (Compost Mon Amour), Andrew Hull (Rewind), Dennis Day (Life #2), Leif Harmsen (Digital Nudes in Oil) Gloria Kim (Rock Garden: a love story), Robert Kennedy (I've Never Had Sex), Kaleb & Rachel Matlow (Tranzploitation).
The
Inside Out Toronto Lesbian and Gay Film and Video Festival
2008 runs from May 15-25, 2008 in Toronto, Ontario, Canada.