Going Down, Under - Shorts Program
A series of campy and tongue-in-cheek Australian shorts.
The Omphalites
Dir: Bartholomew Sammut
Australia/Germany, 11 minutes
This cute short involving three presumably belly-button festishing "omphalites" dream, share and dance their way through revealing their true self to those around them.
Undressing Vanessa
Dir: Matthew Pond
Australia, 21 minutes
A stellar short looking at the history and behind the scenes life of Australian Drag Queen and activist Vanessa. Funny as well as touching, this short explores not only the physical but also the personal transformations in a beautiful dignified way.
The Vicious and the Delicious
Dir: Tonnette Stanford
Australia, 11 minutes
Hilarious soap opera style short that could rival the plot lines of any daytime fodder with its cocktail dresses, crazy interwoven plot lines and cat fights galore. 100% over the top!
Prada Handbag
Dir: Stuart Vauvert
Australia, 22 minutes
A touching short with a hint of harshness, we follow Prada with her unique sense of style as she looks for an environment that accepts her for her beautiful and eccentric self.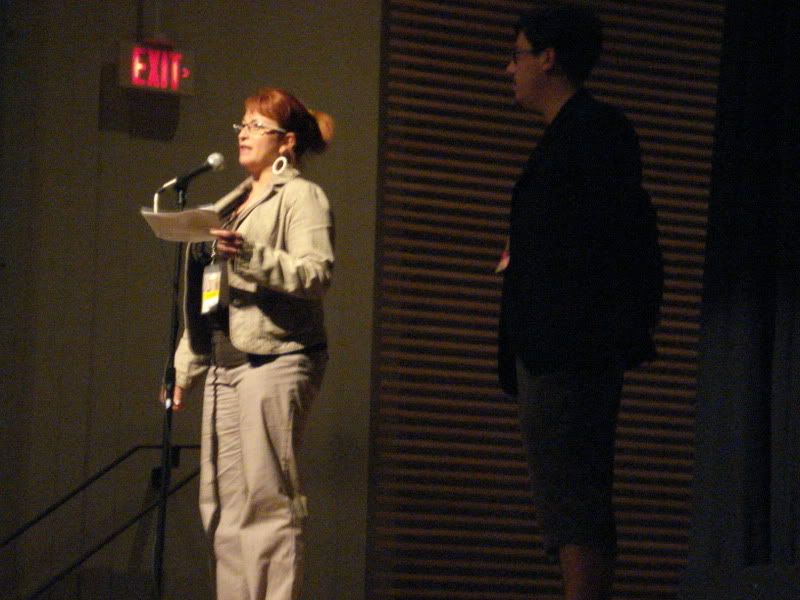 Sinara Rosa Executive Director of
aluCine
(co-presenter of
La León
), Inside Out Director of Programming Jason St-Laurent
Milonga Gay
Dir: Paul Chernosky
Argentina, 5 minutes
A visit to a gay tango hall in Buenos Aires we see some fantastic dancing and chemistry.
La León
Dir: Santiago Otheguy
Argentina/France, 85 minutes
Beautiful visuals were the joy of this black and white film for me, set in river islands of Paraná Delta in Argentina. We see many stunning shots of travelling along the river, and the river itself which is quite captivating and hypnotic. The main tension of the film is the harsh yet often subtle conflict between gay Alvaro and the captain of the boat La León, Turu.
The
Inside Out Toronto Lesbian and Gay Film and Video Festival
2008 runs from May 15-25, 2008 in Toronto, Ontario, Canada.