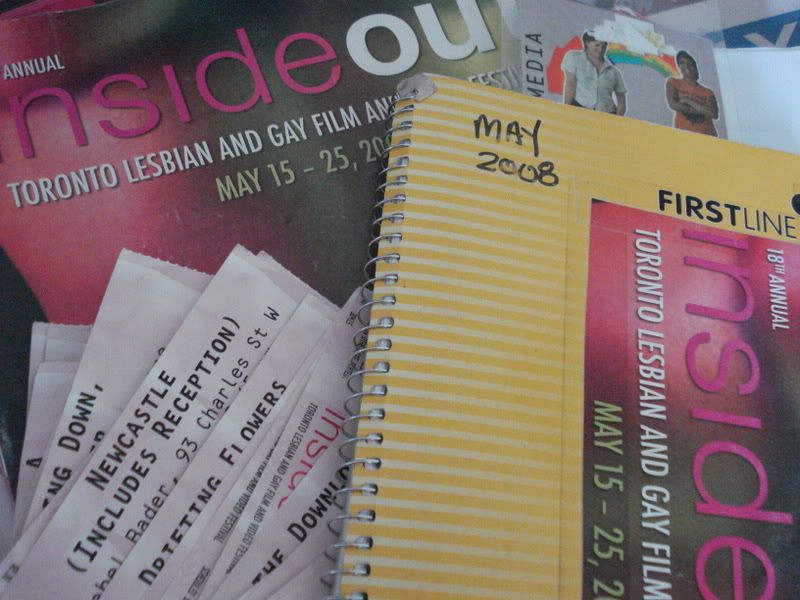 Inside Out 08 was quite the adventure. Films ranged from touching to enlightening to beautiful and beyond. It was great to see films from all corners of the world, a solid number of Q&As and a fantastic selection of shorts. Truly a festival not to miss!
Favourite Feature:
Drifting Flowers / Piao Lang Qing Chung
Favourite Documentary:
Impossible to single one out, all the docs I saw were fantastic:
On the Downlow, Patti Smith: Gift of Life, Derek
and
She's a Boy I Knew
.
Favourite Program:
Hogtown Homos from
Day 7
Favourite Short:
I've Never Had Sex
Artistic works of wonder:
Sleep Lines
and
Compost Mon Amour
Best Day:
Day 9
-
Derek
and
Razzle Dazzle: A Journey into Dance
Most Inspiring:
She Was a Boy I Knew
Most Haunting:
Gone
Wish I hadn't missed:
The Q&A for the Queer Youth Digital Video Project on
Day 10
. I didn't anticipate the preshow to go on for over an hour and I had to run after the last short was shown.
Fullest Screenings:
Boystown/Chuecatown
,
Were the World Mine
and
Newcastle
.
Most Enthusiastic Crowd:
Boystown/Chuecatown
and
Were the World Mine
Festival First:
Being the only woman in the audience!
Best Line:
"Why did you break up with her?"
"Because I realized, she didn't have a dick"
-Ciao
Refreshing:
I actually really enjoyed all three of the previews/trailers for and about the festival shown before the films.
Wasn't expecting:
Tiered line-ups. As they said in the previews,
membership
has its benefits. Depending on your level of membership you can get to be in one of the first two sets of line ups, or or bypass the line altogether. Some membership levels also have reserved seating.
Also wasn't expecting the
live performance by Laura Landauer
before the Gala presentation of Newcastle. That was awesome!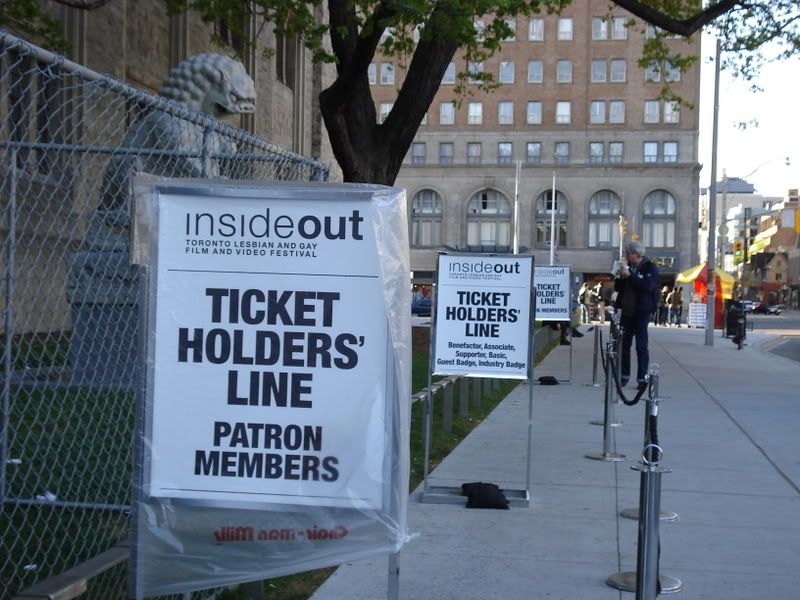 The
Inside Out Toronto Lesbian and Gay Film and Video Festival
2008 runs from May 15-25, 2008 in Toronto, Ontario, Canada.