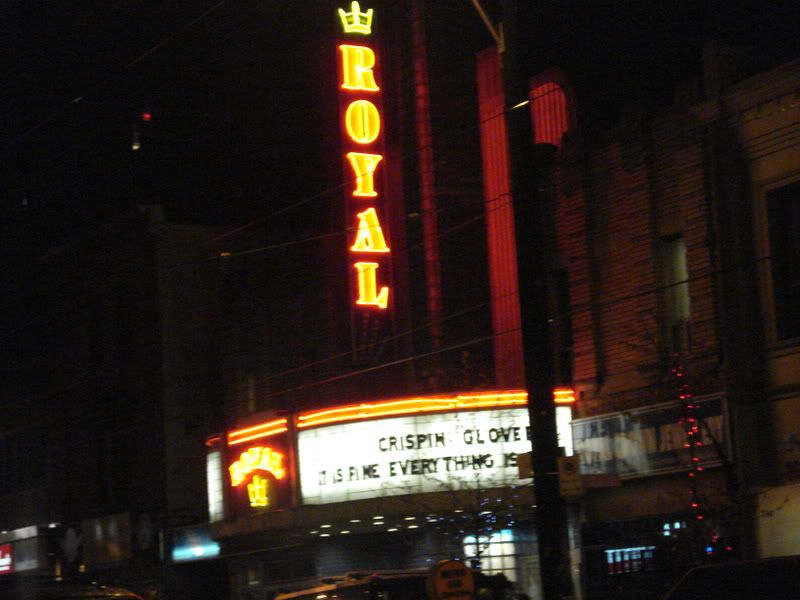 I'm happy to say I've been spending some more time at the theatre seeing some special presentations along with some regular release. Oh course I've caught up with a few regular films from the comfort of home, but first up are the new and experiential!
First we have
The Machine Girl
, which was on for one night only as a part of the
Over the Top Fest
and over the top it was, it is one of the most extreme films I've ever seen - I'm not sure if 5 minutes went by without blood spurting on screen or some highly ingenious violent scenario. I can't really say that I enjoyed the film as I spent most of the time either with jaw dropped or eyes averted, but that is the kind of film it was. I would have been in higher spirits if the film had started somewhere near being on time. It was a midnight screening, but the film didn't start to fly until 45 minutes after that and then had some tech issues. They were resolved quickly and swiftly but it was still a really a late start to an already late screening. It was a one of a kind type of event though, I will give it that. If you are interested in the film, check out the
trailer
(shows extreme violence and most of the 'money' shots) on
Twitch
.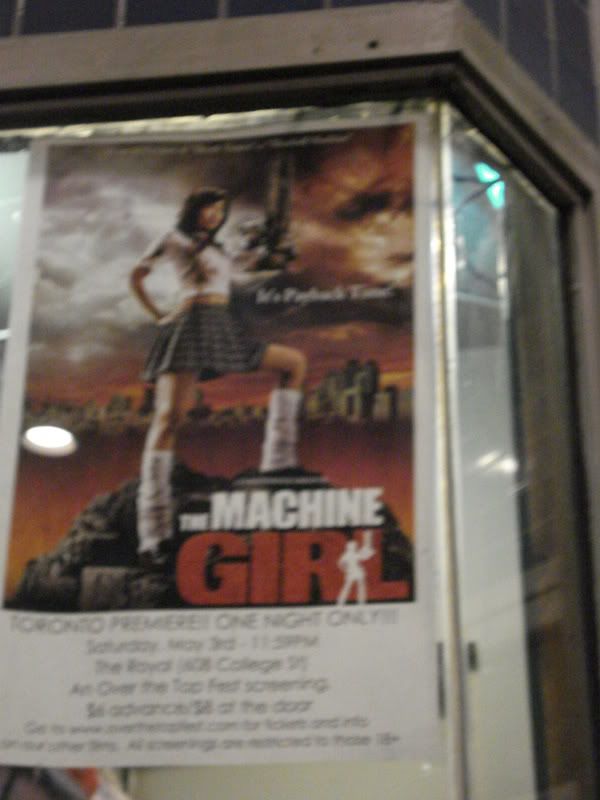 One of the other regular theatre releases I caught up was
The Visitor
, which I saw with the lovely
Danette
whom always makes the movie going experience more fun. Lucky for us
The Visitor
was a wonderful and tender film, and one that out of the the
2008 releases
so far I would have to say I have enjoyed the most. There has been some flack surrounding this film and the possible emotional factor but I would say that there is nothing wrong with that. It was an emotional and believable journey, and one I was happy I take. I also got to catch the Canadian
Fugitive Pieces
, which is part of the
2007 Canada's Top Ten
and just recently hit the theatre. It was nice to see that it did attract a pretty solid crowd and the film itself was strong overall overlapping themes from history perspective and how they affect present day in reference to a personal journey. Last up for theatrical releases was getting out to the first of the highly anticipated summer blockbuster release:
Iron Man
. It did amazing at the box office for it's first weekend and received strong reviews, but I must admit I was underwhelmed at best.
On to visiting older films I trekked through the land of
Fitzcarraldo,
a film I was drawn to watch as it is directed by Werner Herzog. Up until now I've only seen documentaries by him so this was a chance of see a fiction/narrative film. Although it took me a few sittings to get through the film, it is a force to be reckoned with. The title role is played by Klaus Kinski, whom seems to carefully walk the line between primal drive and madness. I don't think it's a film for everyone but overall I was happy I saw it through to the end.
There were also a few days where I was under the weather, and what better at that time than to pull some heart-string with romances? I've noted before that I'm not the most romantic person but I'm always willing to give these films a chance and as
The Notebook
has been sitting on my 'borrowed' shelf for quite a bit I thought the timing was perfect. I would have to say that I do consider it a good film but I didn't 'feel' it as I thought I thought I might. I felt like I knew what was coming for the majority of the film, and I add that to the fact that I didn't feel that they styled Ryan Gosling well to fit the historical times. I know many people really enjoyed this film and I wish I had as well, I suppose I had my intellectual cap on at the time and stunted me. In a surprizing turn I caught up with
The King & I
, a film from my
101 Films I Can't Believe I Haven't Seen
and I loved it! It was a deferred romance as well but I felt connection throughout. But, I was conflicted knowing that some (or all) of the cultural references may be out of date, beyond that I did enjoy the strength of Deborah Kerr's character as well as the overwhelming presence of Yul Brynner, etcetera, etcetera, etcetera! Honestly, does cinema today have someone that compares to Yul? I'd love to know your thoughts.
Up next week is:
Redbelt, Then She Found Me, Hard Core Logo, Indiana Jones
I-III (revisited)