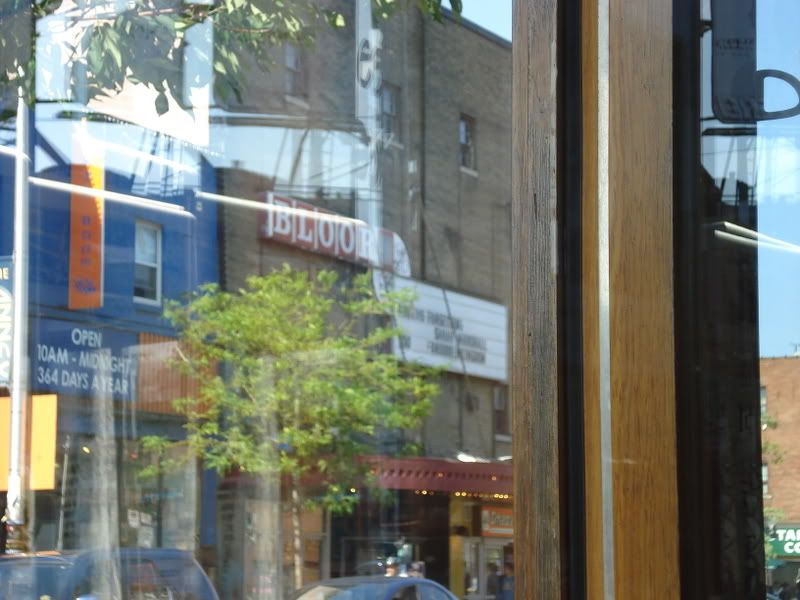 Last week I was covering the
Worldwide Short Film Festival
which filled up most of my movie watching time. I did sneak in a few in and around (read: before and after) the festival. So this is a bit of a creative interpretation of My Week In Film.
My one trip out to the regular theatre was to catch M. Night Shyamalan's
The Happening
. I am a Shyamalan fan, enjoying all of his films in the past including
Signs
,
The Village
and even the much contested
Lady in the Water
. My initial reaction was "Wow, people aren't going to buy this" and unfortunately that thought filled my mind so much I have a hard time coming up with my own opinion on it, which is ludicrous. I have an opinion on everything! I will say that it is my least favourite of his films, primarily due to the acting which I found very odd. I also found the choice to make it a more violent film (14A in Canada/R in USA) was unnecessary. The violence didn't add and I think it could have achieved more tension in other ways. I would like to see it again, to hone my opinion on it.
I also saw
The Forbidden Kingdom
at
the Bloor
with
my sister Jamie
, and it was a lot of fun. It has a good story, fun action and accessible characters. Even if it isn't perfect, it has a lot of heart and for that I give it credit. It was really cool to see Jackie Chan and Jet Li together on the screen and if that isn't enough Collin Chou (
Flashpoint, The Matrix Reloaded
) was also it in, so there was lots of action scenes. If I had seen it when I was a kid it would have been a quick favourite.
On to some more action films, I hit up three films with the phenomenal Toshirô Mifune. Two directed by Akira Kurosawa:
The Hidden Fortress
and
Sanjuro
, as well as Kihachi Okamoto's
Sword of Doom
. All of these I got from the
Toronto Public Library
, which has some really fantastic films. First I watched
Sword of Doom
, which was rather dark however the title does denote that. I did enjoy it, it has a really strong and interesting story that kept me on my toes. Next up is
Sanjuro
which is a follow up to
Yojimbo
with Toshirô Mifune in the title role for both. I didn't enjoy it quite as much as
Yojimbo
but it was still extremely good, great story with fantastic dialogue and excellent characters. Definitely a keeper. The last in the trio is
The Hidden Fortress
which was also very good. It gets credited with a connection to
Star Wars
, which makes you wonder if there are any Kurosawa's films that other directors didn't take something from, but it is explained through the special features section of the Criterion DVD in an interview with George Lucas. I didn't find the connection too distracting or even that noticeable while watching the film, and if I had not known ahead of time I wouldn't have picked up on it.
The Hidden Fortress
is a great adventure film that delves into the human condition, has some stellar fighting sequences and a strong female character. It's a easy one to widely recommend.
The last of the week is
Gridiron Gang
starring Dwayne "The Rock" Johnson, based on the true story of a juvenile detention centre employee who through football goes out on a limb to change the future prospects of the teens in the centre. So, you have The Rock, a sports film, the whole coach thing, giving people a chance thing and well... what more do I need to tell you? I loved it.
Now for some trailer Goodness. Very few trailers appeared before my eyes this week as only one of the films I saw this week had trailers which was The Happening. None were shown in front of The Forbidden Kingdom as it was playing at the Bloor (yay! go Bloor with no trailers!). The one that really caught my attention was for
The X-Files 2 I Want to Believe
, which I watched with baited breath not knowing what the film was and when I did I prompted turned on my iPod and blared some Johnny Cash. Sorry to anyone near me if you heard it but I didn't want to see that trailer!
Although I have no idea if this will open here (hopefully at a festival) there trailer I am hooked on this week is for the South Korean film
The Good, The Bad, The Weird
. The trailer was posted by
Row Three's Marina
and is also seen over at
Twitch
. I haven't watched a trailer this much since Justin Lin's
Finishing The Game
last year.
Up next week:
Young People Fucking, Global Metal, East of Eden, The Lavender Hill Mob
&
The Italian Job
- '69 (in anticipation of
Filmspotting's
Classic Heist Marathon).
What did you see this week?