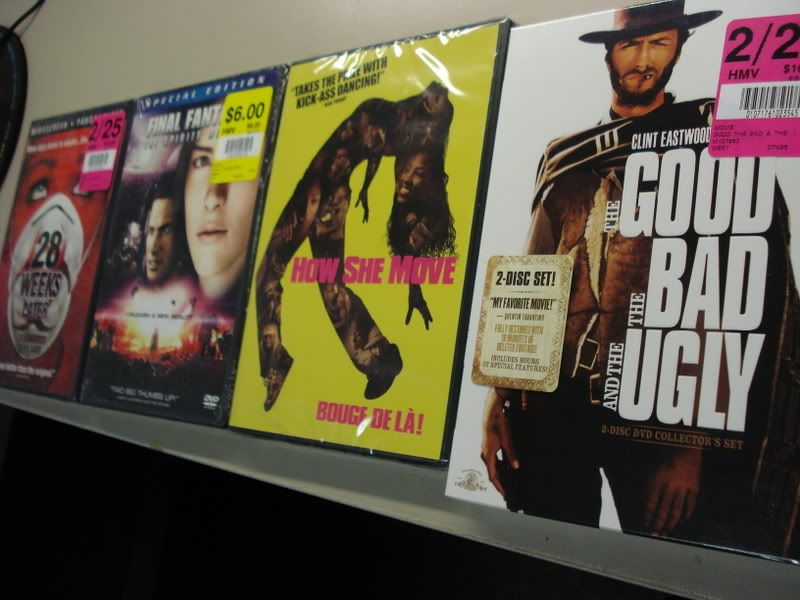 In general, I refrain from shopping unless I have something very specific in mind. When I need something I go in, buy it, and leave. No browsing, no flipping through magazines, I'm outta there in a flash. For DVD, CD and book purchases I am really focused as well, and I do a
DIY Entertainment Club
every month, ordering from
Amazon.ca
always taking full advantage of their Free shipping at $39. I even have these funds allocated in my monthly budget. But yesterday I got swiftly vortexed into
HMV
and came out with an armload of stuff! My resistances were down! I'm now
debt-free
so in theory have more money but I haven't done my budget yet! There are so many excuses, but considering all of the stellar films I picked up were between $6-$12.50 I think I can forgive myself and just enjoy.
Here is what I indulged in:
The Good, The Bad and The Ugly
for $12.50 (2 for $25)
I love this film, I was absolutely floored by it. I even watched it twice in two days and its three hours long. I could have gotten the box set of The Man with No Name Trilogy but I wanted the one with the cover shown above that is Clint with the poncho. I'm currently trying to find a poster of that image as well. Rockin' film.
How She Move
for $9.99
This is the Canadian dance movie that came out
earlier this year
. The fact that I missed it in the theatre puts me to shame. Canadian! Dance film! What was I thinking? I saw the writer Annmarie Morais on CBC Sunday (
see article here
) and I knew I could not wait to see it any longer.
Final Fantasy: The Spirits Within
for $6
Ok, mostly I bought this because it was $6. It is ironic that I really enjoy this film even though the first time I saw it I was ridiculously hung over. Ah, well we can always make new memories. The thing I enjoy the most about the film is the sound. It also has an epic quality to it which makes it a perfect bedtime story.
28 Weeks Later
for $12.50 (2 for $25)
I needed a film to pair up with
The Good, The Bad and The Ugly
deal for 2 for $25 and although I picked up a bunch of different things I decided to go with a film I've not seen. I always find it weird when I purchase DVDs that are exclusivly films I've already seen so this is my attempt to mix it up.
That's my lot this week. Did you buy anything?