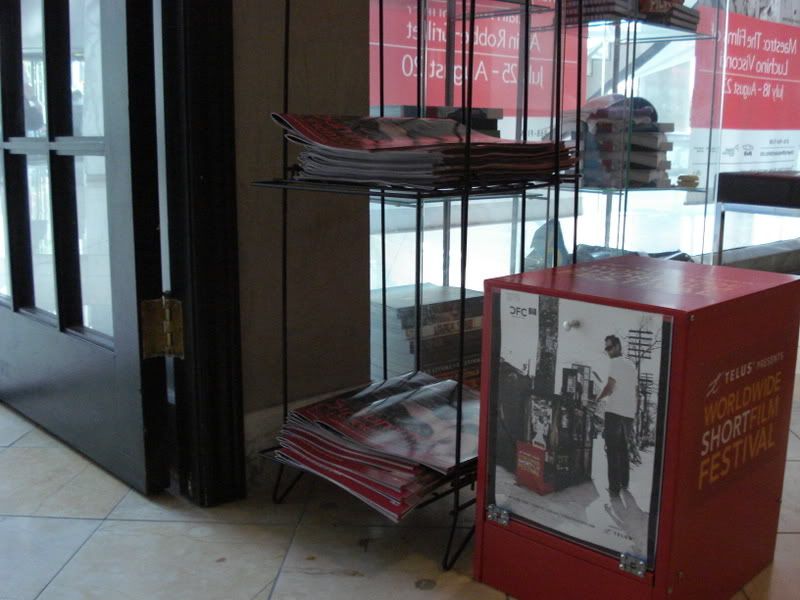 After a festival is over I like to make note of some of the stand out films. This is usually not to hard when looking at 10 to even 25 films. But after seeing 90 shorts at the
Worldwide Short Film Festival
it feels completely different because there are so many films. Add to that it only represents about a third of the films overall it feels near impossible. But, I'm always up for a challenge so here goes!
The Shortest of the Short:
Definitive moments that prove that shorter is better! Object (
Day 5
), 100% (
Day 2
) and Le Grand Content (
Day 4
)
Comedic flair:
Martians Go Home!, Ascension, Rocket Science (all
Day 6
), Shanghai Dragon (
Day 3
) and No Coke (
Day 4
). There is nothing like having a good giggle and these shorts all provided that.
Unclassifiable artistic works of wonder:
Odin's Shield Maiden, L'Astronaute (both
Day 3
) and Mammal (
Day 4
) all had rich and expressive visual style that was captivating.
The wacky and the bizarre:
Terminus (
Day 2
) and Deathtic 4 (
Day 3
) both showed ideas I've never seen before. They are both inventive and beautifully executed.
Quintessentially Canadian:
Ironically Frozen City from
Day 4
, which was actually American.
Favourite Program:
This is a tough call. In terms of the quality of film, nothing shone as bright as the Thai Spotlight on
Day 5
. The vivid colours in Norasinghavatar and Sanctuary of the Sea will be with me for a long time, and the quiet beauty of both Silencio and Lumious Sound were superbly crafted. I also throughly enjoyed the Sci-Fi: Out There program on
Day 6
because it was bizarre and it made me laugh, a lot.
Most Enthusiastic Crowd:
The crowd for Genius Party on
Day 3
. Animation fans were out in full form and crowd was really pumped that Shinichiro Watanabe was there. Quite a night!
Still has me thinking:
Teenage Girl, Null-Null (both on
Day 2
) and Home Team (
Day 3
) all pushed the boundries of my comfort zone and have had quite the lasting effect.
The films that caught my heart:
I didn't expect to get choked up at all during this festival but there were so many truly human stories that got me. Bravo to the following:
Day 1
: Situation Frank
Day 2
: Frankie, Tomboy
Day 3
: Manon on the Asphalt, Wrestling, Dennis, Baby Blue
Day 5
: Can You Wave Bye-Bye
Wasn't expecting:
To be able to continue to enjoy the films and share them with others after the fest! Here are a few that are online:
Le Grand Content
Rocket Science
Terminus
The
Worldwide Short Film Festival
ran from June 10-15/08 in Toronto, Ontario, Canada.