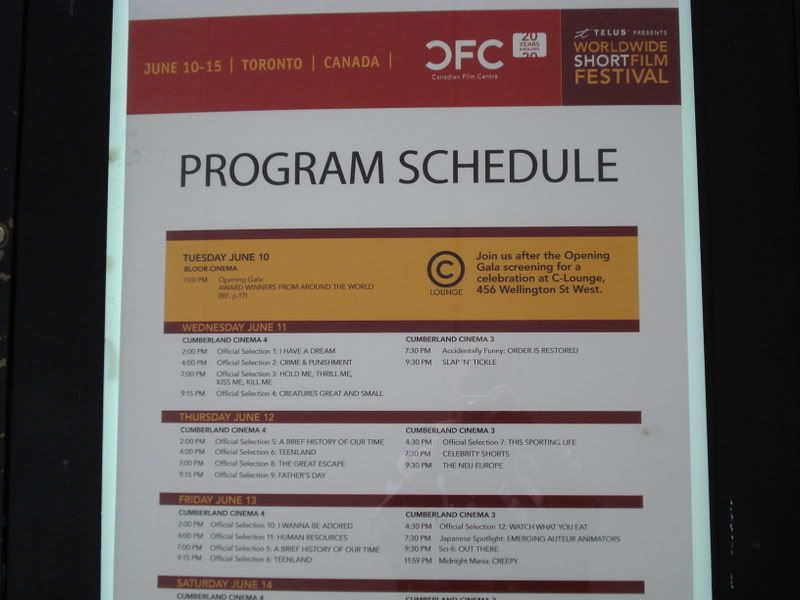 It was as simple as a 1, a 2 and a 3 on Wednesday with seeing
Official Selection 1: I Have A Dream
,
2: Crime & Punishment
and
3: Hold Me, Thrill Me, Kiss Me Kill Me
. Oddly, I ended up in Cumberland 4 all day for these three programs catching a total of 23 films. Numerous filmmakers were in attendance for Q&A's which is one of the unique and exciting things about the festival experience. Huge kudos to the festival programmers whom always had fantastic questions to get the ball rolling.
Official Selection 1: I Have A Dream
The films in this program had characters who were all driven or centred on achieving a goal. Here are the highlights.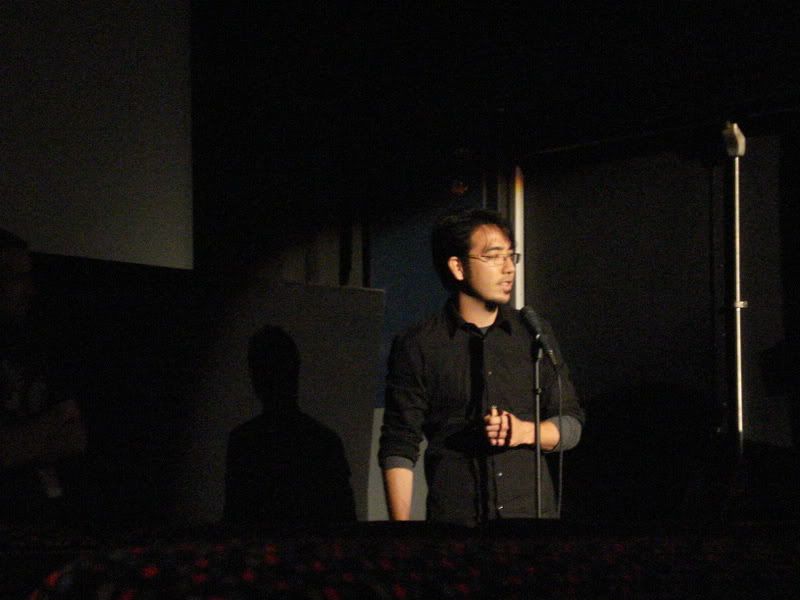 Randall Okita, director of
Machine with Wishbone
Machine with Wishbone
Dir: Randall Okita
6 minutes, Canada
Visually fascinating short that was driven by small machines with methodical yet life like quality. The interplay between the movement and the music was stunning, creating beautiful rhythmic patterns.
During the Q&A with the director, Randall Okita, we found out that although the images could appear as animation all of the machines are hand made and move on there own, therefore the visuals were actually live action.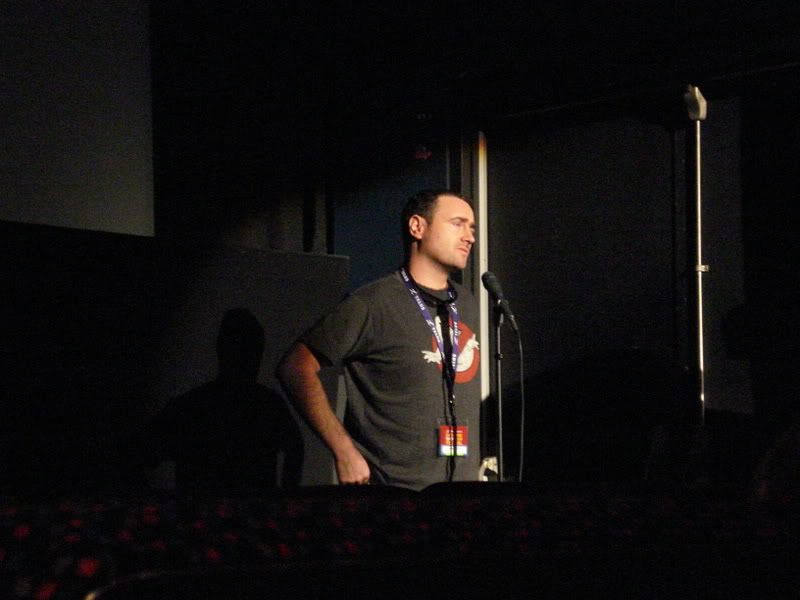 Darren Thornton, director of
Frankie
Frankie
Dir: Darren Thornton
12 minutes, Ireland
This stellar short is the tale of a 15 year old boy who is determined to be a good father for his expectant child. Honest and brash while still being earnest and touching, it explores the desire to be become a better person. Phenomenal acting but they young lead, Ryan Andrews, who was 14 at the time of shooting.
The Q&A with director Darren Thornton was great. He said the story stared with the idea of a young boy with a simulated doll. The casting process took a fair amount of time as he wanted someone who wasn't an actor however found Ryan Andrews at a Drama Club in Dublin. When asked about the subtitles in the film (all the dialogue is in English, but accented), he said he was happy with how it turned out as even screenings in Ireland the audience struggled with understanding all of it and it was better to understand the dialogue as it is important later, and have the actor go at his own pace.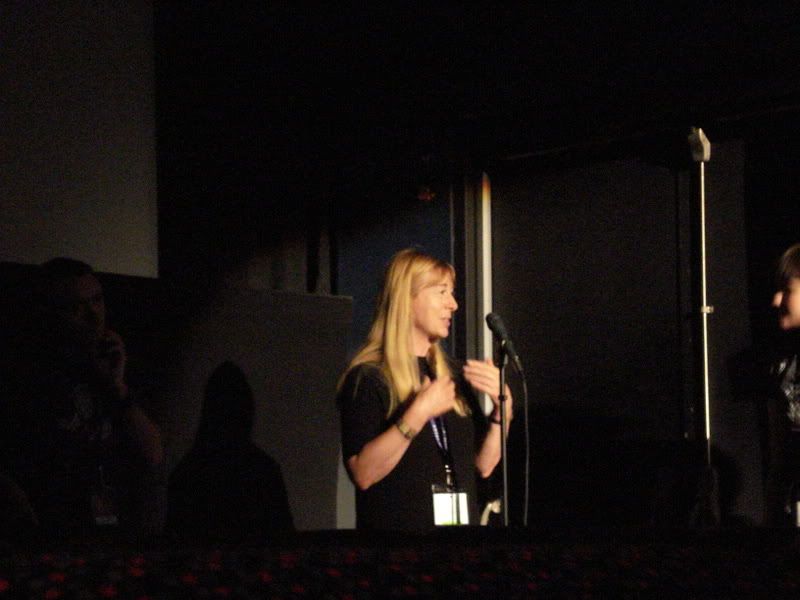 Belinda Oldford, director of
Come Again in Spring
Come Again in Spring
Dir: Belinda Oldford
12 minutes, Canada
Interesting animated short film plays with the idea of trying to outwit the Grim Reaper when he comes across your doorstep. I enjoyed the animation style that felt layered as well as playing with perspective and point of view.
During the Q&A with director Belinda Oldford, she was asked about the how did she make the doom and gloom meet with lightness and her response was that she doesn't think of it in that sense but that we love life, but that death is a part of life. The film is based on a CBC radio-play.
Alone and Anonymous / Solitário Anônimo
Dir: Debora Diniz
18 minutes, Brazil
This documentary was a challenge to watch as it chronicles the attempt of one man who wants to remain alone and anonymous and die of starvation. He is hospitalized and force fed, yet remains calm and driven in his desire. Overall it was a powerful and compelling film, even though I find it hard to watch anything where someone has their will be forced. I wish the filmmaker could have been there as I am curious to hear the backstory of the film as their is footage throughout this journey.
Official Selection 2: Crime & Punishment
A rare screening with no directors in attendance, for this set of films about fleeing or creating law and responsibility. Here are the highlights.
100% / Cent pour cent
Dir: Christian Bahier
1 minute, France
I love films like this, short and sweet at a precise 1 minute we see a selection of images from footage during the 2007 French election but only when quoting percentages. The power of the hard fact of a percentage and the conviction in the candidates voices is wild.
Terminus
Dir: Trevor Cawood
8 minutes, Canada
Bizarre and compelling short of a man confronted by a stalking concrete monolith. Successful in its creepy and unsettling in tone brings this brilliant idea to execution. One of the best shorts so far.
Official Selection 3: Hold Me, Thrill Me, Kiss Me Kill Me
Love and relationships have turbulant times ahead, hold on to your hats for this selection of shorts. Actually, take your hat off if it would block the vision of person behind you. Here are the highlights.
Closer / Arpop
Dir: Aitor Echeverria
7 minutes, Spain
Racy movement based piece exploring bodies in motion. Shown in black and white giving high contrast that creates a curious and playful tone.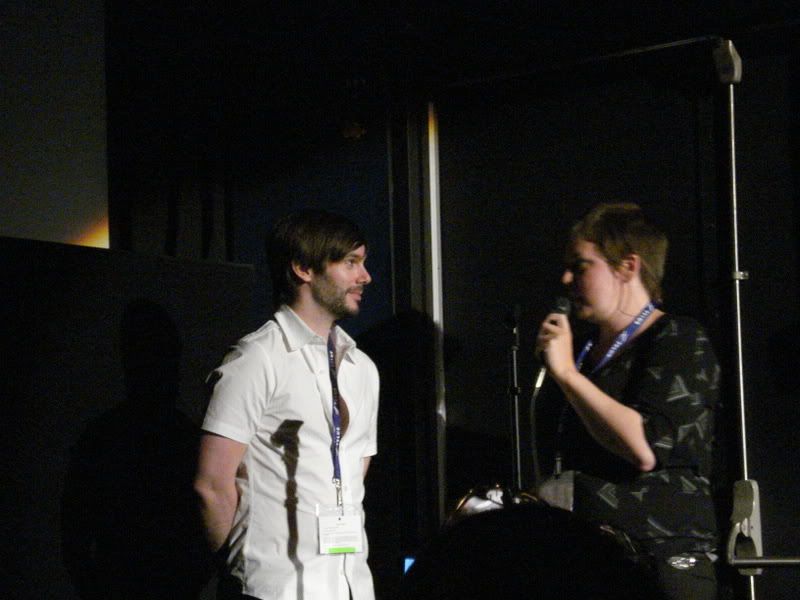 Greg Atkins, director of
Teenage Girl
with festival programmer Angie Driscoll
Teenage Girl
Dir: Greg Atkins
17 minutes, Canada
This short film took some time to grow on me and then afterwards I realized I had come at it from a completely biased angle. Bad me! I think that means that it delivered on its intention as it does challenge your judgment of seeing a man with a teenaged girl. Creative film style gently balances shifting points of view and perspective of the situation and characters allowing the viewer to bring their own beliefs into the film. Very impressive.
During the Q&A with director Greg Atkins, he discussed using projections and slides and how in the film the projections were not done post but actually are tiny slides with black tape around the body and that he loves working with slides and altering technology. With reference to working with actors as opposed to starring in his own work he said that they just had to connect with themselves individually which worked out well.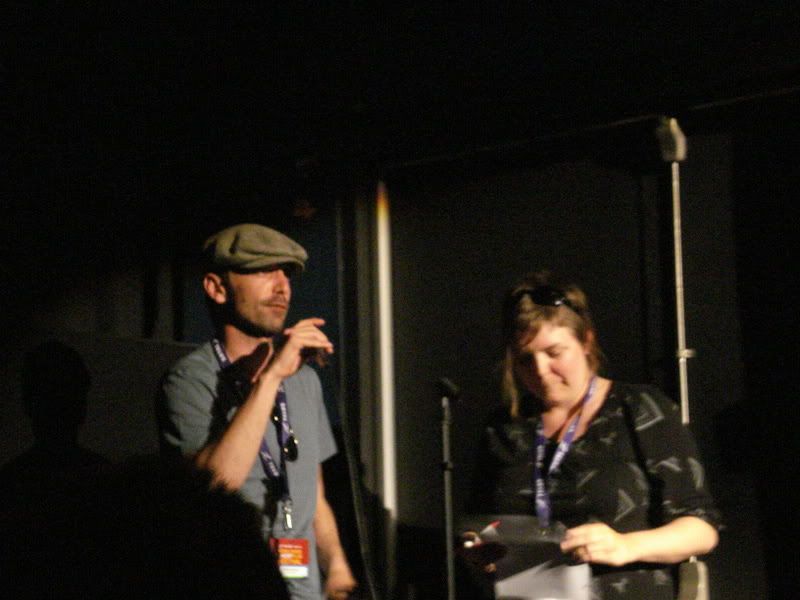 Kelly Harms, director of
Cursing Hanley
with festival programmer Angie Driscoll
Cursing Hanley
Dir: Kelly Harms
17 minutes, Canada
I have to admit my first thought when watching the film was "That's Jim Allodi!".
Cursing Hanley
is a funny comedy of errors where everything that can go wrong does go wrong. What's surprizing is that although you'd think you'd see the gags coming, you don't. The acting is great and it was one of the first times I've seen a tarot reading in a film that felt like a true representation of the situation at hand.
The Q&A following the screening was with screenwriter David Bradley Halls and producer Kerry Young. When asked about what the experience with the CFC as the response was that it was easier than working on other films, and the development process was longer but the access was great. Overall, a highly recommended experience.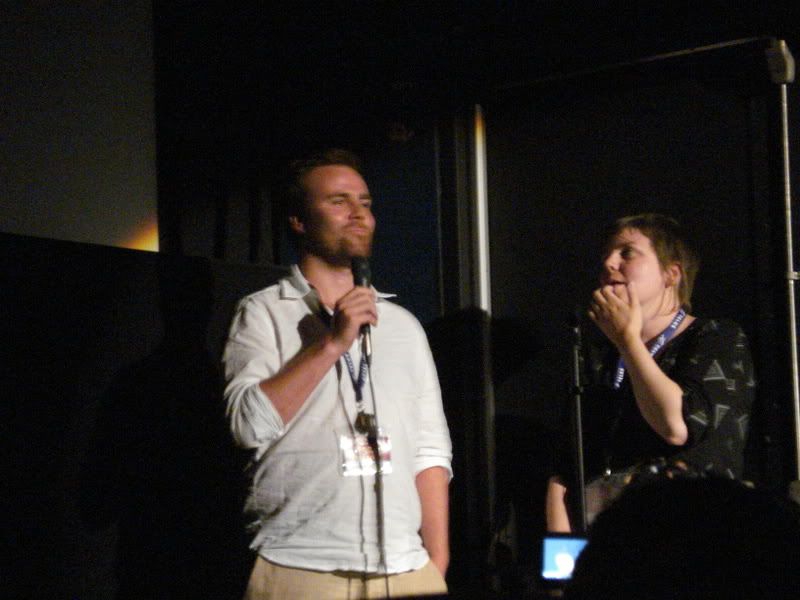 Gauta Johnsen, director of
Null-Null
with festival programmer Angie Driscoll
Null-Null
Dir: Gaute Johnsen
4 minutes, Norway
Tension runs amok in this short that challenges the viewers from start to finish. It will definitely make you rethink how you think about things.
The Q&A with director Gaute Johnsen revolved mostly around the plot of the film so I can't reveal it here. He did explain the title of the film, which would be like in football (soccer for us Canucks) nil-nil, as in a draw.
Mr. Mustache
Dir: Ørjan Jenson
7 minutes, Norway
This delightful documentary shows a series of men with moustaches explaining the nature, history, benefits and challenges of the moustache. Quite a interesting group of unique individuals, this film really speaks volumes about choice of appearance.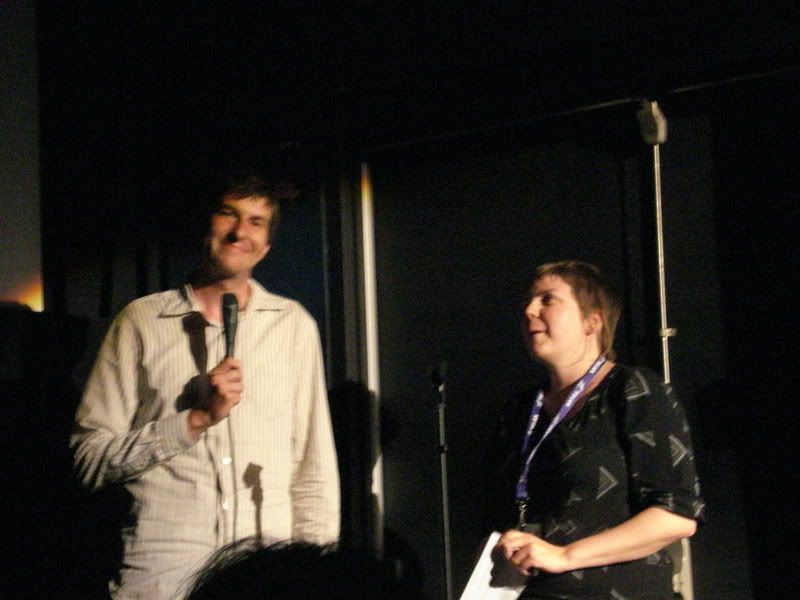 Joe Cobden, co-director and star of
Sigh
with festival programmer Angie Driscoll
Sigh
Dir: Ben Steiger Levine & Joe Cobden
5 minutes, Canada
Delightful and quirky film that shows that movement can truly express more than words alone. Wonderful performances brought the screen alive.
Q&A with co-director and star Joe Cobden who talked about the process of the film and said they wanted a playfullness on set and it to be built on fun, sweetness and sighing.
All three programs repeat on Saturday June 14, 2008. See
full schedule
for more details.
The
Worldwide Short Film Festival
runs from June 10-15/08 in Toronto, Ontario, Canada.