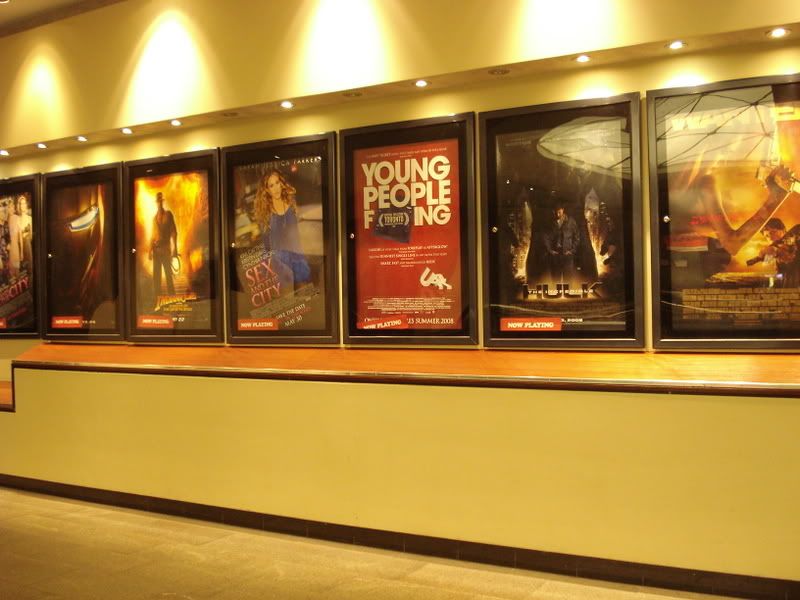 It was thrilling to go to two Canadian film releases in the theatre in one week. Not only that, but both theatres I went to were each showing two Canadian films. Of what is out there I selected to see
Global Metal
and
Young People Fucking
as I caught My Winnipeg as a part of TIFF 07. All three are fantastic films.
Global Metal
is a follow up to
Metal: A Headbangers Journey
which chronicled metal from an anthropological point of view.
Global Metal
takes this idea one step further exploring new territory in countries where metal music is still a fairly new scene. It's a fantastic journey including visits to Brazil, Japan, Indonesia, Israel and more. The film pulls together common threads through the countries as well as the minute differences. Is the music a political statement? Artistic vision? How accepted is the culture and the music, and what lengths fans go to even get to the gigs.
Global Metal
speaks to fans an non fans alike bringing music to us all.
Next up is
Young People Fucking
which survived all the controversy of the title, yet it was truncated on the theatre signage and tickets. Overall it's a funny and frank look at sex and relationships which was entertaining throughout. It was pretty discreet considering the title and subject, but in a tactful way. Great comedy full of real and unexpected moments.
Speaking of relationships, what would it be like to act out the majority of the major roles all by yourself? That is the case with
Dasavatharam
, where the 10 lead roles are all played by Kamal Hassan. What a feat that was, I don't know how he did it. I was away of this aspect to the film going in but I didn't pick up all characters initially. Sometimes I found it distracting or silly but overall it was a lot of fun. It was also wild to see an average person playing all of these different roles (gun-for-hire, regular jo, president, singer, historical figure) but he just looks like a regular guy. I guess that is what say, Harrison Ford looks like in something like
The Fugitive
. The visual effects were varied in the degree in which they were successful, but they always caught your eye. It was a bit long running at 3 hours but I didn't feel like that until about the 2 1/2 hr mark. A screen did come up saying 'intermission' however the film just kept running.
More theatre goodness with the release of
Wanted
. This was quite a fun action film, however a lot more bloody than I had anticipated and received a well deserved 18A rating. The story was interesting but the highlight was the creative visual style used throughout which I was highly anticipating knowing the director Timur Bekmambetov previous works:
Night Watch / Nochnoi Dozor
and
Day Watch / Dnevnoy Dozor
. It wasn't used as often here but it's still pretty awesome.
Getting on a classical note, I finally saw
East of Eden
with James Dean. Fantastic film on all levels, compelling story, excellent acting and imperfect yet accessible characters. Classics continue with Jean-Luc Godard's
Alphaville
. I saw this not only because it's Godard but it popped up on a all time scifi list somewhere and I had never even heard of it. It felt totally wild, like a parallel universe. There were a lot of science fiction elements to it but because it was made in the past, depicting a possible future where some things seem to now be real it doesn't quite have that science fiction edge. I thought it was fascinating, definitely will be watching it again.
On to a different kind of classics, I caught up with
The Lavender Hill Mob
&
The Italian Job
(1969) in anticipation of
Filmspotting's
Classic Heist Marathon. This was a bit of a stretch for me as heist films can be fun but don't always make my first choice when selecting films but out of the crime genre itself I would go for heists first.
The Lavender Hill Mob
(starring none other than Alec Guinness) feels like the early days of heist films and reads more like a mystery, but from the point of view of the criminals which is what makes it feel unique. Stellar acting and creative plot made it very enjoyable.
The Italian Job
(1969) was ironically a little less accessible even though it is a film where we start to see more of the heist film structure of the plan, getting the team together, plotting and practicing. I found it a little hard to follow (this is the case with the genre for me), but it had a lot going for it. If you are a car chase fan, this is should make your to see list as it has some pretty impressive work on that front.
Coming back round to recent films I finally got to see
How She Move
, the Canadian dance film and I loved it. Couldn't love it more in fact. The dance sequences kicked butt, it showcased girl and guy dancers that were awesome and it is always great to see a film that embraces it's Canadian culture. I highly recommend it.
I caught up with a few 2007 films with
The Simpsons Movie
and
Waitress
. Both of these were sitting on the newly returned shelf at the library and I snatched them up primarly because they were new. I found
The Simpsons Movie
rather entertaining, as an old-skool Simpsons fan who hasn't watched the show for years and who is probably more familiar with "Life in Hell" comics I'm sure I missed some of the 'in' jokes but there is so much going on that it is likely everyone will get something from it. I did find some of the 'meta' moments a little ad-like which was a bit of a drawback. Switching gears entirely to
Waitress
which I am still on the fence about. I'm not sure what all the fuss is about this film, Keri Russell does give a great performance and it's always a treat to see Nathan Fillion but overall I didn't connect to the story or characters.
Previews and trailer watch.
Sometimes it feels as though the trailers before the film let you know if you are their target market, and possibly how much you will enjoy the film. I noticed this when seeing
Global Metal
when the previews shown were:
The Wackness
,
SUKIYAKI WESTERN DJANGO
and
Stuck
. I was rather surprized to see a
SUKIYAKI WESTERN DJANGO
, I didn't think it would make it to regular release.
The other trailer I have to mention, as I know the film (and book for that matter) will be the ultimate guilty pleasure:
Twilight
. Teen vampires with romantic notes to it? I'm so there! To me, that is a perfect summer movie.
The Wackness
Trailer
- Teaser 2, spoiler free until about 3/4 way through
SUKIYAKI WESTERN DJANGO
trailer
- Select trailer at the bottom, then at the left. It's spoiler free, another isn't the one I saw.
Twilight
Trailer
- I didn't watch it so view at your own risk!
Up next week: So far it is looking like I'll be seeing
8 1/2, Ri fi fi and
Brick Lane
.
What did you see this week?