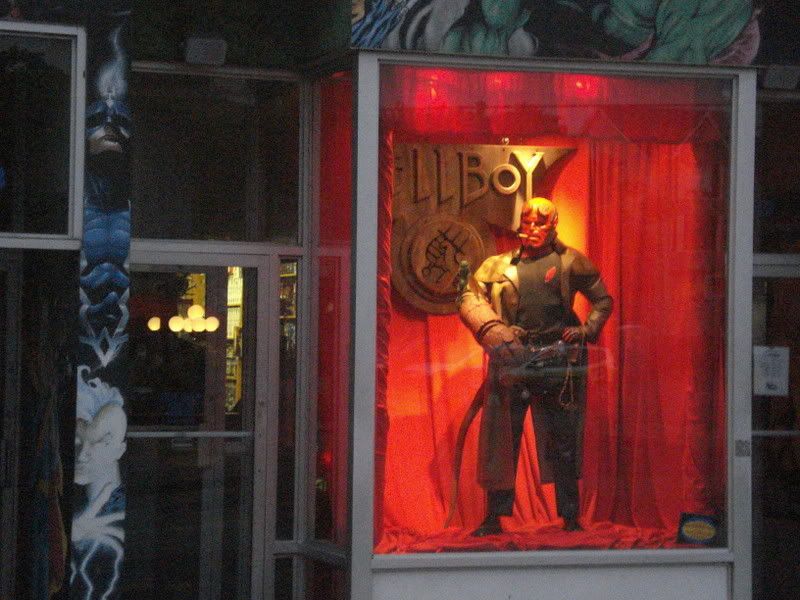 Hellboy display at
Silver Snail
in Toronto
Amazing how quickly the time flies. It's just a few days later than I normally post
My Week in Film
and already reviews for
Hellboy II: The Golden Army
and
The Wackness
feel behind the times. Click through links for full reviews, overall I was mildly disappointed with both. Next up for current releases was
The 4th Life
(dir: François Miron) which was a hard to judge by the
trailer
if it would be a fun scary film or not. Although I felt
The 4th Life
used many interesting and stylish techniques bringing a colourful and sometimes hypnotic feel to the film, the storytelling style overcomplicated the relatively thin plot. I also felt that they made each and every character have something a little strange which seemed a bit much. The last new release I got out to see was the most hyped film of the year so far:
The Dark Knight
. I have to say that being in pretty full IMAX theatre at 8:30 on a Friday morning was quite the surreal experience. Overall, I didn't love the film but I didn't hate it, I did find it really long and that so much was pack in there. In fact, at times it was so fast you couldn't tell visually what was happening. If the audience was given some reaction time we would have no doubt collectively cheered or shivered durin gthe film. On thing for certain, the buzz on Heath Ledgers performance is spot on, he does a remarkable job.
Catching up with some older films, I watched
The French Connection
which I'm surprized I'd not seen before. Certain scenes were very familiar either from montages or knock offs, and it had some great chase scenes but it did feel like one whole chase scene. Add to that the surprizing strong, harsh language and terms that were a sign of the times and no longer (or ever) appropriate, there wasn't enough going on there in terms of enjoyment factor.
I've recently been toying with the idea of exploring romance films to see which ones I enjoy and which ones I don't as I tend to have a strong reaction either way. I picked up a few to try this out, they were:
Fanny & Alexander
,
Sense & Sensibility
and
The Wedding Banquet
. Now
Fanny & Alexander
isn't a straight up romance but more of a period drama but due to the large number of relationships going on I think it's fair to include it here. It is quite a striking film with brilliant art direction spanning numerous years and lifestyles, it also weaves the relationships of a complex community with impressive clarity. Overall, it was enjoyable although a little draining as it neared the 3 hr mark. Next up was an Ang Lee double bill of
Sense & Sensibility
and
The Wedding Banquet
. The cards were stacked against
Sense & Sensibility
from the get go, I'm not terribly fond of period pieces, the cover of the version I had showed one of the last frames of the films and after just watching
Fanny & Alexander
which I found oddly much more accessible this film just wasn't working for me. I did find it great to see Kate Winslet and it seems to be that the role she plays, the young woman in a period piece is like a rite of passage for women actors as they launch their careers. Last up in the romance department was
The Wedding Banquet
which was a lot more fun than either of it's competition. This Ang Lee film was a delightful and touching exploration in identity and family relationships. The most enjoyable of the bunch!
After being disappointed in a few films this week I needed some guaranteed winners, and boy did I get them. First was
City of the Lost Children
, directed by Marc Caro and Jean-Pierre Jeunet (Delicatessen) and starring Ron Perlman, Dominique Pinon and an extremely strong performance by Judith Vittet as the young Miette. As I was sitting in the theatre watching this, I wondered to myself by I even go to widely released films. This film is art, from every physical artistic creation on set to the extraordinary surreal performance to the plot that holds it altogether. Some of the visuals and ideas were very creepy and at times frightening but they were also very fascinating. A gem of a film, I'm glad I finally got the chance to see it which can also be said for the next film: Akira Kurosawa's
Ikiru
. I can not say enough good about Kurosawa's work, every new film I see is like opening a present. This is one of the few films I've seen of his that isn't a samuri film but rather a drama about a civil servant and explores the importance of living life. A true masterpiece.
The last film I saw was

Heroes of the East

, which is a
great kung fu film and the experience of seeing it was a joy as star Gordon Liu was in attendance at the screening and did a Q&A and autograph session. It was such a great experience I'm going to write about seperately.
Trailer watch:
Happy surprize trailer of the week award goes to
Star Wars: The Clone Wars
. I'm a huge Star Wars fan but not the biggest animation fan so I was thrilled at how much I enjoyed seeing this trailer. Also, trailers have arrived for two films I mentioned
last week
, both Penélope Cruz and Patricia Clarkson:
Elegy
and
Vicki Cristina Barcelona
.
Star Wars: The Clone Wars
Trailer
- pretty spoiler free, if very sensitive may want to stop watched 2/3rds of the way in.
Elegy
-
Trailer
- trailer shows a lot of the film, you get the gist of the film by the 1/2 way point.
Vicki Cristina Barcelona
-
Trailer
- trailer shows a lot of the film, you get the gist of the film by the 1/2 way point.
Up next week:
Tokyo Drifter, Zigeunerweisen
,
Dr. No
and
From Russia With Love
.
What did you watch this week?