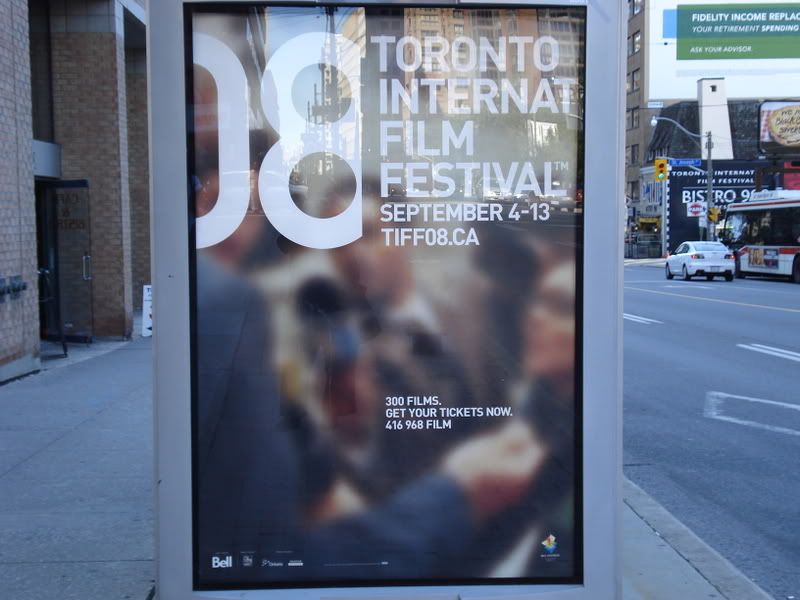 If you purchased passes which need films to be selected (10, 30, daytime, festival, etc. but not out of town packages), time line is as follow:
Tuesday August 26/08 10am*
at the Festival Box Office at Toronto Life Square (Yonge & Dundas)
You can pick your 'official order envelope' with forms to fill out, official film schedule and purchase program book. Remember to bring your 'envelope voucher' and if you purchased a program book in advance, bring that voucher too.
*Update:
TIFF Talk reports
envelope pick up can begin at 9am, and now the
TIFF site says
the Toronto Life Square Box Office is open at 9am on Aug 26/08.
Friday August 29/08 1pm
at the Festival Box Office at Toronto Life Square (Yonge & Dundas)
Envelopes with selections made are due for drop off to be included for the advance ticket draw. Read all the instructions
very
carefully.
Monday September 1/08 as of 10am
at the Festival Box Office at Toronto Life Square (Yonge & Dundas)
Tickets are available for pick up. Remember your pick up voucher!
This day there is usually a huge line up.
Last year
I waited 6 1/2 hrs to pick up my tickets (1 line up) as well fill in the gaps in my selections (a different line up).
Notes for pick up day:
-You usually get an email from the Box Office as well as you can check your order online. If you are have all of your selections I'd recommend enjoying your Labour Day not waiting in lines and pick up the tickets later.
-There are usually 2 lines. 1 to pick up, and 1 to make exchanges/selections for films you didn't get. What I saw last year was people had a friend go into the exchanges line while they waited in the mammoth pick up line to cut down the wait time.
Looking for single tickets?
Premium tickets for screenings at Roy Thomson Hall and the Elgin 'Visa Screening Room' are currently on sale.
All remaining single tickets will go on sale Wednesday September 3, 2008 at 7am.
What does 'OFF SALE' mean?
Off sale means
that there are currently no tickets available for sale, but they encourage you to try try again. One recommended time to check for more tickets is at 7am on the day of the screening to see if same day tickets are available.
What does 'RUSH" mean?
Rush means
that the advance and same day tickets are no longer available, however you still might have a chance. Each theatre was a rush line outside the theatre and if seats become available for the screening they may go to the rush line. One thing to note about Rush, is that their is usually 1 Rush line for all films at the location so make sure you know which film you are there to see and have your method of payment ready in case it is your lucky day.
For full and complete information on
box office
,
ticket package
and
ticket info
, please visit the
TIFF'08 website
.
The
Toronto International Film Festival 2008
runs from September 4-13/08 in Toronto, Ontario, Canada.