As promised
,
My Week in Film
returns and I'm trying something different turning this weekly post into a Vlog. Let me know what you think!
Topics Discussed, Notes, Links and Corrections:
-
TIFF Coverage still in process
, 4 posts to go
-
My List of 101 Films to See
(I only have 13 to go, list hasn't been updated in a while), it's a subset of my
101 things in 1001 days
list which will end December 1, 2008
-I'm hoping to find
The Killer
, possibly through
YesAsia
-
[REC]
at
the Bloor
as a part of
Rue Morgue
's
Cinemacbre Movie Night
, ran into
Bob
there (check out his
[REC] review
)
-Quarantine
([REC] remake)
is scheduled for an October 10, 2008 release
-Fantastic Fest
films that were online streamed:
I Think We're Alone Now
,
La Crème
,
Rojo Red
,
Kingz
and
Treevenge
(disturbing images)
-When I say 'ping factor' I meant bandwidth
-Upcoming viewing:
A Sunday in Kigali
(2007 Genie winner for best adapted screenplay) and
High School Musical
. From
this week's regular releases
I may check out
SUKIYAKI WESTERN DJANGO
again or possibly
Appoloosa
.
Toronto After Dark Film Festival 2008:
-Check out the
Toronto After Dark Film Festival site
-My pre-festival coverage of the
8 announced films is here
, including links to trailers and spoiler notations
-Let the Right One In
is scheduled to be the Opening Night Gala
-The short film
Treevenge
has added to the line up
-
Check out this vid
of festival founder and director Adam Lopez filling in the [REC] crowd on what to expect this year. The remaining films will be unveiled Wednesday September 24, 2008
What was your week in film like?
The huge line for [REC] at
the Bloor
Recent and soon to be seen films: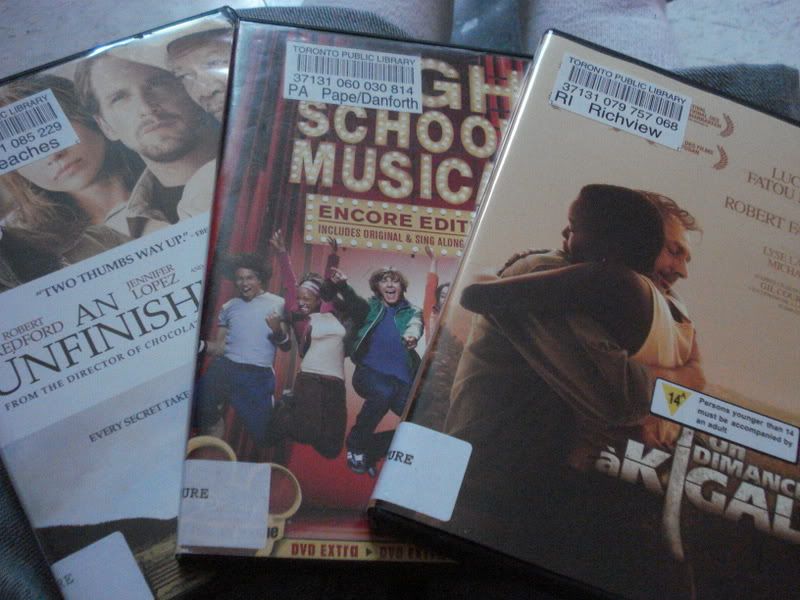 Recent purchases - got all three with change back from at $20 - woohoo!
Please note: unless otherwise specified, any events discussed were or will be in Toronto, Ontario, Canada.