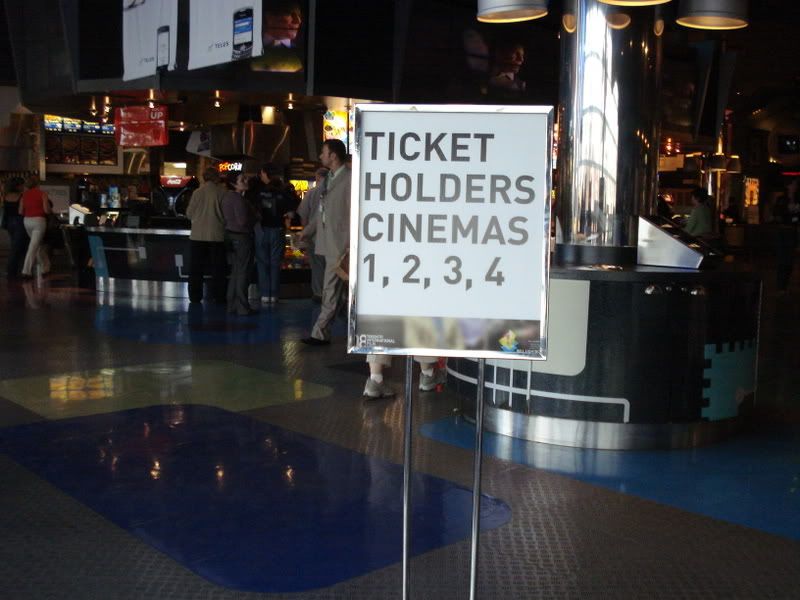 This sign confuses me. Does it mean 'this way'? Do you stand behind it? No one ever did.
Day 5 was all Scotiabank, all day! I caught up with three films, all of which were very good and also had filmmakers in attendance - talk about rockin'! Out of todays films, the buzz around town was that everyone really enjoyed both the Japanese drama
Still Walking
and dance documentary
Every Little Step
. Out of the folks I talked to, not many had seen
Fear Me Not
which has really stuck with me, even though it is rather dark.
Wanna hear the deal on Day 5? Check out my
Day 5 Vlog
!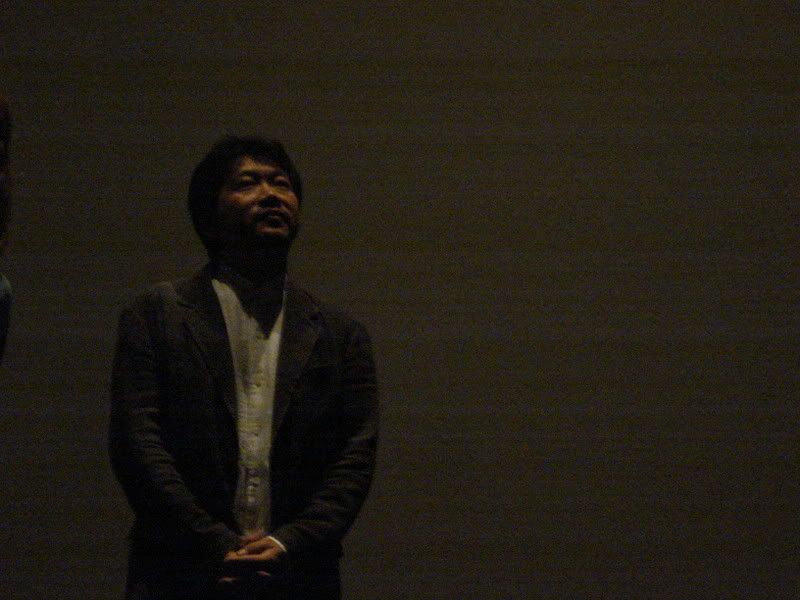 Still Walking
director Hirokazu Kore-eda
Still Walking / Aruitemo aruitemo
Dir: Hirokazu Kore-eda
Cast: Hiroshi Abe, Yoshio Harada, Kirin Kiki, Kazuya Takahashi, Shohei Tanaka
Japan
Reason to See:
I was very impressed with Hirokazu Kore-eda's
HANA
which I saw during TIFF in 2006.
It's ironic that Still Walking is one of my favourite films of from TIFF this year however if I went by just the films description of being a family drama it is likely it would not have made my list. So, I'm glad I just said "Oh.... it's Hirokazu Kore-eda!" and went to see it as it is a truly lovely film. There is a beautiful sense of grace with the calm timing of the film, that allows a regular family gathering transcend into a work of art. The seamlessly blends from one moment to the next showing family dynamics as well as true moments that happen at such gatherings be they happy, sad, awkward on inadvertanly funny. It felt like home.
Want to know more? Check out this
video of director Hirokazu Kore-eda
describe his inspiration and intentions for
Still Walking
.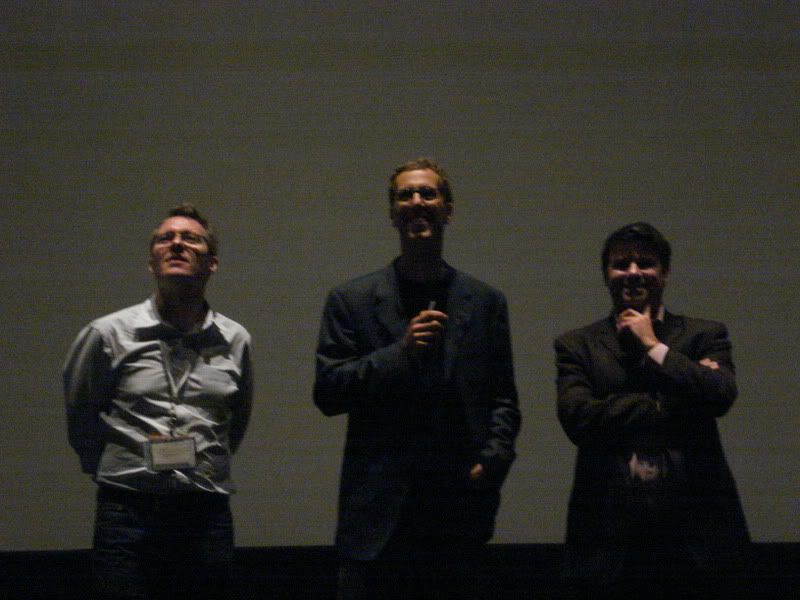 TIFF Programmer Thom Powers,
Every Little Step
directors James D. Stern and Adam Del Deo
Every Little Step
Dir: James D. Stern & Adam Del Deo
Documentary
USA
Reason to See:
It's a
dance film
- of course I am going to see it!
This documentary on the casting of the revival of "A Chorus Line" on Broadway was a sure-fire hit for me. I love dance, dance films, anything with auditions and I loved the film version of
A Chorus Line
(and would one day love to see the show live). It was a packed screening where the audience really took to the film and you could feel the energy in the room as we were put through the emotional roller coaster that is the casting process. It also included lots of audio footage of the inspiration behind the original "A Chorus Line" as well as interviews and insights of what the original production was like. For dance and theatre fans it is a must see. It was the only film that made me cry this festival, in a good way - I loved every minute of it.
Highlights from the Q&A with directors James D. Stern & Adam Del Deo:
-400 hours of footage was shot for the film, they also had about 100 hours of historical footage
-Anticipating a wide release soon, they said 'details to follow'.
-In response to why they focused on just a few roles/performers they used a fantastic saying that although there were so many people they could have followed, in the biz a hit is 5 minutes too short and a flop is 15 minutes to long. So they went for a hit - and they got one!
Packed house of popcorn happiness at
Every Little Step
Fear Me Not
actor Ulrich Thomsen and director Kristian Levring
Fear Me Not / Den du frygter
Dir: Kristian Levring
Cast: Ulrich Thomsen, Paprika Steen, Emma Sehested Høeg, Lars Brygmann, Stine Stengade
Denmark
Reason to See:
It fit sweetly into my schedule. It is one of the few films that I was hesitant to see due to the dark tone.
This is one freaking dark film. It follows a man whom participates with a test group trying out a new drug which leads him to a cold detachment from normal human behaviour in a hazy, dark justified sense. This was the most challenge film to sit through at the festival and there were audible gasps from the audience during the screening. I didn't dare walk out of it though as I was awe struck by Ulrich Thomsen riviting performance as well as being very curious to see how it would turn out. It was well worth the watch, however I don't think I would revisit it.
Highlights from the Q&A with director Kristian Levring and lead actor Ulrich Thomsen:
-The title
Den du frygter
could also be translated as "The One Who Frightens You" or "The One You Fear"
- When asked about
Dogme 95
, director Kristian Levring indicated that
Fear Me Not
is actually the opposite of a Dogme 95 film which would require to no lighting, music, props and the camera to be handheld
- When asked if it was difficult to let go of the (dark mood) performance actor Ulrich Thomsen succinctly said 'No'
- Suggestions for seeing Ulrich Thomsen in lighter roles are:
Flickering Lights
and
Adam's Apples
.
TIFF'08 Meet up
It was short day with just three films as it was the night of the TIFF'08 Meet Up for a bunch of us in the online film community. Thanks to
Bob, James, Ryan, John, Kurt, Milton, Richard, Greg & Donna, Chris & Polly, Matt, Steven and Christina
for coming out to play!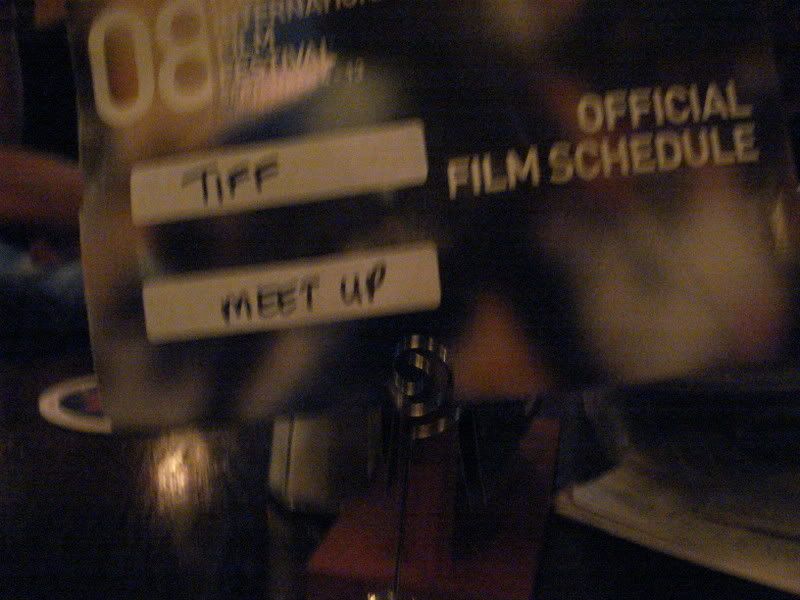 The
Toronto International Film Festival 2008
runs from September 4-13/08 in Toronto, Ontario, Canada.