Day 7 was a trip all around the world including a trek through Canada. From historical to modern day, tales of love, longing and those lost and forgotten...
See and hear all about Day 7 on my
Day 7 Vlog
!
Ashes of Time Redux
Dir: Wong Kar Wai
Cast: Leslie Cheung, Brigitte Lin, Tony Leung Chiu Wai, Carina Lau, Tony Leung Ka Fai, Jacky Cheung, Charlie Young
Hong Kong/China
Reason to See:
I'll see anything by Wong Kar Wai, he is one of my favourite directors.
This film is a Redux of the 1994 Ashes of Time / Dung che sai duk with enhanced cinematography and soundtrack. I was almost leery to see it considering I hadn't seen the original but I'm so glad that I did as it quickly became one of my favourites of the festival. The film itself follows numerous stories of love, loss and revenge most of which are told to a swordsman for hire. Although the stories are fascinating in it of themselves, it is how the stories are told that makes the film magical. Rich visuals that play with colour, light and framing heighten the emotional content that pushes the tales from a film to an experience. Absolutely brilliant.
The only disappointment for me with Ashes of Time Redux was being at this screening as opposed to the one two days earlier that had director Wong Kar Wai in attendance. I truly can't believe I missed that opportunity.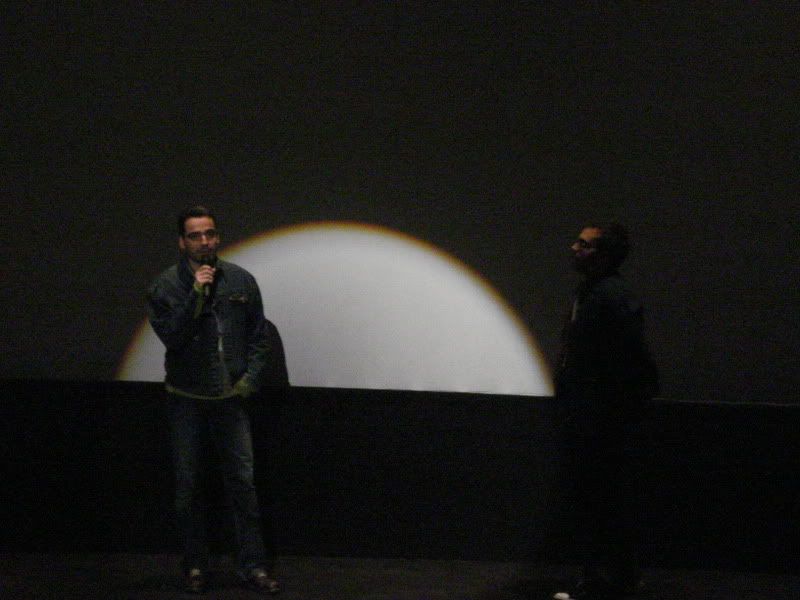 Tale 52
director Alexis Alexiou
Tale 52 / Istoria 52
Dir: Alexis Alexiou
Cast: Giorgos Kakanakis, Serafita Grigoriadou
Greece
Reason to See:
I honestly can't remember. I figure it must have fit nicely into my schedule.
Tale 52 is a gripping drama that mixes in genres of romance and thriller. I found it spooky, intriguing and mystifying. The story centres on a newly formed relationship that seems to change over time. I will admit that I was confused at many parts during the film, but that made it a very engaging experience. It felt very mysterious and had a great sense of tension throughout. Even though there is a repetitive nature to the film, I would gladly see it again.
Highlights from the Q&A with director Alexis Alexiou:
-
There was definitely a split opinion in the audience between those who were confused or wanted an explanation and those who "got it" but the director said that it he doesn't think that it is important to know what actually happened (I agree with this!)
-it was shot on 60mm blown up to 35, which is where the budget went
-the apartment it was filmed in is 100 square meters and smaller than it appears on screen, which made shooting very difficult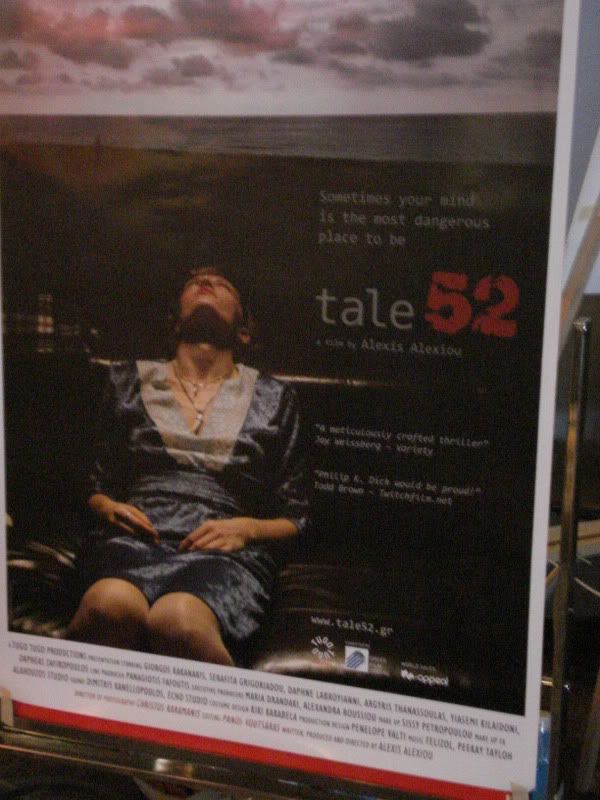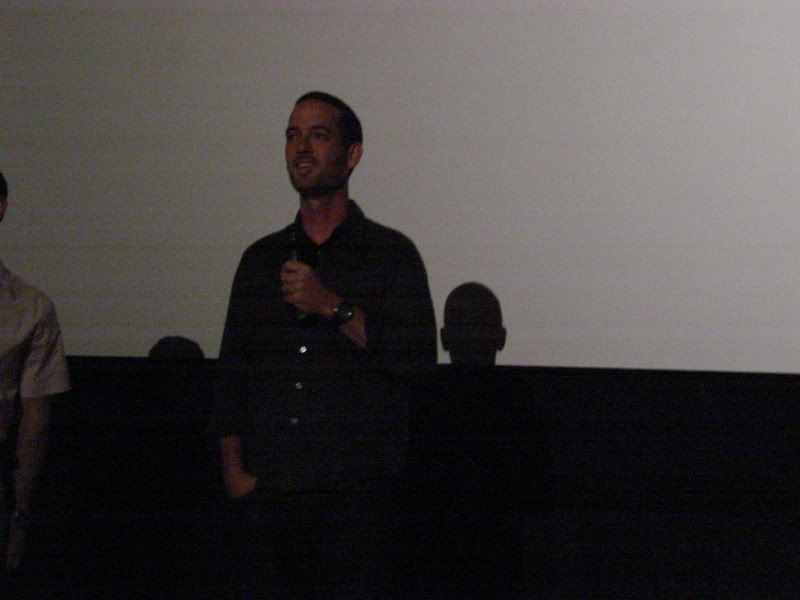 One Week
director Michael McGowan
One Week
Dir: Michael McGowan (
Saint Ralph
)
Cast: Joshua Jackson, Liane Balaban, Campbell Scott
Canada
Reason to See:
It's Canadian and a Gala presentation.
This was my one and only Gala pick of the year, I didn't see it on it's Gala screening but a showing at the AMC in one of the larger theatres and it was packed! Aptly described as a love letter to Canada, this film is just that. It feels like home whether you are from near or far and regardless if have visiting the places along the way or not. Filled with Canadian references from Tim Horton's to Kalendar's it's a delight to see cancon on the screen as we follows Ben on his personal journey through his own life and Canada itself.
Highlights from the Q&A with director Michael McGowan:
-
Mongrel will distribute the film in Canada in March 2009
-shooting took 5 weeks total, 3 weeks on the road & 2 weeks in Toronto
-
Saint Ralph
(the directors previous film) was most successful in Japan, which he described as a
Spinal Tap
moment
It was a very entertaining Q&A and I wish I could share more but the rest of the questions pertained to very specific moments in the film and it would be spoilerville to put them up.
From second from left in,
Radio Love
director Leonardo de Armas, actors Jorge Luis González and Beatriz Rico
Radio Love
Dir: Leonardo de Armas
Cast: Beatriz Rico, Jorge Luis González, Amauri Rolando Reinoso
Spain
Reason to See:
I picked Radio Love to balance out some of the heavier selections, with the logic of a romantic comedy would make for a nice break.
Set up as a comedy and personal journey of a 36 year old woman whom feels like the clock is ticking, I was looking forward to lot of giggles and exploration. I felt so close to really enjoying this film but many of the devices used I didn't buy into. I didn't believe someone who works in fashion but not being very fashion forward, or ever that the main character was supposed to be considered anything but gorgeous. The explorations of 'self-enlightenment' were mostly used for comedic effect which was also disappointing, however should not have been a surprize. There were strong performances in the film and it did have some great moments.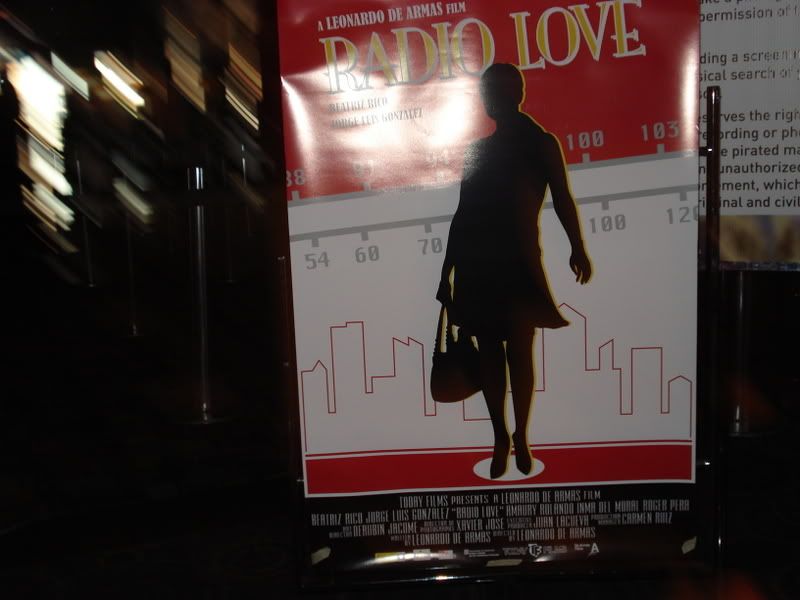 The
Toronto International Film Festival 2008
runs from September 4-13/08 in Toronto, Ontario, Canada.