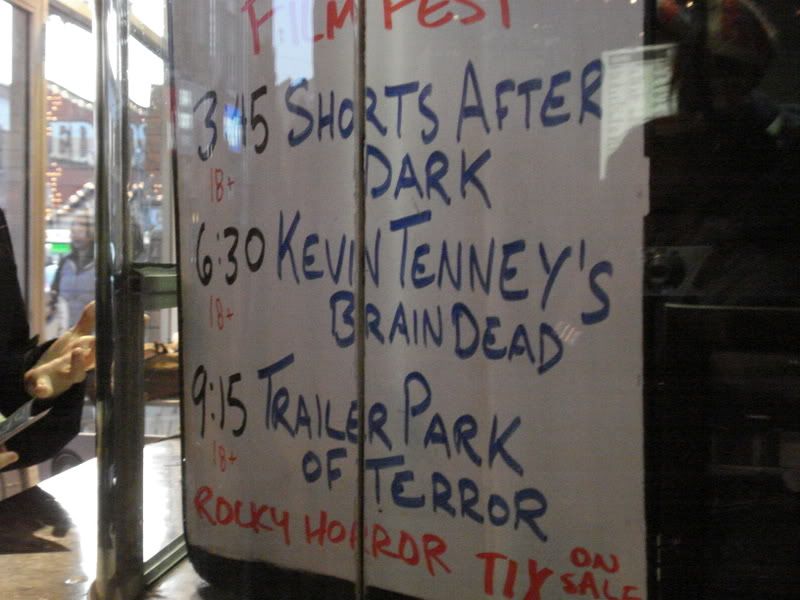 Day 3 at the
Toronto After Dark Film Festival
is all about shorts and zombies. The day brings
Shorts After Dark
, an International Showcase of short film. The shorts program pulled in a solid house which was great to see considering it was on at the same time as the
Zombie Walk
and on top of the it was a great selection of shorts. The latter part of the day was all about the zombies whom came from near and far reaches of the undead world to see the night of zombie films with
Kevin Tenney's Brain Dead
and
Trailer Park of Terror
.
To hear and see about Day 3 check out my TADFF'08
Vlog for Day 3
.
Shorts After Dark - International Short Film Showcase
The Attack of the Robots from Nebula-5
Dir: Chema Garcia Ibarra
Spain, 2008
6 min
Cute short film following our faithful protagonist and his singular goal of convincing those around him of the inevitable upcoming invasion of robots. I enjoyed the realism in this film as well as the makeshift props and visual aids used to create a home grown feeling.
Doxology
Dir: Michael Langan
USA, 2008
5 min
Interesting combination of varying visual effects with deadpan performances to create a startling world. I found there was just enough said visually to create narrative but it also could easily be enjoyed by the visuals alone.
(Left to Right) Peter Kuplowsky introducing
The Goblin Man of Norway
executive producer Denis Dyack, director Jay Cheel and producer Sean Llewellyn
The Goblin Man of Norway
Dir: Jay Cheel
2008
24 min
Brilliant use of documentary style filmmaking to achieve an eerie film surrounding the discovery of a Goblin Man. The pacing of the film is spot on and enhanced by a great score that gently pulls you deeper and deeper into the bizarre study with re-enactments, interviews and exhibits. I love how it maintains a consistent and distanced point of view on the subject matter, letting the viewer make their own decisions on what to believe.
Watch
The Goblin Man of Norway

online
.
Shut-Eye Hotel
Dir: Bill Plympton
USA, 2007
7 min
More Bill Plympton (
Idiots & Angels
) creative goodness. This short is set in a hotel whose visitors stays are as mysterious as they are brief.
Transrexia
Dir: Aurelio Voltaire
USA, 2008
1 min
Double Dino shortness. I swear, I blinked and this one was already over!
The Queen
Dir: Walter Krudop
USA, 2007
1 min
Bizarre and cute short which adeptly conveyed a huge sense of loneliness in such a brief period of time.
Martians Go Home: The Revenge of Sara Clockwork
Dir: Dani Moreno
Spain, 2008
20 min
See review
from screening at the Worldwide Short Film Festival 2008.
Notes from the Acrid Plain
Dir: Jonathan Ashley
USA, 2008
15 min
A scientific study is depicted focusing on humanoid like creatures, a plant and the environment they inhabit. Impressive art direction and even armour flesh out this study with the precision and patience of true research.
Kingz
Dirs: Benjamin Diez and Marinko Spahic
Germany, 2007
20 min
The underworld meets otherworld in a nightclub setting with heavy beats and kinetic energy. The visual style blends perfectly to the organic movement from those on the dance floor whether they are dancing to the music or fighting with shiny weapons.
I Live In The Woods
Dir: Max Winston
USA, 2008
3 min
Bloody short of a power tripping guy wrecks havoc in the woods and beyond.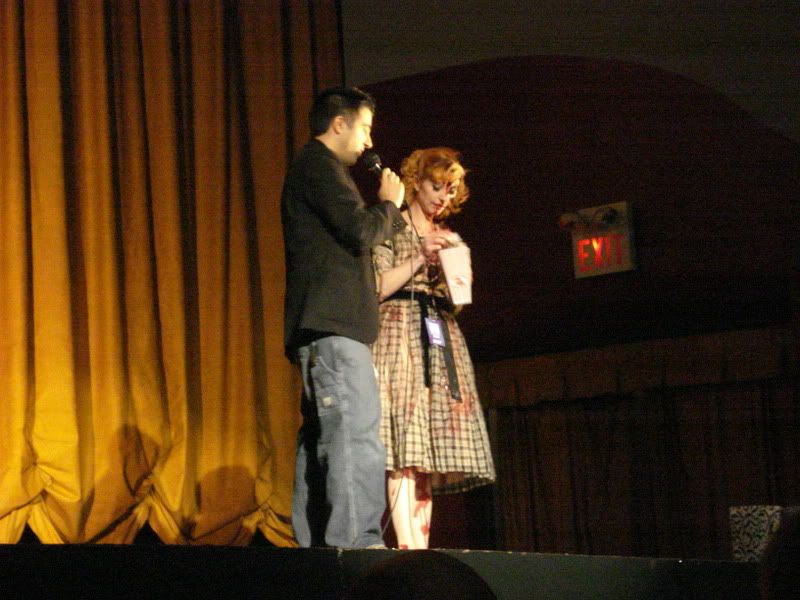 Festival Director & Founder Adam Lopez with
Zombie Walk
co-ordinator Thea Faulds
One of the big events during the
Toronto After Dark Film Festival
is the Annual
Zombie Walk
which started at Trinity Bellwoods park and lands at The Bloor before the double bill of zombie films. As each film is preceded by a short, we were in store for four zombie films. What a undead delight!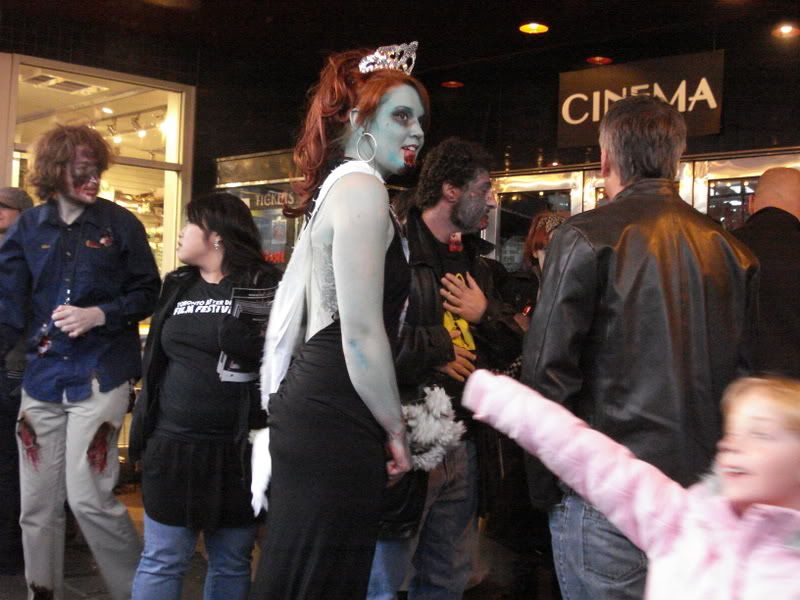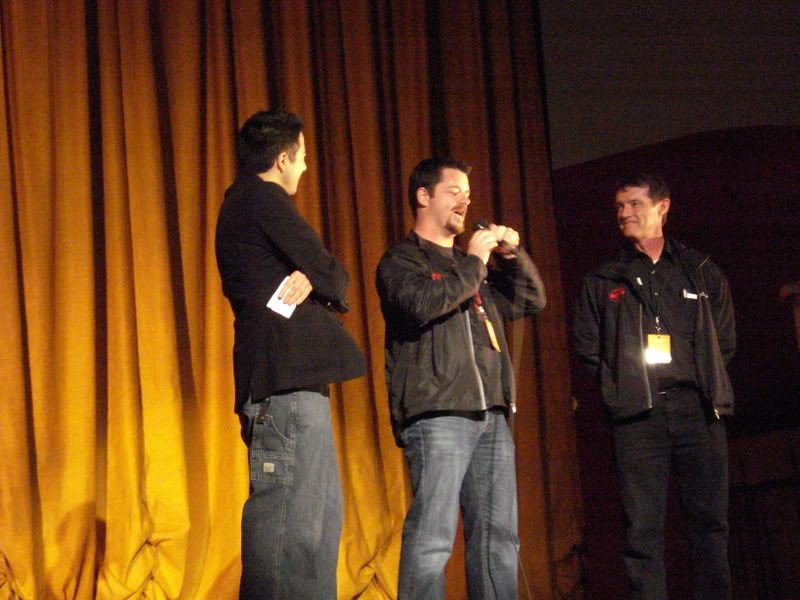 (Left to Right) Festival Director & Founder Adam Lopez with Deadspiel director Jay Molloy and producer Pat Corcoran
Deadspiel
Dir: Jay Molloy
Canada, 2008
8 min
Deadspiel
is without a doubt my favourite zombie film of the festival. When zombies are mixed with curling the results are hilarious. Campy, Canadian and cantankerous to boot,
Deadspeil
is a joyful addition to the world of zombie films and sparks a mighty high precedent for zombie curling films!
See introduction from the Deadspiel screening here
.
To see an awesome pic of the Deadspiel team at the Zombie Walk look
here
.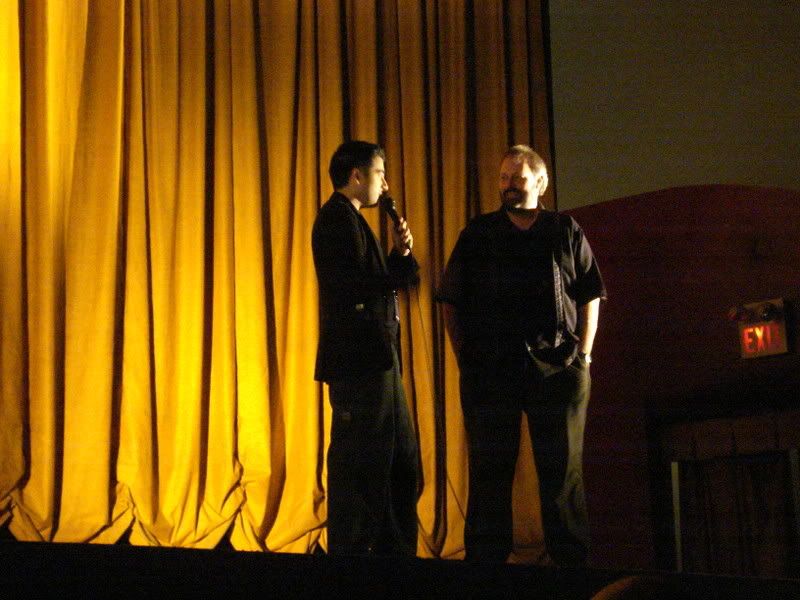 (Left to Right) Festival Director & Founder Adam Lopez with Kevin Tenney director of
Brain Dead
Kevin Tenney's Brain Dead
Dir: Kevin Tenney (Witchboard, Night of the Demons)
Cast: Joshua Benton, Sarah Grant Brendecke, David Crane, Andy Forrest, Elizabeth Lambert
USA
I'm not the target market for what is aptly described as a "blood, gore and gratiutious nudity" film, but I have to say that
Brain Dead
does what it does well. The old school make-up special effects were bloody, squishy and all around impressive. The performances were strong from Sarah Grant Brendecke, David Crane as the psycho criminal and Joshua Benton as the one line wonder Clarence. The dialogue was snappy as all the characters were pretty mouthy. Was I scared? Not that often. Was I entertained? Yep.
See highlights from the Introduction and Q&A for

Brain Dead

here
.
(Left to Right) Festival Director & Founder Adam Lopez with
The Laundromat
director David Jacombs, Jr.
The Laundromat
Dir: David Jacombs, Jr.
Canada, 2008
8 min
This is one of the few short films at the festival that was actually terrifying. I've found most of the shorts go for the comedy or surprize angle but
The Laundromat
fills us with chills from start to finish with a young couple in a laundromat during a zombie apocalypse.
(Left to Right) Festival Director & Founder Adam Lopez with
Trailer Park of Terror
director Steven Goldmann
Trailer Park of Terror
Dir: Steven Goldmann
Cast: Nichole Hiltz, Matthew Del Negro, Stefanie Black, Myk Watford, Hayley Marie Norman
Trailer Park of Terror
is the perfect name for this film as the it really takes the violence over the edge, around the corner and back again with a whole lot of trailer park trash along the way. For me, it was way too much on all levels as the back story for the main character was really harsh and the violence and terrorizing was pretty heavy. But, that is the point of the film and it really hits that nail on the head and fries it up for dinner.
See the introduction at the screening of the

Trailer Park of Terror

here
.
The
Toronto After Dark Film Festival
2008 runs from October 17-24/08 at the
Bloor Cinema
, Toronto, Ontario, Canada.