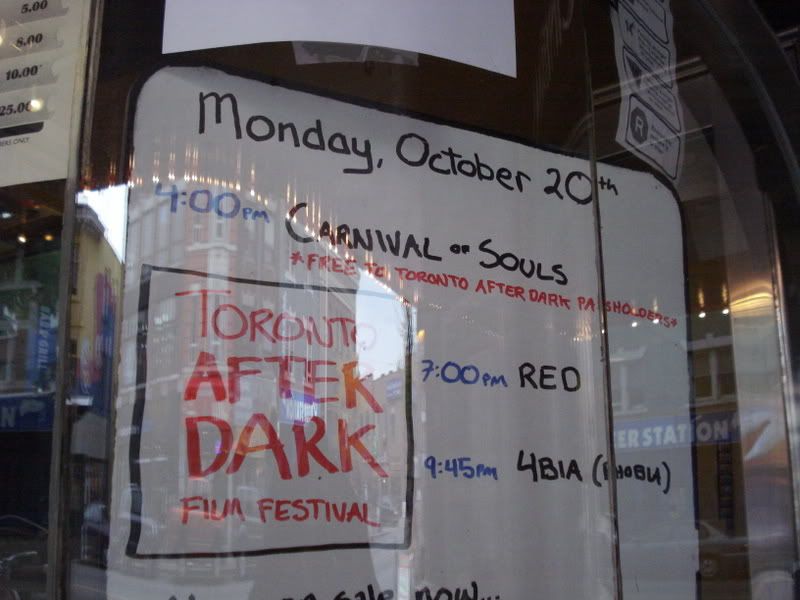 Day 4 of the
Toronto After Dark Film Festival
was all about the scares, be they from the revenge or ghosts. After a few marathon days at the festival I was very content to attend 2 screenings for a total of four to seven films depending on how you look at it as 4BIA is actually 4 short films put into one. Ironically on a day of chills I spend the afternoon watching
Mamma Mia!
with my sisters and my Mom. There were giggles and tears, but no zombies. Back on point, lets check out the films from Day 4!
To hear and see about Day 4 check out my TADFF'08
Vlog for Day 4
.

Vengeance
Dir: Lanan Adcock
Canada, 2008
6 min
Rocking short film with a mischievous and mystical crab who grants vengeance instead of wishes.
Red
Dir: Trygve Diesen & Lucky McKee
Cast: Brian Cox, Noel Fisher, Kyle Gallner, Shiloh Fernandez, Amanda Plummer,Tom Sizemore, Robert Englund, Richard Riehle
USA
Revenge films are usually not my cup of tea, so I was a little hesitant going into Red but the film happily surprized me as it is much more than a revenge film.
Red
explores doing the right thing, justice and closure on top of your standard revenge themes. It can revel in the idea of revenge is sweet but also questions what would it take to close an emotionally traumatic wound. Avery Ludlow (Brian Cox) goes on this journey and takes us along for the ride. The film has some stand out performances, including Brian Cox as well as two of the younger cast Kyle Gallner and Noel Fisher.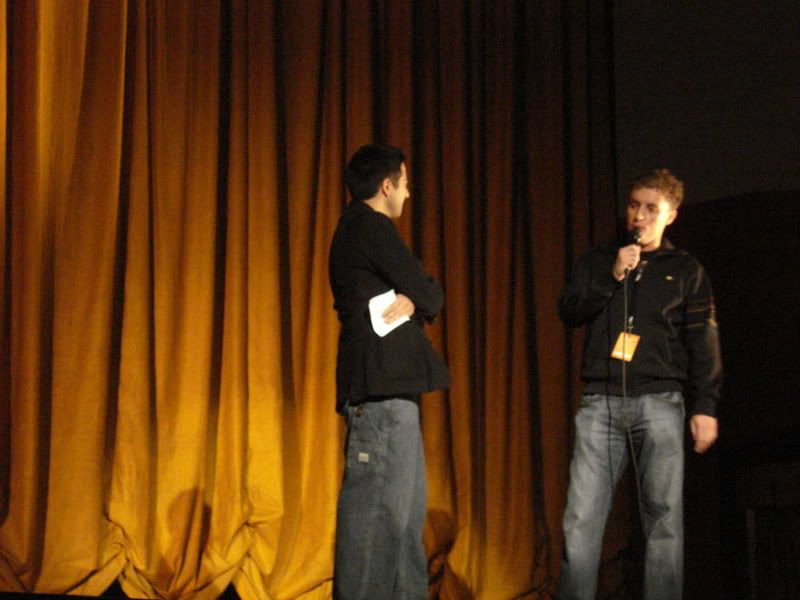 Festival Director & Founder Adam Lopez with Manny Kargov director of
Lucky 10
Lucky 10
Dir: Manny Kargov
Canada, 2008
10 min
Playing with fate and luck,
Lucky 10
pounds us with many incarnations of the number 10 from subtle to serious in this short study of when your luck can run out.
4bia / Phobia / See prang
(4 sections):
Happiness
writer/dir: Youngyooth Thongkonthun (Maid / Jaew)
Tit for Tat
writer/dir: Paween Purikitpanya (Body #19)
In the Middle
dir: Parkpoom Wongpoom, writer: Banjong Pisanthanakun (
Alone / Faet
, Shutter <2004>)
Last Fright
writer/dir: Parkpoom Wongpoom (
Alone / Faet
, Shutter <2004>)
We have some scares in the house people!
4BIA
is an omnibus film featuring four short films that are ready to make you jump out of your seat. All of the films had their strong points from tension building in
Happiness
and
Last Fright
to crazy effects in
Tit for Tat
. The joy of the night was without a doubt
In the Middle
, which is clearly made for horror movie fans and had the audience in stitches. It has a classic setting of a group of friends who take a rafting trip, and of course are staying in the woods at night. There are many opportunities for scares and they really go to town with them. It's a beautiful thing when a film can make seamless transitions from scares to laughs and back again. One of the best of the fest so far!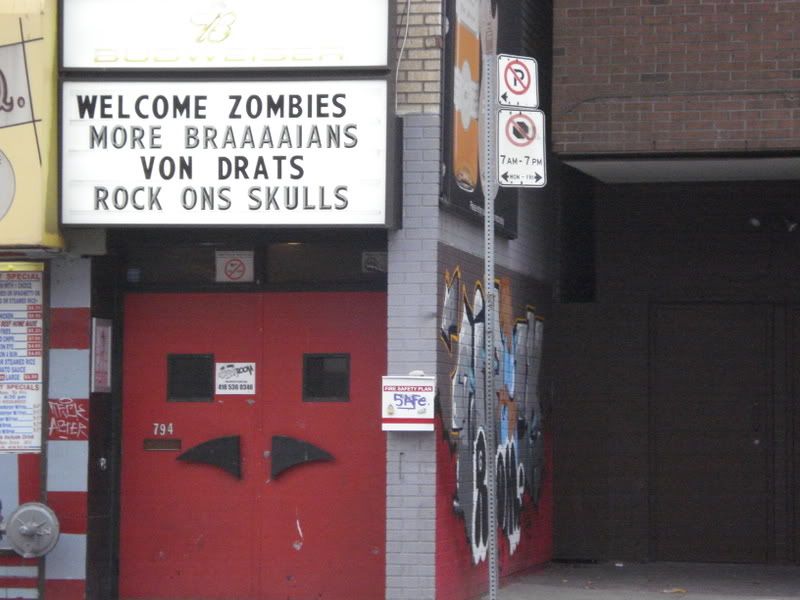 It seems that zombies are still welcome in the nearby areas! Although I decided to pick a non-brain serving location to catch a bite and work on some reviews before the night began. Yay for free wi-fi at
Insomnia
.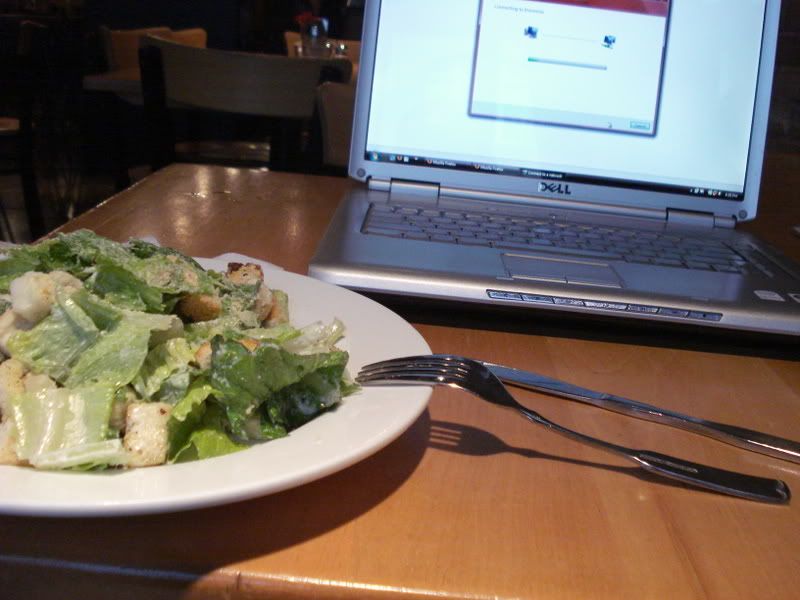 The
Toronto After Dark Film Festival
2008 runs from October 17-24/08 at the
Bloor Cinema
, Toronto, Ontario, Canada.