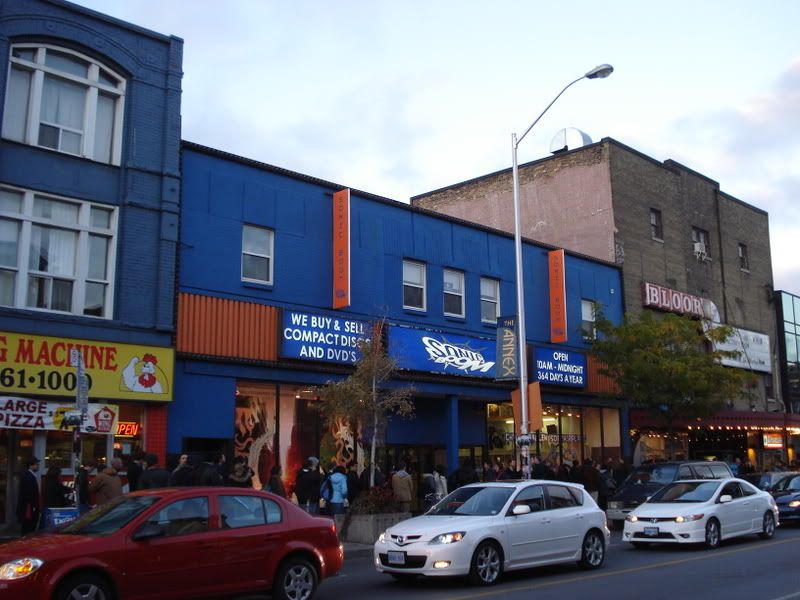 Big line up at the box office for
Tokyo Gore Police
around 6:10pm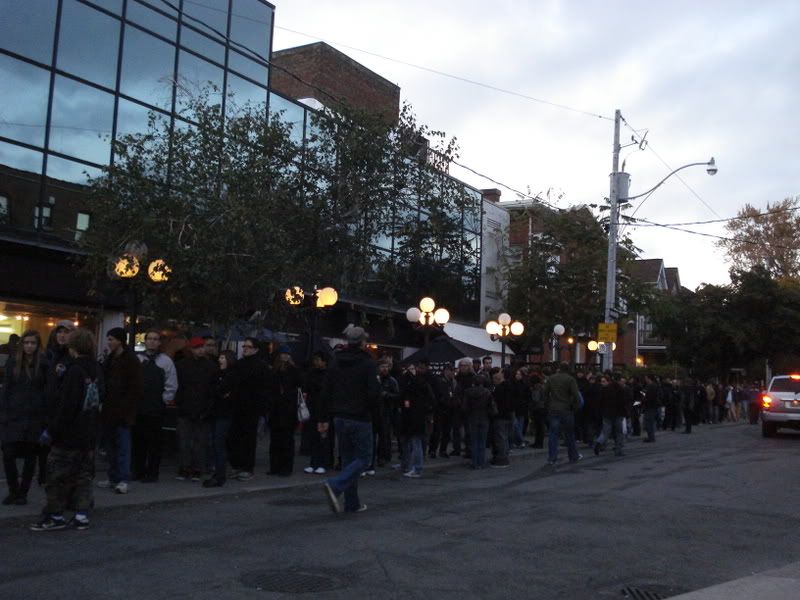 Huge passholder & ticket holder line for
Tokyo Gore Police
around 6:20pm.
Day 7 at the
Toronto After Dark Film Festival
was amazing. Not only did I completely enjoy both of the features, I also got to catch up with some fellow Toronto film festival goes Chris from
Toronto J-Film Pow-Wow
, Polly, Trista from
10 Movies to See Before You Die
as well as Toronto After Dark regulars Bob from
Eternal Sunshine of the Logical Mind
, Sarah from
PopJournalism
and Andrew from
RowThree
. It's always fun to chat about the films, but even more so when they were as entertaining as
Tokyo Gore Police
or as terrifying as
Home Movie
.
One of the funniest moments of the night didn't come from one of the films at all. After successfully emerging from the mammoth popcorn line before Tokyo Gore Police with my tea in hand, I overheard someone ask if they take debit. Debit. Debit for popcorn at The Bloor? Now that is funny. It's the Bloor people! Cash only, and at their great prices you probably have the money in your pocket.
To hear and see about Day 7 check out my TADFF'08
Vlog for Day 7
.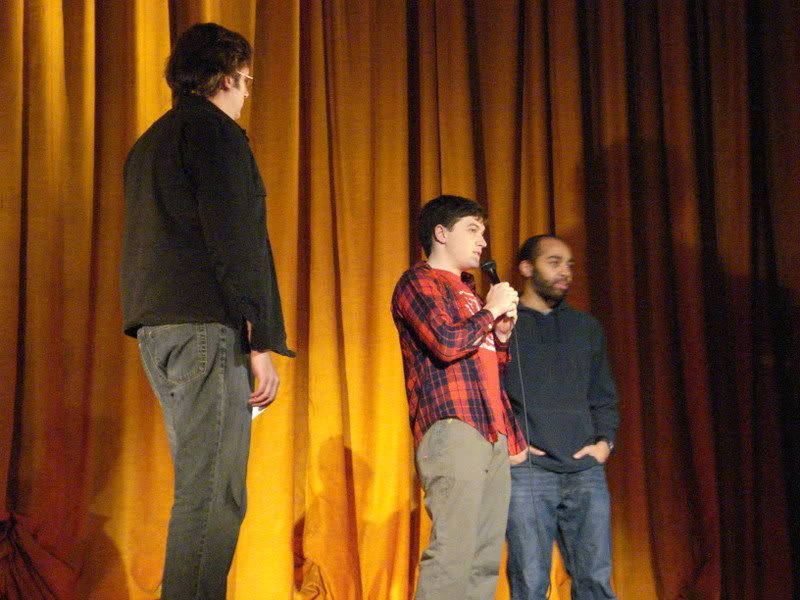 Todd Brown Programmer with
Bum Rush
directors Jesse MacMillan and Simon Box
Bum Rush
Dir: Jesse MacMillan and Simon Box
Canada, 2008
6 min
Winner of the
Toronto Film Challenge Spring 24 Hour Competition 2008
,
Bum Rush
follows three guys as they seek revenge on one tough as nails bum. Pretty awesome for a short that was made in such a limited time frame.
Tokyo Gore Police / Tôkyô zankoku keisatsu
Dir: Yoshihiro Nishimura
Cast: Eihi Shiina, Itsuji Itao, Tak Sakaguchi
Japan
After seeing, but not loving,
Machine Girl
earlier in the year I wasn't expecting too much from Tokyo Gore Police as it appeared to have a similar structure of create a story than add as much gore as you can. The kicker is, I ended up loving Tokyo Gore Police I was laughing so hard I thought I would fall out of my seat. What made it work for me was that they created this hyper-stylized near future
world
where all the crazy gore effects fit into place. Is the premise over the top? Of course! Were there times when it didn't quite make sense? Sure, but not so many that it really mattered. To top it all off, the sold out crowd made a ton of noise, cheering, gasping and giggling along the way. It is not for the faint of heart though, nearly any body part that could be torn, ripped, sliced or gutted was done so repeatedly, explicitly and with more blood than a vampire banquet.
The Auburn Hills Breakdown
Dir: Geoff Redknap
Canada, 2008
13 min
A hilarious take on horror movie character and plot clichés set in a mild mannered suburban home. Very clever timing and editing make for great shots that had the crowded giggling throughout.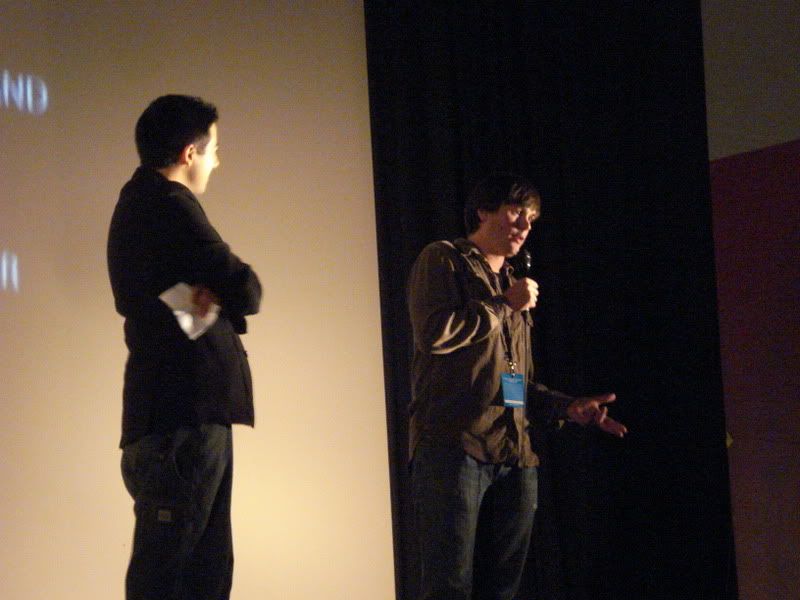 Festival Director & Founder Adam Lopez with Andrew van den Houten producer of
Home Movie
Home Movie
Dir: Christopher Denham
Cast: Adrian Pasdar, Cady McClain, Amber Joy Williams, Austin Williams
USA
Home Movie
has been billed as the scariest film at the festival this year. I'm don't think it surpasses some of the scares in
4BIA/Phobia
but that film gave us many opportunities to release the tension whereas Home Movie does not let up. The atmosphere of tension created if phenomenal given that it comes from perspective of a home movie camera, and the acting is without question amazing. Both Adrain Pasdar and Cady McClain are fantastic as the parent of two creepy kids, showing a vast range of emotions from depicting with clarity everyday events, to their 'professional' selves to different states of concern for their children. The kids are creepy as well, the actors are real life brother and sister but play twins in the film that are more than a little demented. The view from the video camera was used very well, and the film provided us with lots of scares. Overall, it was a chilling experience and certainly one of the best films at the festival.
Want to see if you can take it? You can.
Home Movie
will be released on DVD by Anchor Bay.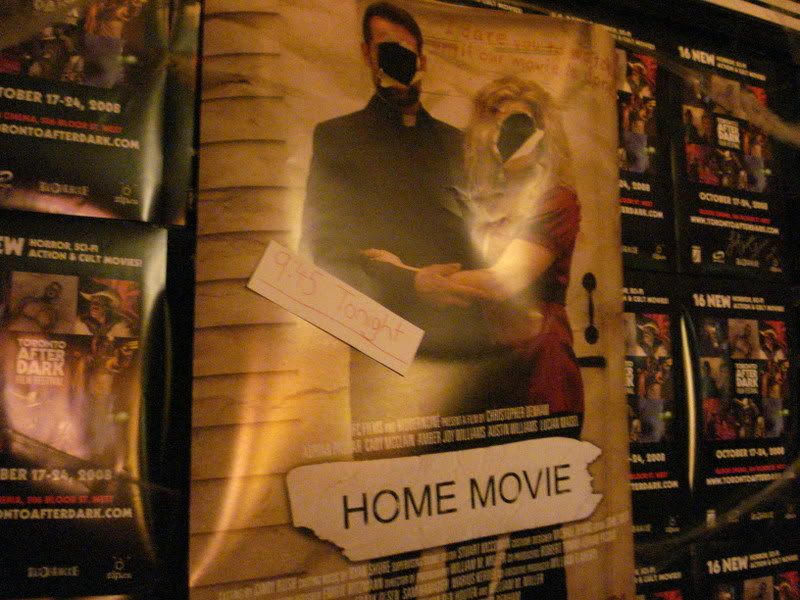 The
Toronto After Dark Film Festival
2008 runs from October 17-24/08 at the
Bloor Cinema
, Toronto, Ontario, Canada.