Here is my Toronto After Dark pre-fest Vlog!
Discussed topics are highly anticipated films at this years festival, box office & sold out screening as well as what to expect here at Movie Moxie throughout the festival.

Notes & Links from Vlog:
-Clarification: Repo! The Genetic Opera - the film is sold out but there will be limited number of tickets available on the night of the screening. Line up begins 1 hr before the screening and the tickets will be released 15 min before the show. For more details on the screening and box office in general click here.
- Thoughts on this years Canadian and International shorts selections are here.
- Information on announced filmmakers & guests is here.
- Toronto After Dark talks to the Space Channel - and rumours of the guests that may attend the closing Gala screening of I Sell the Dead!

Trailers for features discussed:
Mirageman
Let the Right One In
Mutant Chronicles

For more information, check out the Toronto After Dark Film Festival website, Film Listings, Film Schedule, Box Office Info, Zombie Walk Page and Venue Information(which includes the lowdown on Parties & Pub After Dark).
Be sure to check back here at Movie Moxie for daily coverage throughout the festival including film reviews, pictures and vlogs.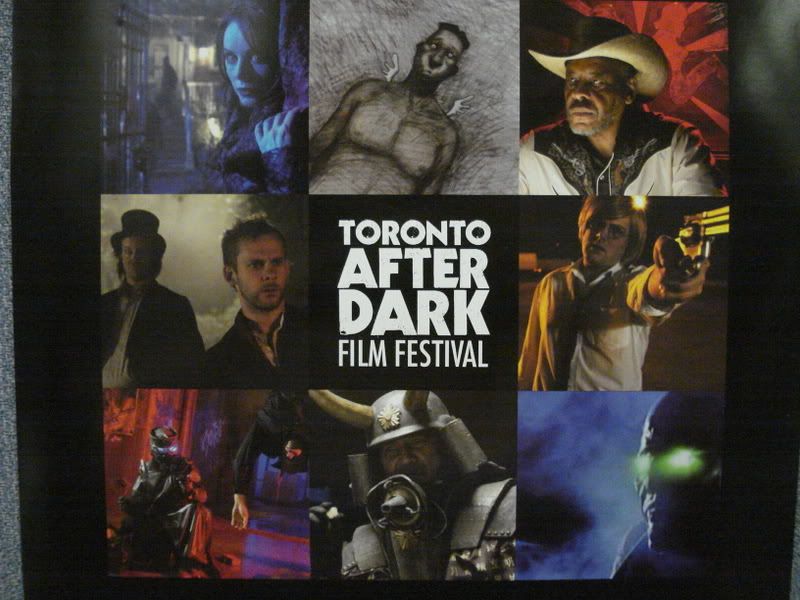 Detail of 2008 poster

The Toronto After Dark Film Festival 2008 runs from October 17-24/08 at the Bloor Cinema, Toronto, Ontario, Canada.