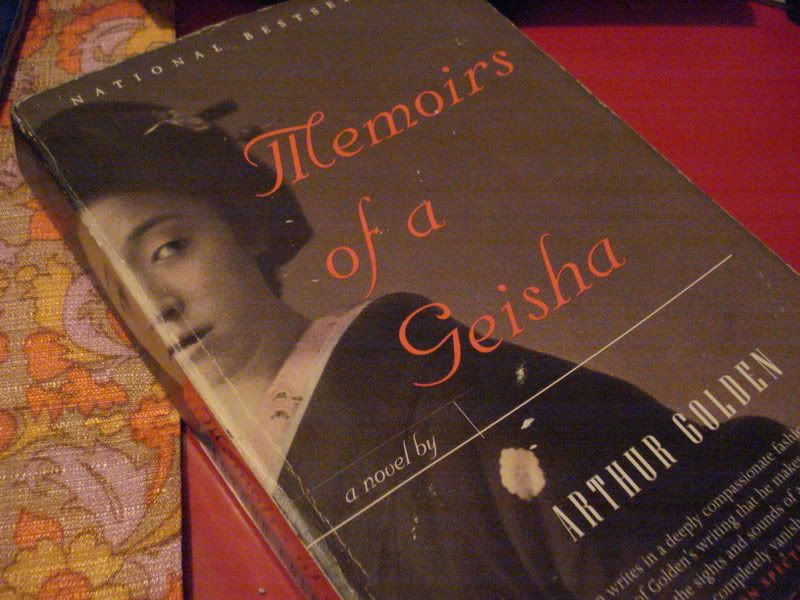 Almost a month has passed since I joined up the
Lit Flicks Challenge
from over at
The Bluestocking Society
and the
companion challenge
over at
Bitchin' Film Reviews
but it has taken that long to make it through one of my five books which is:
Memoirs of a Geisha
by Arthur Golden
I was a little intimidated at first that the book looked really long and had rather small print, but after I began reading it I was hooked. There were moments where I was walking and reading at the same time, that kind of hooked. Not for the whole thing but certainly for specific sections. I was captivated by the world, the characters, and particularly the thoughts and dialogue that used metaphors either for discretion or beauty.
I will admit that about halfway through the book I noticed the back cover said Fiction/Literature and only then did I realize it was written by a man. How could I not have realized this? I really thought I was in biography/autobiography territory. This even made me stop reading if for a bit and then I realized how silly that was because I was enjoying it so much and just because it wasn't about an one specific person that doesn't mean it should be left to collect dust. So back I went to keep reading and I'm so glad. It's truly one of the best books I've read in a long time, with lovely and sensitive character development and provides a look into such a fascinating world.
As a huge bonus it turns out that there was a lot of care that went into the historical accuracy, so I was fretting for nothing! Silly me.
I'm hoping to watch the film this weekend, which has been quite the wait considering it's been on
my list
for over two years. I had a sneak peak at the casting at
IMDb
and a lot of the choices are awesome. I can't wait to see Gong Li as Hatsumomo, Michelle Yeoh as Mameha, Ken Watanabe as The Chairmen and after seeing Zoe Weizenbaum in
Twelve and Holding
I'm sure she will be fantastic as Young Pumpkin, or in any role she chooses to play.
Next up for reading I'm straying from my
original 5
to read "New Moon" by Stephenie Meyer in anticipation for the release of
Twilight
on November 21, 2008. I've heard rumours that there might be content from the 2nd book in the series in the film so I want to be prepared. I'm sure "New Moon" will be a quick read so I'll be back at my original list very soon.