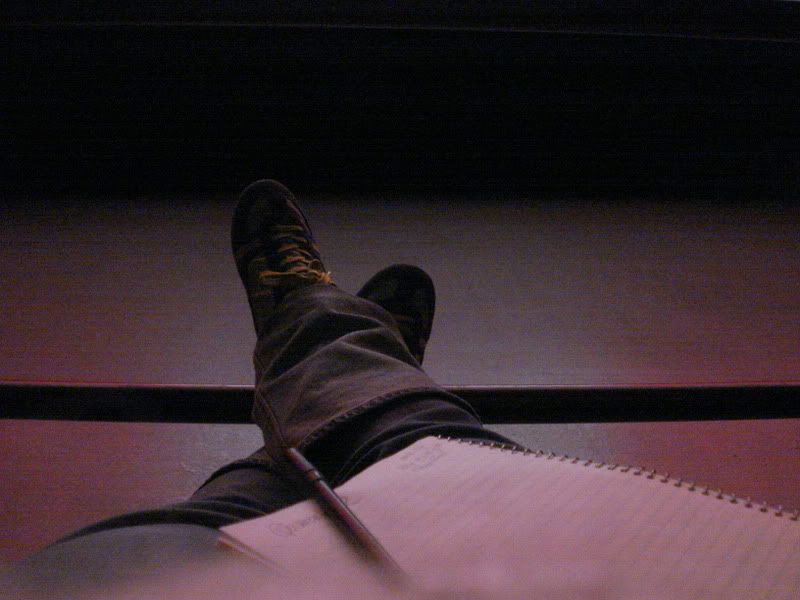 Yes. I said what I'd never do. I saw
Quarantine
. Feel free to click through for the full review, or I can just tell you now that it was just as bad as I had expected. I'm curious to hear from people who saw it but didn't see
[REC]
thought about it.
This month is my last chance to plug through my
101 Film I Can't Believe I Haven't Seen
list (it looks like I will actually make it!) including
Les Boys
a French Canadian film that delves into the world of hockey and gambling. It was one of the harder films to find, I ended up buying it off of
amazon.ca
. I also managed to get through one of the longer films on my list,
Das Boot
at 209 minutes. Not 2hr 9 min but two hundred and nine minutes - just shy of 3 1/2 hours. But, it was worth it as the film is awesome. I'd made a few previous attempts to get through this one but never made it all the way through this one before but I am glad I did this time. I love submarine movies, the sound, the odd and cramped setting, the chance that water could break through. The acting by Jürgen Prochnow as the main character was completely compelling and one of the highlights of the film. Odd side note, I was initially worried about seeing this one as the VHS copy I have is widescreen and of course, subtitled. That combination doesn't always fair well on my 13" TV but this time it was just fine.
Waiting for me at the library this week was
Brief Encounter
, for which I'm stumped at what me reason to see way. Perhaps as it's directed by David Lean? Or, part of the Criterion Collection? I didn't make note of it. Regardless, it's quite a bizarre and very short that really is straight to the point. The joy if it was the acting, specifically Celia Johnson as Laura Jesson whom transforms her physical appearance and facial expressions at different points of the film so much that I was amazed it was the same person.
Last film of note, I finally caught up with
Juno
and I enjoyed it much more than I expected. It's one of those films that just *everyone* loves and I wasn't sure I would so I avoided it. Do anyone else ever do that? No worries this time round as there was tons to enjoy from fantastic dialogue and acting (not only Ellen Page but Micheal Cera, J.K. Simmons as her dad and Allison Janney as her stepmom were all excellent). I did the art director went a little overboard though, it seemed like each and everything was kitschy. The music was awesome, I'm sure the soundtrack would be great as well.
Although I didn't get out to the theatre as much as I had hoped, it was the one film I saw has previews for early 2009 films such as
Notorious
(
teaser trailer 1a here
) and
The International
(
trailer here
, gets spoilery at 3/4 point) starring Clive Owen, Naomi Watts and Ulrich Thomsen (
Fear Me Not
). Even though
last week
I said we are finally starting to see some awards bait it truly feels like the last bit of this year doesn't have too much of high acclaim our way.
What did you see this week?
Up next week: hoping to sneak in
American Hardcore
(documentary on punk music) but this week will be dedicated to the
Toronto Reel Asian International Film Festival
.