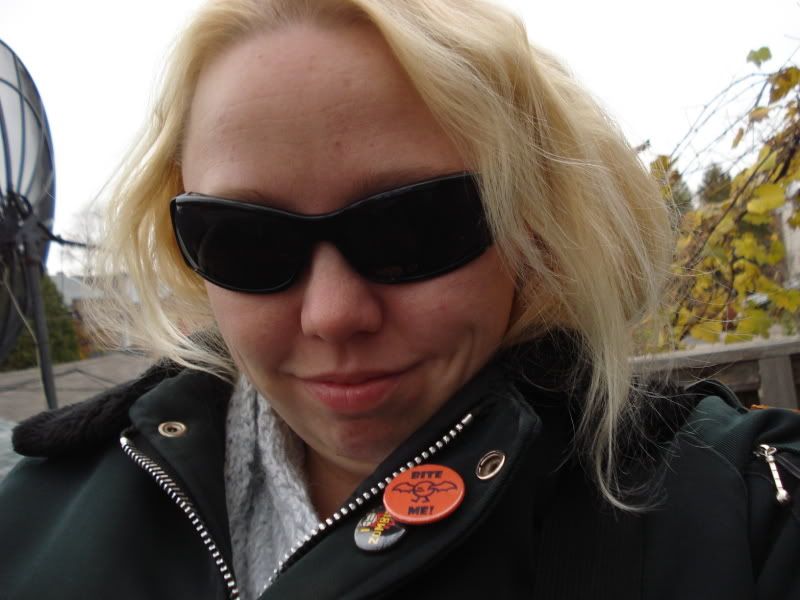 So, not much for movies for me this week. If that's a problem you can take a hint from my buttons.
It's been a bit of a quiet week for film, I've only been out to the theatre once and that was to see
Twilight
for a second time. It was quite a different experience from opening night, this time I saw it on a weekday late matinee, when I walked in there were only 3 people in a huge theatre! The crowd did trickle in through the 22 minutes of commercials and previews. 22 minutes. Sheesh. The film was just as good the second time round.
Other than that I've been catching up with some Can Con with
The Tracey Fragments
and
Weirdsville
. I really wish I had seen
The Tracey Fragments
on the big screen, or at least a bigger screen than my 13" TV screen. The film is quite fascinating, told in an untraditional narrative style and a unique visual style. Some of the content was a little disturbing, so be forewarned but the story is brave as is Ellen Page's performance. It's definitely worth seeing.
Weirdsville
lives up to its name a threefold! I'm not a huge fan of drug/crime/comedy capers but as far as they go this one fares well. What really sold it to me was all the Canadian references and content from the colour of money to curling jokes. It was also very visually interesting with numerous sequences of brilliant colour and composition. The colour was so vibrant that it reminded me of pics you see when people take them with a Rebel SLR camera. The only thing that jarred me out of the film was Taryn Mannings performance strongly resembled her role in
Hustle & Flow
, both great performances but very similar.
I also snuck in watching
Untraceable
which was not a good idea. I was hoping for some mindless fun and there there were some interesting moments but overall there is way too much violence/torture involved for it to be engaging.
In upcoming film news I'm thrilled to share that
Chandni Chowk to China
has a Toronto release date set for January 16, 2009! I wrote about the film
way back in July
and did not anticipate the zany looking Bollywood/Comedy/Martial Arts film starring Gordon Liu (
Heroes of the East, Kill Bill Vol. 1 & 2
) to be released here in T.O., but I'm so very glad it is. See the
trailer at the film website
to check out the craziness and while your there see the
release schedule
to see if it will be playing in a theatre near you.
I'm hoping to catch up with a few theatrical releases this week as we are nearing the end of the year and
awards, nominations and top 10's lists
are cropping up. To be honest, all the awards announcements are getting overwhelming. I am looking forward to hearing the Golden Globes nominees this Thursday - that is one that I do use as a list to chip away at pre-Oscars.
Other than that have oodles of library goodness to get though before the weeks is up. I love the
library
!