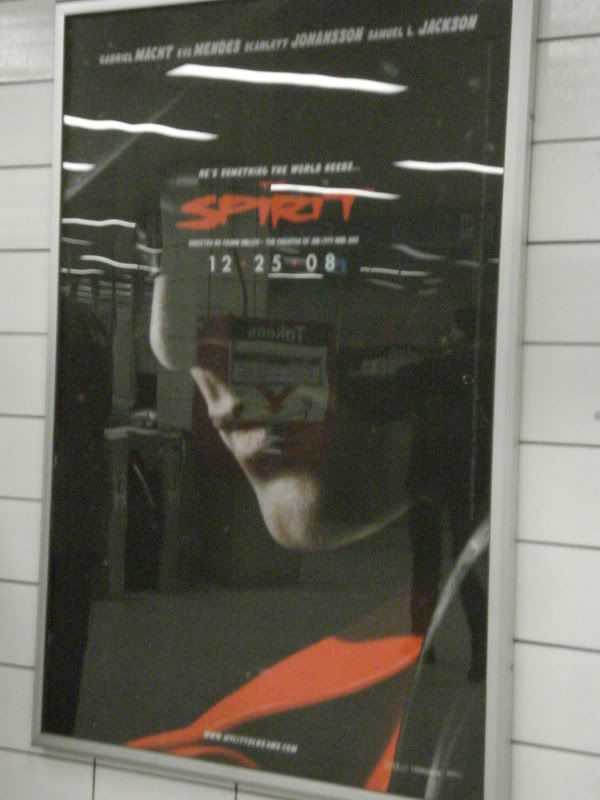 Well here we are with the last Week in Film update for 2008! It's been one heck of a year and I'm still tweaking my favourites lists and thinking of all the awesome films that came out this year.
Once my holiday 'list of things to do' were done, I did get a few chances to make it out to the theatre to sneak in a few more 2008 films. First up was an advance screening of
The Spirit
, which is the first time in a long time that I've had to do a bag check. Night vision technology was certainly in effect. I wanted to wave to the security folks, but I have a feeling that would have given the wrong impression.
The Spirit
has a lot of awesome clothes in it for the ladies, and I certainly enjoyed it more than
Sin City
. The unique visual style wasn't consistent throughout, leaving long spaces of time with nothing but regular visuals which was unexpected. The audience was interesting though, it was like they didn't know how to react to the film, especially the humour. There was one glaring product placement that really turned me off. It made no sense in terms of the films setting or style, making it stick out like a sore thumb.
The very next day I headed back to the theatre to see
Gran Torino
, Clint Eastwood's latest film which he not only stars in but directs as well. I knew this film may be challenging for me to watch considering the main character is shown to be very racist, something that I can't stand. Overall it was worth it as the film takes a rather unique look at racism and relationships, although I would forewarn you that there are racial slurs rampant throughout the film used in negitive as well as endearing manners.
The last trip to the theatre I found myself at a jam packed, sold out showing of
The Wrestler
. I'm talking the front freaking row was full. I'm still processing my thoughts on it, it was a good film and Mickey Rourke was exceptional. There is something about it that I can't quite put my finger on yet though, so that is all I will say on it for now.
Other than that I had a Kung Fu Christmas! Last Christmas I decided to snag and watch a bunch of Bruce Lee films and that was a lot of fun so I decided to keep it up. This year the I went with
Fist of Fury
(aka
The Chinese Connection
) one of the Bruce Lee films I hadn't yet seen and it was a lot of fun. Great action, strong story and even a sweet romance subplot. Perfect! Next up was
The 36th Chamber of Shaolin
which I've been waiting ages to see. I picked it up after going to the
Heroes of the East

screening
back in July with
Gordon Liu in attendance
.
The 36th Chamber of Shaolin
was awesome, it's jam packed with action and has a beautiful story and message as well.
I also caught up with Jean-Luc Godard's
Breathless
which I forgot I had already seen. Oops. Still a great film, I love the dialogue in particular. Also chilled while watching
Out of Sight
, I picked it as it was on some top list of something somewhere. Wow, that was articulate. Anyway, it had some good moments with George Clooney & Jennifer Lopez but the story wasn't all that interesting.
How was your week in film?