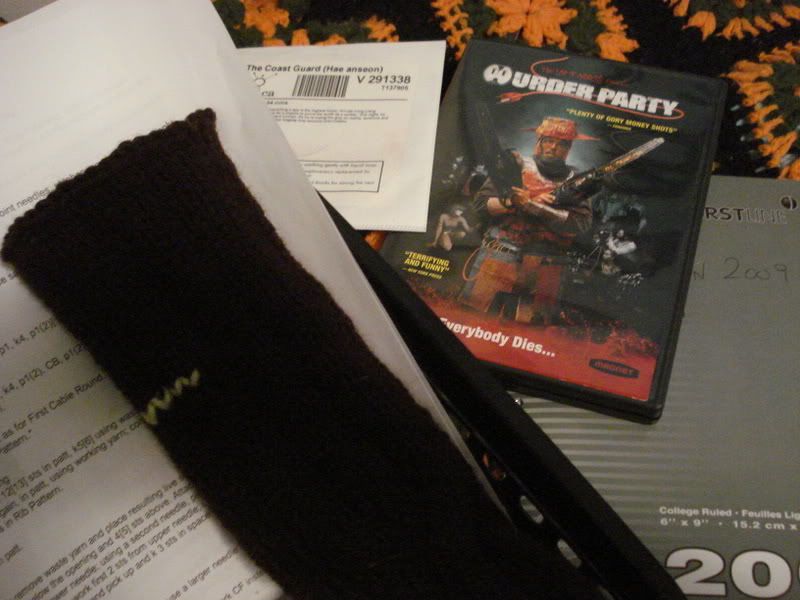 I'm getting back on the Week in Film train after taking a bit of a hiatus. Choo Choo! Let's see what this train has been up to!
I'm thrilled that I've knocked off 3 out of the 18 films on the
Seen Unseen Films list
for my
9 in 2009
. First up is
Murder Party
, which was the closing night film for the
Toronto After Dark Film Festival in 2007
. It was one of the few films I didn't see that year, I decided against going after watching the trailer which just looked like a bunch of people trying to kill each other. What changed my mind? My buddy
Bob from Eternal Sunshine of the Logical Mind
assured me it was more than that, and oh boy it sure is. Although technically the title tells you the gist of the film, but what it doesn't tell you is that it's funny as hell. Which sometimes feels awful in a horror film but it gives such a great balance to the tension. I wouldn't recommend it to the highly squeamish, but anyone that likes a good horror film especially with some indie flavour, this is a gem. It also has some of the funniest DVD extras I've ever seen, including step by step 'how to' on making one of the costumes in the film.
Next up is
Funky Forest: The First Contact
which is another film that showed at the
Toronto After Dark Film Festival
, this time back in 2006. It's a Japanese comedy that is a series of recurring and non recurring sketches and it's hilarious! I really enjoyed seeing catching glimpses of the wild imagination brought to life on the screen. You really never knew what would happen next and whether or not it would make any sense at all. The ideas and imagery were so bizarre that sometimes it freaked me out and I did get a mite tired with the, how to put it, references to bodily functions. Other than that, I think it's truly a work of genius. Be prepared to tuck in for a while when watching, it is a 2 1/2 hr ride to crazyland.
I also caught
The Terror
which barely held my attention which feels odd to say considering it stars Jack Nicholson and Boris Karloff. It's a supernatural thriller of the ghost variety and has some interesting ideas but just didn't work for me. Next!
Last up is
The Coast Guard
from directed Kim Ki-duk. Last year I watched his film
Spring, Summer, Fall, Winter ...and Spring / Bom yeoreum gaeul gyeoul geurigo bom
after which I decided I'll see anything and everything he directs.
Spring, Summer, Fall, Winter ...and Spring
was so beautiful and dealt with harsh subject matter with a sensitivity I've rarely seen.
The Coast Guard
, although has a completely topic, it still has this same sensitivity. The film is structured around the how living in a divided country affects the people. The subject matter and context are by no means easy to deal with but the film is beautiful in its honesty. I'm looking forward to catching 3-Iron, another Kim Ki-duk film this week.
For all the fellow Trekkers and Trekkies out there,
The Star Trek Movie Marathon
continues this week with
The Wrath of Khan
review which will be posted on Tuesday January 20/09. For Toronto folk who love this film, it's playing on that very night over at
The Fox Theatre
in the Beaches.