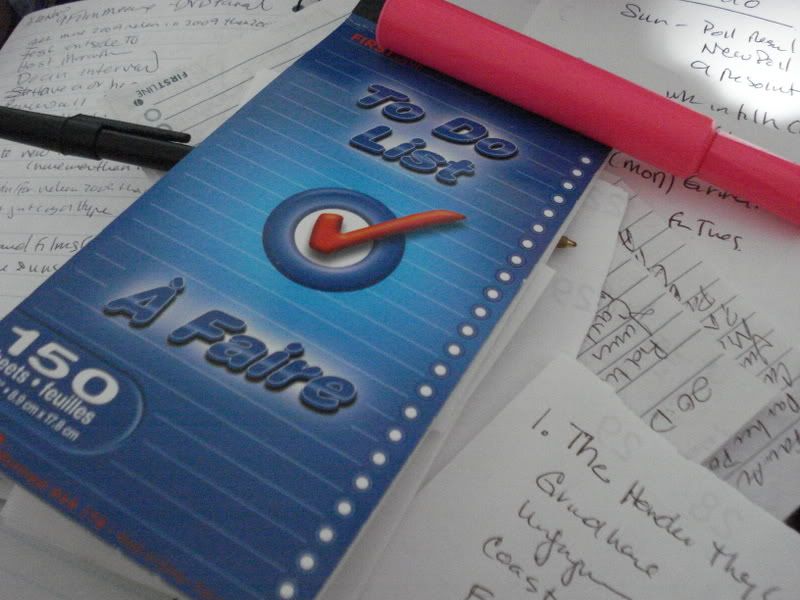 DVD Panache
has come up with a
fantastic idea
. Create a list of 9 film related resolutions for 2009. I love lists. I love challenges. Therefore, I am jumping on this train of movie going madness. I have so many film related goals so honing it down to 9 and just for this year is a challenge, but I am up for it!
Final Tally: 7/9
1. Attend a film festival outside of Toronto - not this year!
2.
Create a new 101 films to see list
(
see past list here
)
3. Create a or be on a podcast Done & Done: Guest on
Gmanreviews Unnamed Movie Podcast
+ Co-host of
Before the Dawn: A Twilight Podcast
4. See more
2009 releases
in 2009 than
2008 films
in 2008 (2008 was: 92/341) - Done! 104 Films from 2009 seen
5.
Review more 2009 release in 2009
than 2008 films in 2008 (2008 was: 38) Done: 67 reviews of theatrical releases
6.
Buy a new TV
7. Go to a microcinema and / or drive in - no luck here
8. Take a picture of the poster for all 2009 releases I see & create a slideshow of the images: in process - done!
See video here
9. List, watch and return all unseen film I've borrowed or own:
List made!
& Done
Bonus: Have a fabulous opening night outfit - done!
Part of playing along is tagging 5 people. I don't usually tag but please play along.
Click here for all the details on how to do participate.