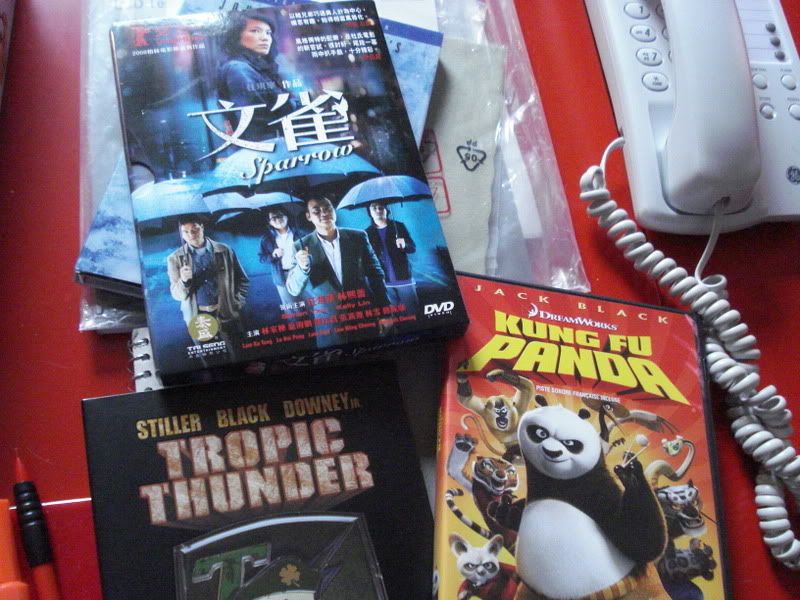 I'm in the last dash attempt to catch up with Oscar nominated films before the big day on Sunday. Breaking with tradition and posting midweek as I want to get my thoughts out there before the awards on Sunday. Enjoy the update!
For films available on DVD I caught up with
Kung Fu Panda
and
Tropic Thunder
. I really enjoyed
Kung Fu Panda
, in part it was so beautiful on my new TV I almost wanted to cry but also the story was much sweeter and inspiring than I had expected. I thought it would be all jokes and silliness, which there was lots of and it was fun, but it had a lot of heart.
Tropic Thunder
had, not so much heart unless you consider of the blowing up variety. I'm still surprized I watched it at all because it held no interest to me but it certainly had entertaining meta commentary of the film industry. I also have to admit, that Robert Downey Jr. was phenomenal. There, I've admitted it. That makes 2 more films for the vault. Big thank you to my sister
Jamie
& her honey for lending them to me!
I also trekked out to the theatre on the new 'Family Day' holiday for a triple bill! I saw two of the biggie Oscar nominations:
Milk
and
Frost/Nixon
. It's interesting that there are both historical, Americana, issue-focused and set in the 1970's. I enjoyed both of them but have to say that Frost/Nixon showed too much of the good stuff in the previews. Milk definitely touched the crowd and I was very impressed with the performance by Sean Penn. It was great to see pretty substantial houses for both the films, people are getting out there! Yay!
I can't say so much for the other film in the triple bill:
Friday the 13th
(2009)
. Oh my. I don't know why I went or what I was expecting but it was ... well to be fair it was a slasher film. I expected more, who knows why! It was a really quiet house, about 10 folks in there at the noon-ish screening and 2 of them walked out.
Other non-Oscar films that fit my screen were Johnnie To's
Sparrow
(now struck off my
owned but unseen list
!) which was very sweet. It's the first Johnnie To film I've seen and I'd hazard a guess that sweet & quirky isn't his usual style but it worked very well. Nothing like a group of misfit pickpockets to brighten the day. Last but not least, only because
Friday the 13th
takes that cake, was
Never Back Down
. As I expected this teen fight-clubesque film is a testosterone in training version of a dance movie. If I had more time I would to a side-by-side comparison to
Never Back Down
and
Step Up 2: The Streets
because they are so similar.
I am planning on seeing
The Curious Case of Benjamin Button
before the Oscar ceremony on Sunday night to round out seeing all the Best Picture
nominees
. How are you doing on Oscar nominations seen?
I'll be
live tweeting
through the Oscars and will also drop by the chat over at
Row Three
. Feel free to join the fun!