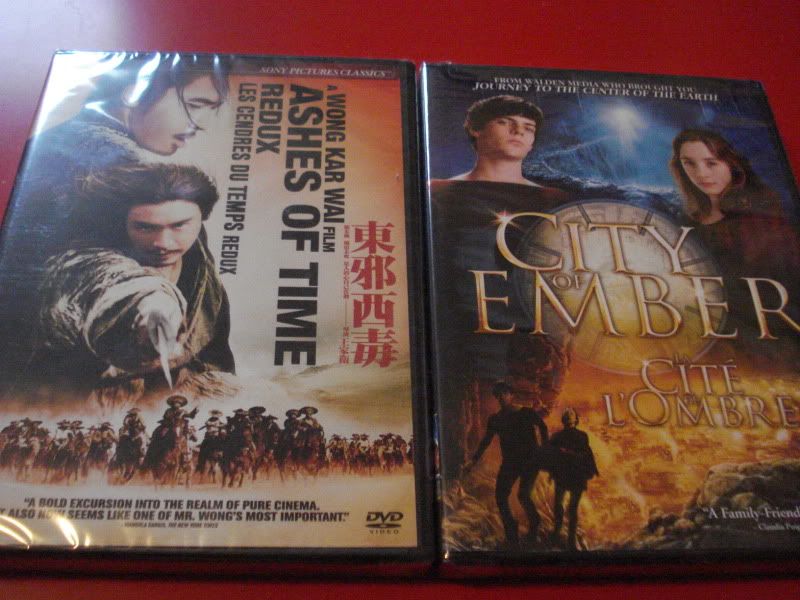 Getting to a time where numerous 2008 film festival films are being released on DVD so it was a challenge to make my selections this month. I held back from some of last years faves like
Chocolate
and decided to go with:
Ashes of Time Redux
One of if not the most beautiful film I saw of last year. A redux of the film originally released in 1994, we are treated of fantastic performances, beautiful visuals and a stellar soundtrack. Interwoven stories are told, fights are fought, shadows are cast and tears are wept. Directed by Wong Kar Wai and starring Leslie Cheung, Brigitte Lin, Tony Leung Chiu Wai, Carina Lau, Tony Leung Ka Fai, Charlie Young, Jacky Cheung and Maggie Cheung.
Amazon.ca link
City of Ember
I just recently finished the Jeanne DuPrau novel of the same name which the film is based on and my first though was that I was surprized they made it into the film. Although it screams for a world of brilliant art direction and cunning characters, I didn't think it would translate very well to the screen and unfortunately it falls a bit flat. I do highly recommend reading the
book
.
Amazon.ca link