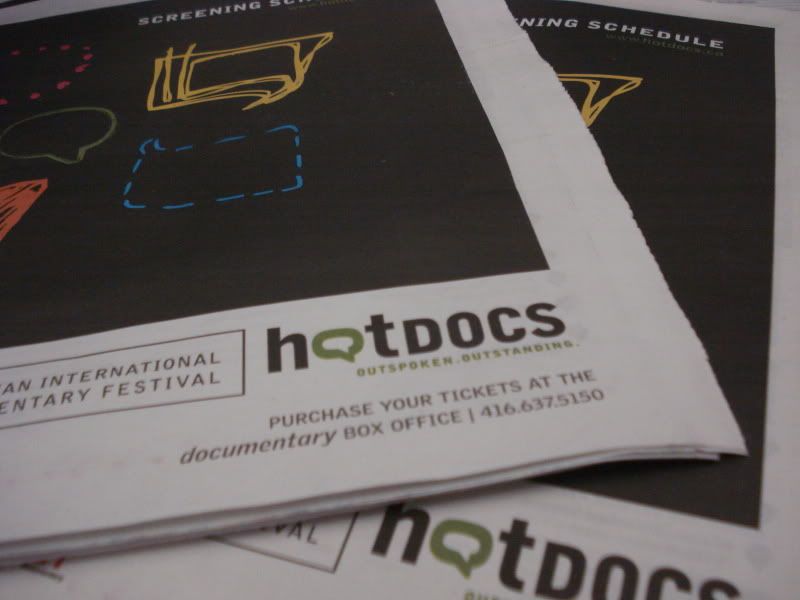 It is almost upon us, the 16th annual
Hot Docs
Canadian International Documentary Festival begins this Thursday April 30/09 and runs until Sunday May 10/09. The festival spans 11 days over numerous locations in downtown Toronto and is one of the biggest film festivals of the city. This year brings another stellar line up from homegrown films like the festival opener, Act of God, to films from around the world. This year the the country in focus for the 'Made In' program is South Korea and we have numerous South Korean films to explore and enjoy.
Before you head out to the festival, I recommend planning wisely. There are already numerous screenings that are rush only so to avoid disappointment, plan ahead! Check the
online schedule
and purchasing
FAQ (including rush only explanation)
to see how it all works.
When you are putting your schedule together, there are a few things to consider for timing. I recommend that you always give yourself extra time in between films if you are planning back to back screenings, especially if you don't want to be rushed off your feet. All films are listed in the program, but consider that the films are always introduced by festival staff, may be presented with a short film and often have a Q&A with the filmmakers after the screening. Q&A's are one of the things that make the festival experience special, so it's well worth planning in some extra time to make sure you get to stay for them.
Another consideration is the distance between the theatres. All the locations are in downtown Toronto, but some are very close but other quite the trek. The theatres that are walking distance from each other are Isabel Bader/ROM/Cumberland, but others it depends on your pace, method of transport and of course the weather how far you consider them from another with Innis on U of T campus, the Bloor at Bloor & Bathurst and the The Royal in Little Italy. Check out full information on venues
here
.
One important date during the festival to make note of is the last day, Sunday May 10, 2009 is Mother's Day! So, remember to spend some time with your Mom - why not even bring her to a film? This is also a historically busy lunchtime day around town!
One last note before getting to some film choices - always, always, always check the weather. I know it will be May during most of the fest but here in Toronto in the past few weeks we've had snow, thunderstorms as well as beautiful patio like days. Let's hope it's all sunny skies ahead.
This years festival features documentaries of every kind and on the Hot Docs site you can check out the titles by
Program Categories
. When I was looking through the films, I noticed a few distinct groupings of films. Here are some trends.
For the Genre fans: Zombies, Stunts and Space!
Zombie Girl: The Movie
Dirs: Aaron Marshall, Justin Johnson & Erik Mauch
USA
A 12 yr old girl creates a zombie film. Let's see how.
Best Worst Movie
Dir: Micheal Paul Stephenson
USA
Fan of Troll 2, the notorious Worst Movie of all time? Sure you are! Find out how such a 'bad' film became famous.
Action Boys
Dir: Byung-Gil Jung
South Korea
More behind the scenes film goodness as we get to see inside of world of Seoul Action School.
Another Perfect World
Dir: Joreien van Nes, Femke Wolting
The Netherlands
I'm a sucker for films that explore any kind of gaming, this one looks at the virtual worlds of Second Life and EVE.
Ascension
Dir: Pavel Medvedev
Russia
Montage of previously unseen footage from the archives of the Soviet space program.
Rawr! Films for Sport & Strength
Fans
Big John
Dir: Håvard Bustnes
Norway
A father & son, coach & professional boxing life.
Big River Man
Dir: John Maringouin
USA
Chronicle of the attempt of an endurance swimmer to swim the Amazon river.
Strongman
Dir: Zachary Levy
USA
Just as the title says, the story of a Strong Man Stanless Steel.
Animals & The People that Love them
Cat Ladies
Dir: Christine Callan-Jones
Canada
You guessed it, it's all about crazy cat ladies! Meow!
The Tiger Next Door
Dir: Camilla Calamandrei
USA
Following a man who breeds big cats in his backyard.
The Cove
Dir: Louis Psihoyos
USA
Another one of the big buzz films of the festival, The Cove looks at the intervention to end dolphin slaughter in Taiji, Japan.
The Biggies - The films everyone is talking about:
Act of God
Dir: Jennifer Baichwal
Canada
Opening night selection, explores the experience of those touched by lightning.
Tyson
Dir: James Toback
USA
Portrait with the one, the only, Mike Tyson.
Objectified
Dir: Gary Hustwit
USA
This film has been getting huge hype on the festival circuit already. Documentary examining Industrial Design, from the director of everyones favourite font film,
Helvetica
.
We Live in Public
Dir: Ondi Timoner
USA
What would it be like to literally, live on camera for 30 days with other people? This film chronicles the experiment.
Prom Night in Mississippi
Dir: Paul Saltzman
Canada
Morgan Freeman offers to fund the first integrated prom in his home town.
These are just a drop in the bucket. Check out the
Hot Docs website
for info on all titles as well as a
Film-by-Subject Guide
and
Searchable Online Film Schedule
. For more information locations and tickets, check out
Venue Information
,
Ticket Information
,
Box Office FAQ
. You can also
purchase tickets online
or find out more about online ordering at the
online ticketing FAQ.
You can also check out the
scheduler for Hot Docs
from
B-side
to help organize your films!
Hot Docs
Canadian International Documentary Festival runs from April 30- May 10, 2009 in Toronto, Ontario, Canada