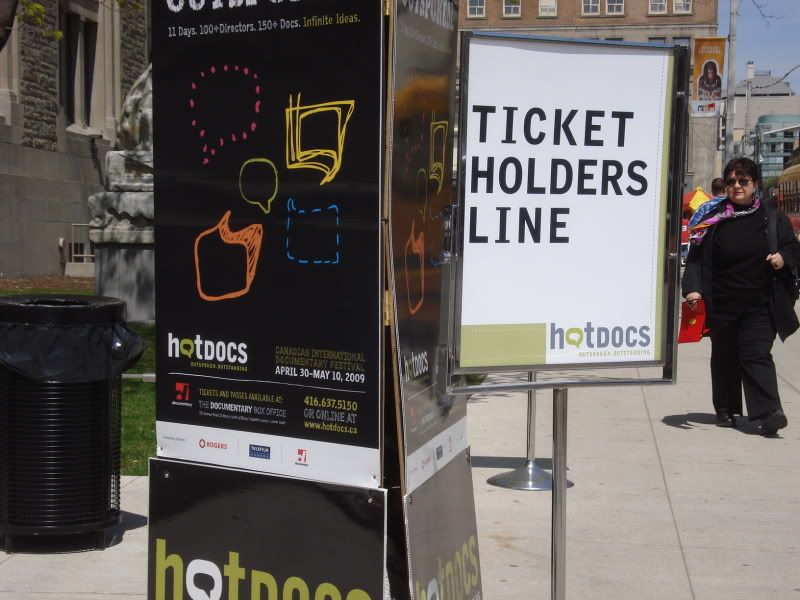 Day 6 at Hot Docs was full of surprizes from the films themselves to reactions to connections to other films and beyond. It's nice to have a day that ends up completely different than anticipated, at least we it ends off in happy surprizes.
Plane Days
Dir: Benjamin Kracun, Ewan McNicol
UK, 15 minutes
Plane Days
was a treat from start to finish. First off, I didn't realize it was paired to be shown with Ascension (great combination of films) and therefore I had no idea what I was in for and there is nothing like a happy surprize to start the day. When the film began I was confused, not understanding what I was hearing and looking for the subtitles and slowly became aware that it wasn't the big L language I was having trouble with but the little l language. Filled with terminology of anything that could be launched into the sky, the audience is held captive watching watchers as the keep their eyes glued to the sky. It is a captivating watch of people in their element.
Plane Days
website
Ascension / Voschozhdenie
Dir: Pavel Medvedev
Russia
I was quite looking forward to seeing
Ascension
, a film that is comprised of never before seen footage of the Soviet space program but I was a little concerned about it being described as a "meditation". I don't have a problem with non-linear films, in fact they can be quite enjoyable but here we get combination of historical and explanatory information along with the space program footage but not often at the same time so I was trying to put together the pieces of something that I don't was ever intended to be a puzzle. There were many surprizing images including testing on animals, labour workers and then what felt like random images of things like a woman diving. I didn't walk in with the expectation of needing the content to be contextualized but while viewing felt conflicted about what was being shown.
Ascension
website
No Q&A
Old Partner / Wyo-nang So-ri
Dir: Chung-ryoul Lee
South Korea
All I read about the film before using my trusty highlighter to ensure seeing this film was that if was about "a man, his wife and the ox that has been between them". Who knew this festival would bring not 1 but 2 films associated with farming in South Korea (the other film being
Farmer's Song
). Old Patrner shows us the 3 unique yet intertwined portraits of the farmer Choi, his wife and the Ox that has been with them for 40 years. There certainly are unique and honed ties that bind in a relationship that lasts so long, but the beauty of the film is to see the dedication and care to one another that brings the three together although it doesn't always appear sensitive in nature. What is also astonishing is to see the resistance and resiliance to not breaking down to use modern conventions out of convieniece which allows us to embrace the beauty in repetition, ritual and family - conventional or not.
No Q&A - filmmaker was literally landing at the time of the screening. I would have loved to hear more about the film and the process.
No filmmakers at the Q&A today so I'm light on pics, so here I am chilling outside the ROM.
Hot Docs
Canadian International Documentary Festival runs from April 30- May 10, 2009 in Toronto, Ontario, Canada