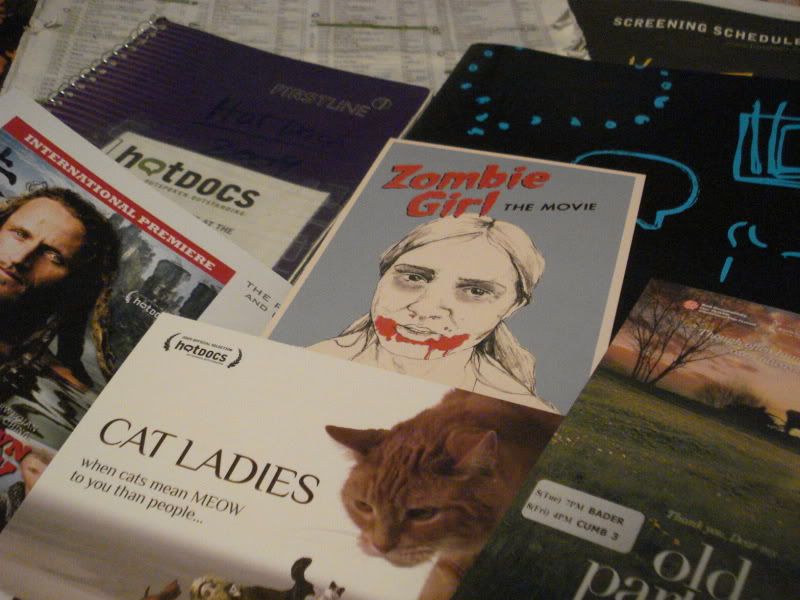 11 days of fantastic documentaries and I wish I could have packed more in there. Thankfully unlike last year, we didn't get hit with at TTC strike so I got to make it out to see something almost every day! Attendance was sure up this this year as the screenings were well attended with enthusiastic responses and it was a treat that so many of the filmmakers were their for Q&A's. Although the official awards have already been announced I'd like to add my 2 cents, especially since I've seen so few that won awards.
Here are some of the highlights of the festival from the perspective of the Movie Moxie.
Best Features:
My Greatest Escape / Ne me liberez pas, je m'en charge
and
Hunting Down Memory / Jakten På Hukommelsen
Best Shorts:
Ali Shan
and
Plane Days
Most Enthusiastic Crowd and Best Q&A:
Best Worst Movie
Most Inspiring:
65_REDROSES
and
My Greatest Escape / Ne me liberez pas, je m'en charge
Quintessentially Canadian:
Nobody Waved Good-bye
Favourite Program:
Made In...South Korea
which included
Action Boys / Woorin action beawooda
and
Farmer's Song / Nongminga
, I'm going to cheat a little and include the South Korean film
Old Partner / Wyo-nang So-ri
even though it was part of a different program.
Best Day:
Day 2
was a fun and fantastic day with screenings of
Zombie Girl: The Movie
and
Best Worst Movie
Repeating themes:
Portraits, connections, the online world
Wasn't expecting:
Blending of seriousness with comedy:
Big River Man
and
Cat Ladies
Fullest Screenings:
All the huge full houses were American films:
Art & Copy
(still had latecomers coming in 30min into the film),
Objectified
(almost no seats available 30 minutes before the show) and
We Live In Public
.
Wish I hadn't missed:
When We Were Boys
Happy Surprize:
The sheer number of films in the festival that were by women directors. Often at film festivals the ratio seems about 90/10 male/female directors but Hot Docs 2009 had a huge number of women directors. Over half of the films I saw this year were from a woman director which I hope it a growing trend.
Hot Docs
Canadian International Documentary Festival ran from April 30 - May 10, 2009 in Toronto, Ontario, Canada