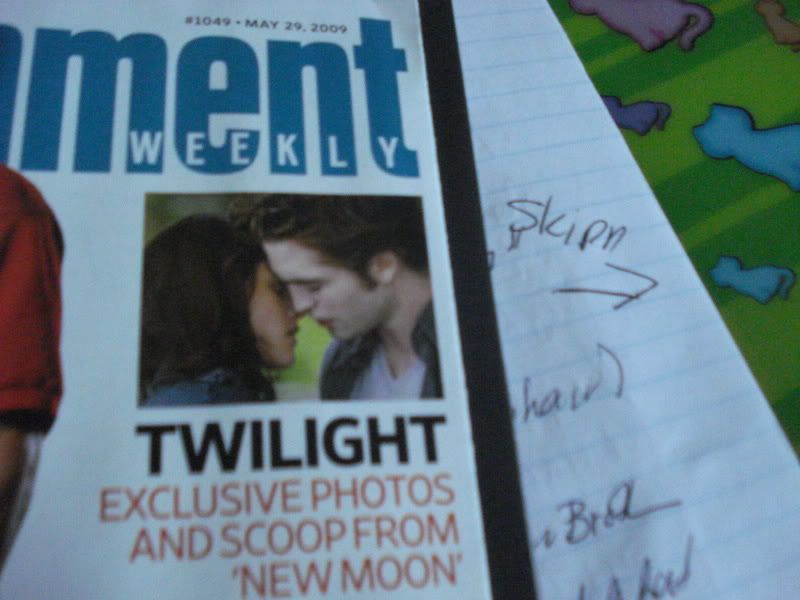 Time goes by so quickly - How New are the New Moon images?
How quickly do you get your news? In my mailbox today arrived the May 29, 2009 copy of
Entertainment Weekly
with the exclusive on set New Moon story. Ok, let's work backwards. Today is May 25, 2009 and the issue is dated May 29, 2009 (the future is now!). As you can tell from the picture below I do love paper, and it is awesome to get these images in print but they've been
online since Friday May 22, 2009
which was enough time to have already discussed, recorded and have it up on the most recent
Before the Dawn podcast
. With
New Moon Mondays
being a weekly article, sometimes it's blurring what is new and old from last week. With the pics been all the buzz recently it already felt like old news. It's amazing to see how quickly new becomes known.
MTV Movie Awards will be on MTV Canada May 31, 2009 9-11pm EST
Canadians that are chomping at the bit to not only see how
Twilight
does at the MTV Movie Awards this week but also hungry for the first look (outside Cannes) of New Moon footage can rejoice! The awards will be
broadcasted here in Canada this Sunday May 31, 2009 at 9pm on MTV Canada (channel 52 and 274)
. I will likely be
live tweeting
through the show so be sure to join in the
Twitter
fun!
Twilight
is nominated in the following categories for the MTV Movie Awards:
Best Movie
Best Female Performance (Kristen Stewart)
Breakthrough Male Performance (Robert Pattinson)
Breakthrough Male Performance (Taylor Lautner)
Best Kiss
Best Fight
Best Song from a Movie (Paramore - Decode)
Voting is open online
until Wednesday May 27, 2009 for all categories except Best Movie which will be open until the night of the show Sunday May 31, 2009.
Source:
Zap2It
,
MTV Movies Blog
Twilight Hour at Vamp Radio
I'm always on the lookout for Twilight podcast and shows, and I just ran across
Vamp Radio Online
today over at
Blog Talk Radio
. They have a variety of vampalicious shows including
Twilight Hour
on Tuesdays at 9pm EST. Curious as to how it all works? So am I! Good thing they have a handy dandy
'how to listen' section
on the site just in case. Previous episodes include interviews with
New Moon
cast members
Daniel Cudmore (Felix)
and
Justine Wachsberger (Gianna)
, so who knows what will be next!
New Before the Dawn Episode - All News, All the Time
For more podcasting goodness, it's Monday which means there is a new episode of
Before the Dawn
to enjoy.
This week is all news show
with a slight Terminator Salvation tangent. You never know what Marina & I will end up chatting about. Actually you do, because we tell you. Next week's episode is Edward Knows Best, where we discuss the age difference between Edward & Bella and if it is creepy or not.
See all three 'new' New Moon images, plus the new poster and Wolf Pack pic over at
EW.com