Day 2 at the
Worldwide Short Film Festival 2009
was full of varied programs and audiences. Started off with
Official Selection 1: The Edge of Reason
which had a huge audience for a weekday matinee screening, likely from having not 1 but 2 films from Academy Award winners with Chris Landreth (Ryan) latest The Spine and a Wallace and Gromit animated short. Next up was
Official Selection 2: Lust for Life
which delves into various truths of love be they nostalgic, bizarre and sometimes uncomfortable. Last up was the evening screening of
Sci Fi: OUT THERE
and they certainly were out there ranging from experimental, animation, faux-documentary and a fair shake of parody. The ones that realky hit the mark though were the old school science fiction based in grounded well thought out ideas that actually made you think:
Cold and Dry / Tørt og kjølig
(dir: Kristoffer Joner) from Norway and
The Survivor of the Hippocampus / Le rescapé de l'hippocampe
(dir: Julien Lecat in attendance) from France. It was also a treat to see
The Attack of the Robots from Nebula-5
again, which has played at various festivals including the
Toronto After Dark Film Festival
in 2008.
Below are a selection of reviews from each of the programs including highlights with Q&As with directors in attendance.
Official Selection 1: The Edge of Reason
The Black Dog's Progress
Dir: Stephen Irwin
Animated
UK, 4 minutes
Very clever animated short that bridges the idea of flip books to a unique boundary centric yet shifting landscape. The screen becomes so filled with activity it felt like you could build your own experience by choose (actively or inadvertently) what to watch.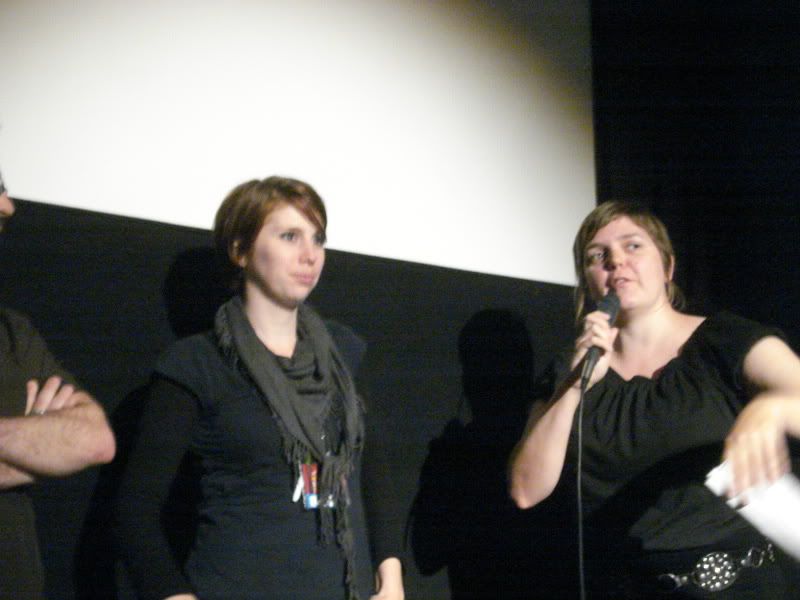 Bipolar director Gabriela Betschart with Angie Driscoll
Bipolar: An Interview with Richard
Dir: Gabriela Betschart
Documentary
Switzerland, 13 minutes
A unique film that chronicles one mans journey into, around and with Bipolar disorder. The film captures a wide range of stages and responses to the disorder from how it can feel freeing to confining and the battle to maintain balance. A very human and sensitive approach that still presents the bigger questions.
Highlights from Q&A with Gabriela Betschart, director of Bipolar: An Interview with Richard:
- The choice to work with an actor was she was looking for someone in her mind that doesn't look like Richard himself but had something specific in terms of age and also sympathetic, normal .
- In response to why it a hybrid style instead of a typical documentary was a few reasons, the person it is about is he is working at a company and not everyone knows about the illness. As you can't control who knows, she didn't want to create a stygma or show him. Also wanted to make a film that is like the illness, where you question what is real, a dream.
- Richard has seen it, he really liked it and wants to see it again.
After Tomorrow
Dir: Emma Sullivan
Cast: Kika Markham, Claire Hackett, Joseph Mawle, Anthony Taylor
UK, 16 minutes
After Tomorrow was a bit of a genre hopper in terms of tone which pushes audience to continually make, and correct assumptions. An interesting story but it was really the strong acting that kept me on my toes wondering what was really going on.
The Lady Who Swallowed a Fly director Byrd McDonald with Angie Driscoll
The Lady Who Swallowed a Fly
Dir: Byrd McDonald
Cast: Catherine Grimme, Micah Nelson
USA, 11 minutes
A haunting short that follows a mother driving with her 2 kids, or is she? The balance of reality of blurred using tonal shifts into horror and thriller influences by recreating what feels like hazy memories.
Highlights from Q&A with The Lady Who Swallowed a Fly director Byrd McDonald
- In response to what kind of conflict the director gave the actor, is that the actor came up with a elaborate back story for her character in her head, including an imaginary friend named David that she would talked to. This wasn't planned but some of her talking to 'David' ended up being worked into the film during post.
- In response to if there was a worry to too much information being given to the audience, he said that they decided to take out anything that would give too many specifics of the story therefore the audience would have to project on to the character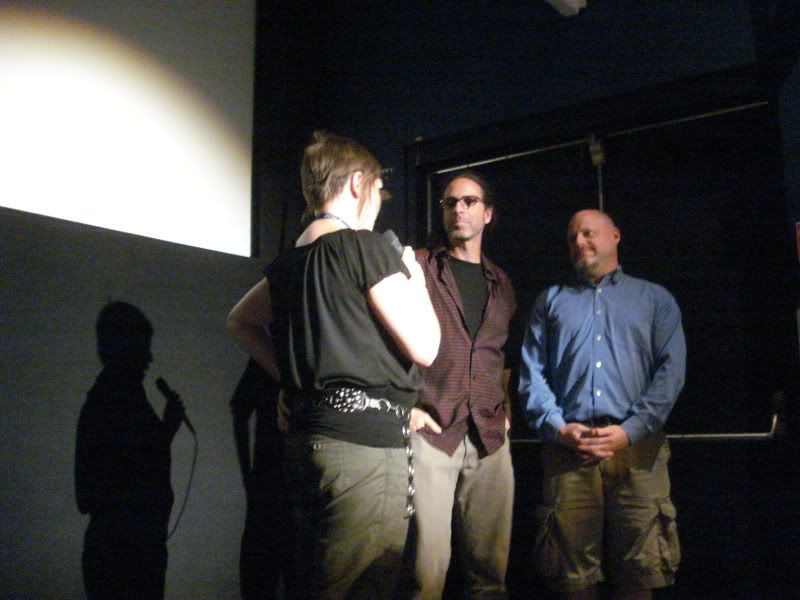 Angie Driscoll with The Spine director Chris Landreth and voice actor Robert McCarrol during prescreening Q&A
The Spine
Dir: Chris Landreth (Ryan)
Animated
Voices: Gordon Pinsett, Alberta Watson, Patrice Goodman, Robert McCarrol
Canada, 15 minutes
If you enjoyed the animation style of Ryan, you will be pleased to see The Spine which definitely has a similar feel to it. The story follows a couple whose emotionally responses have manifested to become their physical entrapments. Visually stunning and sometimes jarring it leaves us wondering about if things are beyond 'fixing'.
Highlights for Q&A with The Spine director Chris Landreth and voice actors Robert McCarrol and Patrice Goodman
Robert McCarrol discussed if if preparation for voice acting different by saying that you always find the intention. I made up a voice (does imitation) and Chris said, why don't you just use your own voice? Chris gave different tactics to get to where I had to go but also gave freedom to improvise.
Chris Landreth on if there crossover with Ryan because of the invented style has grown to a visual storytelling style. Do you think you have innovated it even further? He responded that this film is more experimental than Ryan because that was a documentary and this is a fictional. There was more freedom to express themes with this visual style.
Voice actor Patrice Goodman described working around a visual image by saying that Chris would paint the entire picture for you so you just vocally fill in the blanks. She got involved with the project after from being friends with Chris for 12 years and his partner runs a theatre company that I work in. Knew he was looking for people and offered to help. Originally was doing the scratch track and ended up in actual film.
Wallace and Gromit: A Matter of Loaf and Death
Dir: Nick Park
Animated
UK, 29 minutes
Confession time - I've never seen any Wallace and Gromit before. I can see what all the fuss is about though, cute animation and great play on with a smart and not-so-smart duo plus lots of physical humour in a richly created world. Audience had the giggles big time through this tale of life, love and bread.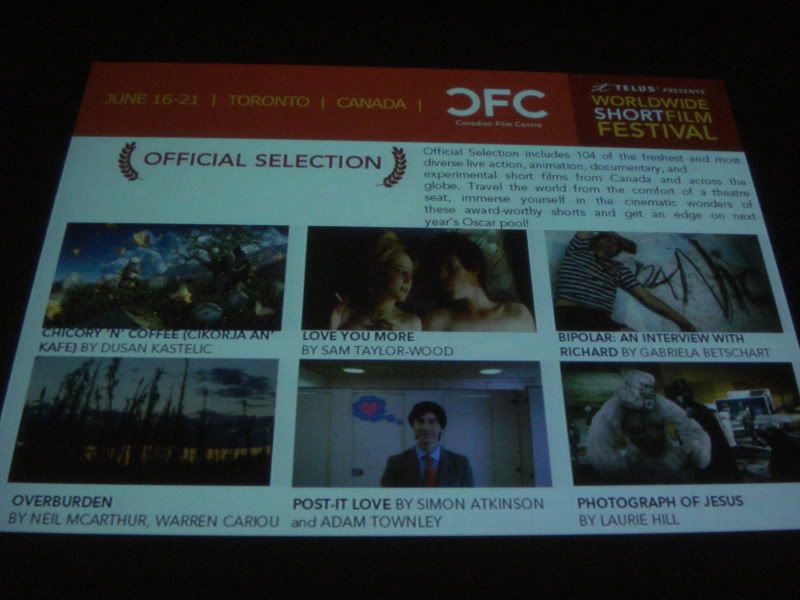 Official Selection 2: Lust for Life
Inscape
Dir: Servane Phillips, Nathalie Robison
Experimental
Canada, 7 minutes
This experimental film shows contortionist Jinny Jessica Jacinto perform extraordinary movements with a calm strength and grace. I particularly enjoyed the more abstract compositions where it was hard to even tell what exactly was being shown.
Highlights from Q&A with on of Inscape directors Nathalie Robison
- Discussing challenges of the film included that they primarily had 1 day, with no rehearsal, no choreographer and only did 1-2 takes as each move required 45min to 1 hour for the contortionist to warm up.
- After doing a casting call for auditions and almost settling on a male contortionist, because that is something you don't normally see, but the next day she got a late email from someone including pictures and you tube footage. Turns out the pictures and footage were of Jinny Jessica Jacinto, and that footage was the initial inspiration for the director to create the film in the first place.
Inscape director Nathalie Robison with Myrocia Watamaniuk, Senior Programmer
Boris
Dir: Daniel Lundquist
Animated
USA, 4 minutes
Boris uses a very organic animation technique that gives the film a relentless feel as the image expand and collapse from pre-existing images on the screen. The story itself is voiced over and shown literally about a boy named Boris who really loves his drum. Relentlessly. At 4 minutes it is the perfect length for the bizarre tempo of the excursion.
Made Up
Dir: Owen Eric Wood
Experimental
Canada, 5 minutes
Identity, desires, likes, stereotypes and judgements are all explores in this 5 minute short. The beauty of it is that the timing and pace of the film is perfect, it is subtle enough to get the point across but also provided the opportunity to check in on moments where you think "but didn't I just see...?" A sensitive touch to a button pushing topic provides a safe space to listen, think and explore judgement without feeling judged. Quite a feat, this film is a rare gem.
Highlights from Q&A with Made Up director/writer/actor Owen Eric Wood
- In response to question regarding inspiration and previous work, there is a connection to the first video the director created which used a similar method of turning his own image to that of his Dad who looks exactly like him but 30 years older. It essentially aged him and brought up the question that as much as we want to be individuals we can't deny our family or genetics.
- With regards to what he hopes people take away from the film is that they don't believe all of the things said in the film, although he likes creating tension and blurring there lines but there are things said that he doesn't believe.
-The film is about change process and converting. It's an analogy of coming out to breaking out of the social norms but then faced with the gay community that has another set of social norms that you are expected to conform to that is contradictory in terms of breaking out of the first, like a paradox.
- Next project is performance art on the street/bus called "The Clothes That Make The Man" as a part of the
Montreal International Festival of Art
in July.
Made Up director Owen Eric Wood and Myrocia Watamaniuk, Senior Programmer
Paul Rondin Is... Paul Rondin / Paul Rondin est... Paul Rondin
Dir: Frederick Vin
Cast: Francois Berland
France, 10 minutes
A lot of people take their work home with them. But what if you took it around with you - everywhere you go, and what if your work was being 'the voice' in movie trailers? Often socially awkward but always delightful, this great short film is a must for film buffs and anyone who walks to the beat of a slightly different tune.
Acting for the Camera
Dir: Justin Nowell
Cast: Joe Urla, Mallory June
USA, 14 minutes
Imagine an acting class where you are get the restaurant scene from
When Harry Met Sally
. Now imagine the acting teacher is a bully to the female student but also throws around phrases like "This is a safe place for you". Uncomfortable throughout, and although there is an argument in there that there is a 'message', I don't particularly know was to benefit from it. It's
listed as a comedy
, and there was laughter in the audience, some nervous, some not, which overall just made it more uncomfortable.
Love You More
Dir: Sam Taylor-Wood
Cast: Harry Treadaway, Andrea Riseborough
UK, 15 minutes
Fantastic and feverish short set in 1978 with two teens faced with a solitary copy of the new Buzzcocks single. Amazing blend of curiosity, tension and passion it's no suprize this short received a
2009 BAFTA nomination
for Best Short Film for films in 2008.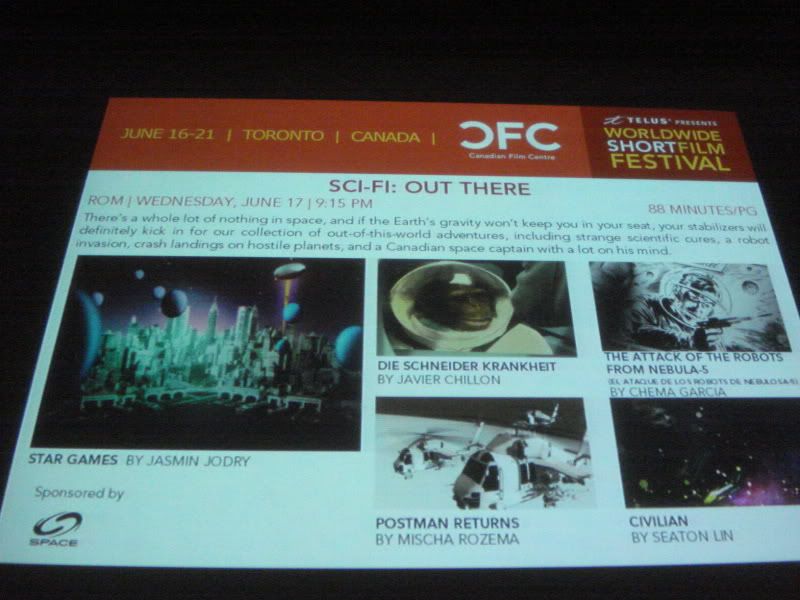 Sci Fi: OUT THERE
Civilian
Dir: Seaton Lin
Cast: Richard Lund, Mari Stamper
USA, 4 minutes
Interpretive re-enactment of 1960s hypnosis sessions that indicate an abduction. Interesting idea, and had the creepy factor going but somehow felt longer than 4 minutes.
Marooned?
Dir: Ryan Nagata
Cast: Mike McCafferty, Justin Roiland, Dean Pelton
USA, 15 minutes
Sci fi parody that successfully plays with classic Star Trek and B movie geekdom in some new and creative ways. Unfortunate that one off colour joke pulled the charm out. So close to being 100% enjoyable.
The Survivor of the Hippocampus / Le rescapé de l'hippocampe
Dir: Julien Lecat
Cast: Juliette Noureddine, Jean-Pierre Martins, Frans Boyer, Simon Buret
France, 13 minutes
Brilliant short film that manages to visually bring the unimaginable to screen with a bizarre story, creative art direction and a sense of humour to boot. This is great science fiction at work, giving us a fantastic story that feels ludicrous yet works in every way through moments of wide eyed surprize, laughter and sorrow. Beautiful.
Highlights of Q&A with
The Survivor of the Hippocampus / Le rescapé de l'hippocampe
director Julien Lecat:
-the project was really fast as it was for a contest and chosen in September and by January, 4 months later, everything had to be in place financially and with the locations
-the location was in France where they make cognac, this ties in as the character drinks alcohol it was interesting to have this setting.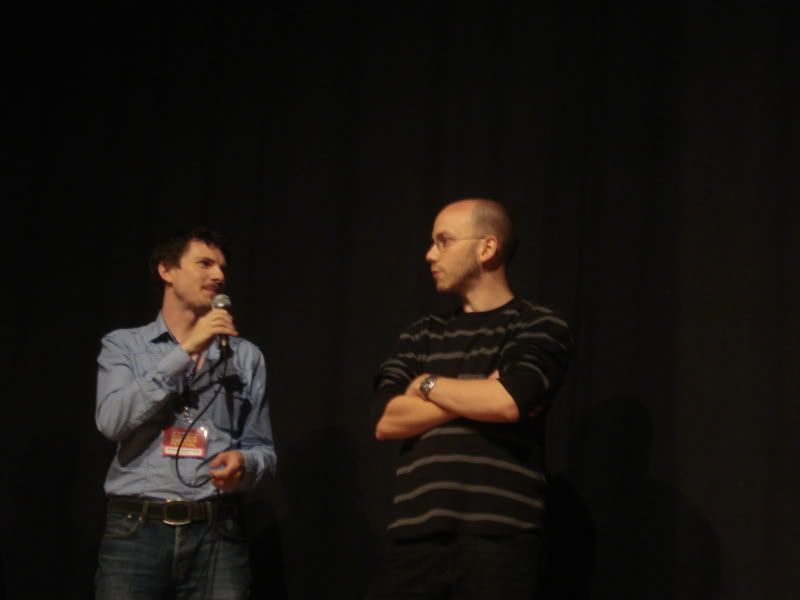 Andrew David Long, Festival Manager with Julien Lecat director The Survivor of the Hippocampus
Cold and Dry / Tørt og kjølig
Dir: Kristoffer Joner
Cast: Jeppe Laursen, Ingar Helge Gimle, Edward Schultheiss
Norway, 12 minutes
Perfect Science Fiction. The story is based in an idea that is completely thought out, interesting, believable but still makes you think. It is social commentary presenting a sad what if? scenario however includes well placed humour and in between we gently ponder big questions like the meaning of life, living and everything. A true stand out film.
Captain Coulier (Space Explorer)
Dir: Lyndon Casey
Cast: Conor Casey, Cody Gear, Dillon Casey, Rachel Petrie, Jay McCarrol
Canada, 13 minutes
The audience was in stitches over this Canadiana space parody that played with the question of what a captain would be like if nothing really happened in space. Interesting idea, however fell back on reinforcing gender stereotypes for comedy.
Highlights of Q&A with Captain Coulier (Space Explorer) director Lyndon Casey:
- two of the actors in the film are his older brothers and Second City trained
- there was a script and they had intention for every scene but there was also a lot of improvisation
- they were several different endings
- they hope to make more films with the characters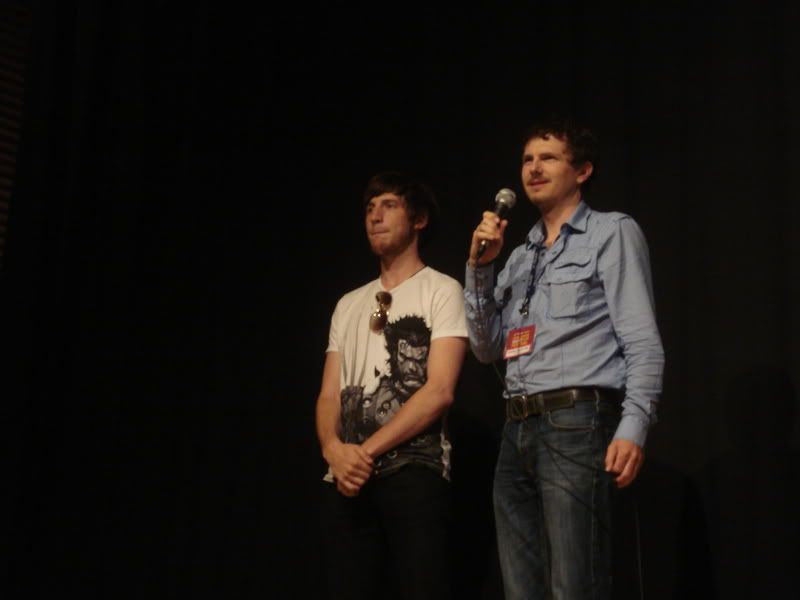 Lyndon Casey director of Captain Coulier (Space Explorer) with Andrew David Long, Festival Manager
The
Worldwide Short Film Festival
runs from June 16-21, 2009 in Toronto, Ontario, Canada.