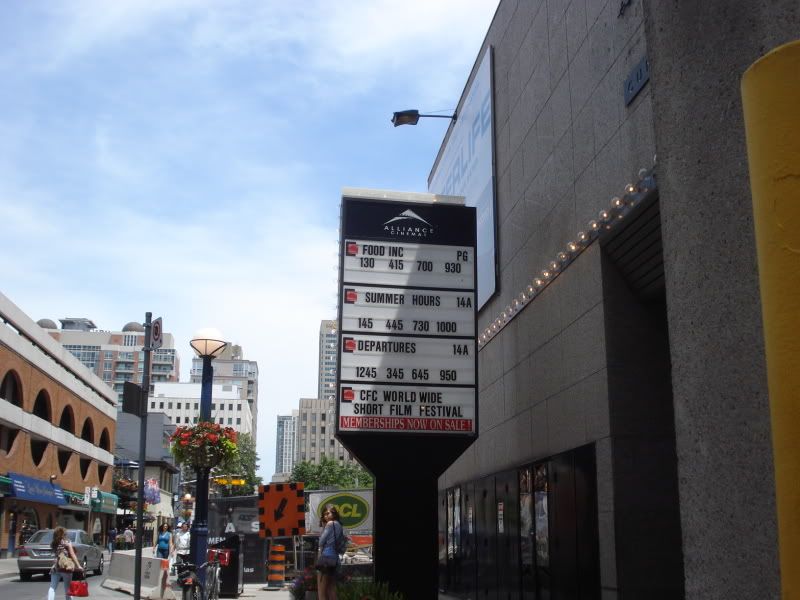 Day 4 was all Cumberland, all day! I caught 2 programs
Official Selection 11: Tech-Neurological
and
Official Selection 12 90-Minute Makeover
. I always wonder what the process is like for putting the films together in groups, I enjoy looking at the different themes and it's a big factor in deciding what to head out to.
Official Selection 11: Tech-Neurological
is a great example of where the theme really matched the films shown, in theme and in spirit with short films that used or were even creations in response to technology.
Official Selection 12 90-Minute Makeover
wasn't quite as comfortable as a fit, but the films were did have a central theme of studying identity and often the about challenging perceptions and prejudices which is an interesting subject, but not quite as uplifting as makeovers tend to be.
Official Selection 11: Tech-Neurological
My Name is Dominic / Tous les enfants s'appellent Dominique
Dir: Nicolas Silhol
Cast: Lou Bus Lot, Violaine Fumeau
France, 20 minutes
A sensitive touch was used with this short film that brings up the question of how well do people really know their children. Is a white lie normal, or something more? Who makes that call? The true highlight was the gracefully transition of how we can be influenced by an outside opinion to question what we never would have before. A fascinating look at relationships, behaviour and parenting.
Cutecutecute
Dir: Clemens Kogler
Animated
Austria, 2 minutes
Bizarre and hilarious short film that showed rather cutting images through animation with a strong critical commentary but with a happy dappy sing-along style soundtrack. Reminded me a little of something out of
Funky Forest
.
Sand / Zand
Dir: Joost Van Ginkel
Cast: Jack Wouterse, Veerle Witkop
The Netherlands, 22 minutes
A stand out in the program, although only loosely ties to tech this is a beautiful but harrowing short of a father/daughter relationship. Sensitive with stellar performances the screen brings the world of a sand truck driver together with a visitation from his daughter. Rough elegance shows the rough but true love of family.
The Website is Down: Sales Guy Vs Web Dude
Dir: Joshua Weinberg
Animated
USA, 11 minutes
This one really fits in with as a tech category film. I originally came across this film last year after
Devindra Hardawar twittered
about it and have watched it many times since, it's a great one if you need a bit of a gigglefest. Anyone who has been involved a tech support call (for either side) can appreciated the humour and realism of what really happens when we pick up that phone. You can
watch it online
, however ironically it is a little NSFW (Not Safe For Work) - depending on where you work, that is.
Highlights from the Q&A with The Website is Down: Sales Guy Vs Web Dude director Joshua Weinberg:
-A lot of the jokes came from chatting with buddies over years so he knew they would have longevity to them
-Although he isn't a IT Help Desk Survivor (great term!), he has worked in IT for a many years and a lot of the film is based on things that actually happen, for example how solving the problem does not actually solve the problem
-Was not concerned that watching a computer screen not keeping peoples attention, but that is one reason why they would change from program to program. The voices are also sped up to make it shorter overall.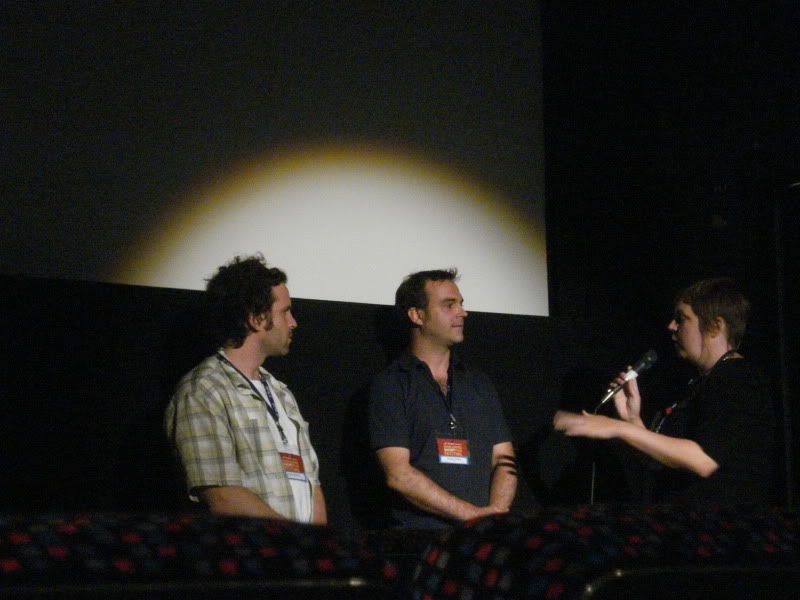 Joshua Weinberg director of The Website is Down, Sylvain Lavigne director of Crap / Simonac and Angie Driscoll, Festival Programmer
Crap / Simonac
Dir: Sylvain Lavigne
Cast: Sylvain Lavigne, René-Pierre Bélanger, Anaïs Favron
Canada, 11 minutes
A crime-comedy on the inadvertent misadventures of Guy on a one night stay at his sisters. A seemingly innocent morning turns into a disaster. Some days it may be better not to answer the phone!
Highlights from the Q&A
Crap / Simonac
Director Sylvain Lavigne
:
-Decision to make the film
available online immediately
was because friends where impatient to see it.
-The film is meant to be funny, and it is also meant to be violent. It's all about the character who is in the wrong place at the wrong time.
-It is being developed and expanded to 6 1/2 hrs for a 13 episode TV series.
Tolibu Dibu Dauchyu
Dir: Boris Despodov
Documentary
Bulgaria, 5 minutes
Great short film showing the access, influence, and reactions to pop culture. Who knew a Music Idol audition of an interesting phonetic translation would end up being the #1 Bulgarian hit? The joy and love of the new rendition of the song is a welcome change of our current YouTube world.
See the
Original "Ken Lee" performed by Valentina Hasan on YouTube
and the
Extended
Version of the Pop Hit
Official Selection 12 90-Minute Makeover
Buddies
Dir: Louis-Alexandre Martin
Fiction
Canada, 8 minutes
A great study challenging perceptions, and through the use of a puppet we hear a story we might not have heard, or rather listened to, otherwise.
Everyday People
Dir: Edna Hughes
Documentary
UK, 5 minutes
Fantastic idea using interviews with 'everyday people' with famous names like George Lucas, Julia Roberts, Tom Jones and Michael Douglas. It poses and interesting question about identity and individuality if every time your introduce yourself people automatically think of someone else.
Sound-Shadows / Lydskygger
Dir: Julie Engaas
Documentary
Norway, 7 minutes
I found this film a fascinating experience as it through audio shares the perspective of someone who is blind. Often the descriptions are visually interpreted in interesting ways but I kept thinking what an odd choice to 'show' us the story as well as tell it. Do we need to be visually engaged to 'get' it or to keep our attention? I kept wondering what it would be like just to listen to the story, but then - it wouldn't be a film. Engaging and questioning it did keep me thinking.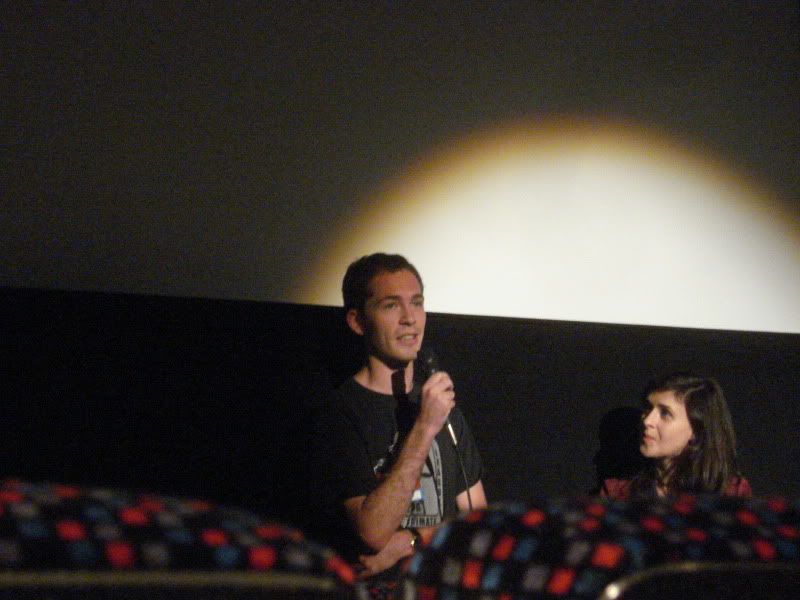 Tim Reckart director of Token Hunchback with Myrocia Watamaniuk, Senior Programmer
Token Hunchback
Dir: Tim Reckart
Animated
USA, 7 minutes
Stop motion animated short that follows the actor, who happens to be a hunchback, as he talks in between takes about the limitations and stereotypes of the roles he receives. There is an interesting idea there and some cutting commentary but still faces the challenge of using stereotype to comment on stereotypes.
Highlights from the Q&A with Token Hunchback director Tim Reckart
:
-the idea came from a comment made about the commercial within the film that featured a hunchback, and that comment was if he was worried that anyone would be offended which is how he started looking into it.
-all the voices are from non-actors and friends of the director from Harvard and the role of the director in the film is actually the directors voice.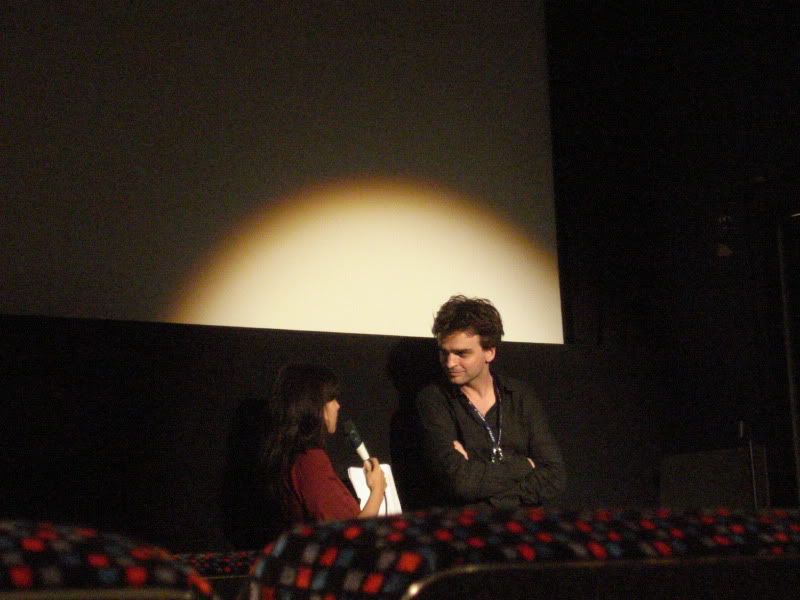 Myrocia Watamaniuk, Senior Programmer with Cedric Prevost director of Alter Ego
Alter Ego
Dir: Cedric Prevost
Cast: Christine Farenc, Jeremy Azencott
France, 20 minutes
Fascinating exploration on preconceptions and stereotypes using an online dating site as a starting point for 2 unlikely strangers to meet. Who do we show our real selves to, or share our real dreams with? What constitutes a lie - changing, embellishing or omitting information? What does it take to take a step and trust someone? All of these ideas are explored and more in 20 minutes with our two leads the cultured Ester (Christine Farenc) and young Nadir (Jeremy Azencott) whose authentic performances push back and forth on judgment, conformity and the possibility of love. Engaging and memorable, a truly beautiful film.
Highlights from the Q&A Alter Ego director Cedric Prevost:

-inspiration for the film came from 2 themes: the possibility of finding love on the net and changing identity
-both actors are previous students of the director, who has been a drama teacher for 9 years
-the process of the film involved creating a script which was given to the actors to read once, and then they filmed improvisations. Another script was written, rehearsed and then filmed on location. Overall, it was 15 days over 2 months.
-the location ended up working out perfectly as the was really bad weather and rain, but when the rain cleared up no one was in the park allowing for almost always having actors being in the shot
The
Worldwide Short Film Festival
runs from June 16-21, 2009 in Toronto, Ontario, Canada.