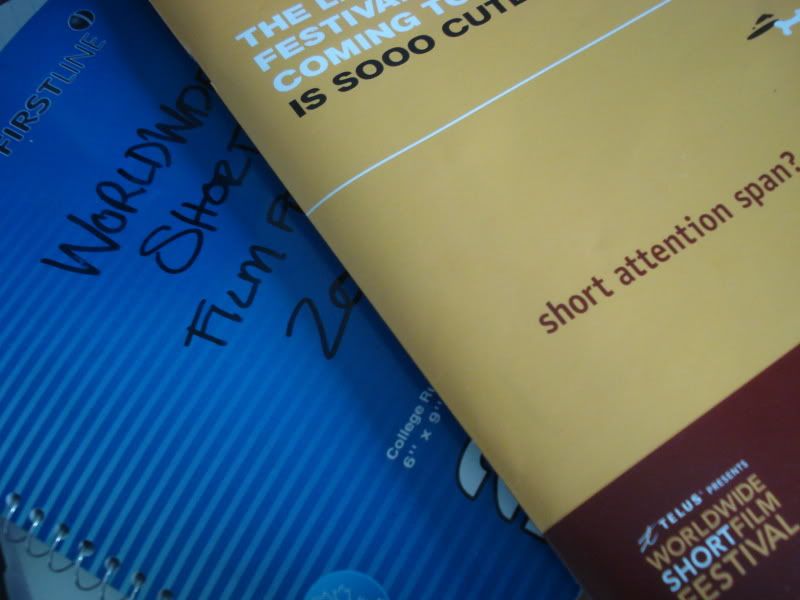 The
Worldwide Short Film Festival
2009 has come and gone and we are now left with the memories of a lot of films! One thing I noticed this year, in particular with the
Opening Night Award Winning
program is a sense of 'it will be okay'. It feels like recently we have gone through a long period of a long period of dark and gritty = good, it was nice to see films where the whatever happened turned out
fine
. They didn't die, get attacked, fall, etc... it was just .. fine. It wasn't the case for everything of course but it's was a refreshing change of pace and I hope to see more of it!
Favourite Fiction:
Cold and Dry / Tørt og kjølig
and
Sand / Zand
Artistic Works of Wonder
:
Next Floor
and
The Survivor of the Hippocampus / Le rescapé de l'hippocampe
Favourite Animated:
Skhizein
Giggle-fest:
Tolibu Dibu Dauchyu
The wacky and the bizarre:
Cutecutecute
Favourite Program:
Official Selection 11: Tech-Neurological
Most Enthusiastic Crowd:
Although
Opening Night
was lively, the crowd during the Day 1 screening of
Official Selection 1: The Edge of Reason
was enthusiastic and very full. Front row-filled out full. That's impressive.
The films that caught my heart:
Paul Rondin Is... Paul Rondin / Paul Rondin est... Paul Rondin
and
Monday Before Thanksgiving
Themes:
Challenging preconceptions, Embracing Weirdness

Still has me thinking:
Alter Ego
, after seeing this film I had a really great discussion with my sister about it that went on for ages! It really made me think, the writing was fabulous and the the performances were spot on.
Sharing is good! Some Shorts are Available online:
Black Dog's Progress, The
(3 min 15s)
Civilian
(4 min 01s)
Crap / Simonac
(10 min 23s)
Cutecutecute
(1 minute)
The Website is Down: Sales Guy Vs. Web Dude
(10 min 23s)
The
Worldwide Short Film Festival
ran from June 16-21, 2009 in Toronto, Ontario, Canada.