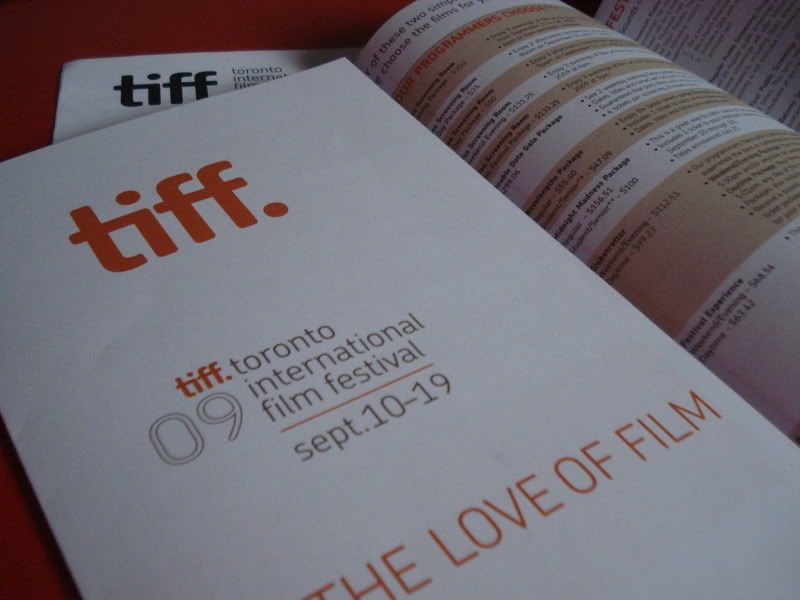 It that time of year again - time to get to know everything there is to know about TIFF as we head into TIFF'09. What's new, what's changed and if anything has stayed the same. This handy dandy brochure came in the mail full of dates, prices, urls and definitions of festivalisms (
PDF of brochure here
). The festival has a new look this year along with a
new site
(
www.tiff.net
) so make sure you reset your bookmarks! Another big change this year is another move of the location of the Festival Box Office which will be at Nathan Phillips Square, 100 Queen Street West (in the white tent, on the west side of the square).
One thing that is great about TIFF is that they listen to customer feedback and let you know. Check out the
press release
that highlights the changes made. I'm thrilled they are increasing access for ticket-package holders for repeat Gala screenings and screenings at the Elgin. That one really had people up in arms last year. They are also having the ticket package pick up / ticket exchange at a time other than the Labour Day weekend which is nice for the local folks who usually spend that weekend camping out TIFF style. I'm thrilled to hear of that change. The only one that is a bit foggy to me is that thye have "added 3 additional days (6 total) for you to make ticket selections withour Programme Book and schedule" and "There are 4 additional days (5 total) of single tickets sales prior to Opening Night". Um. Yeah. I don't get that one. Yet.
Buying a package?
An important date is right around the corner as tickets package go on sale to Visa cardholders this
Monday July 6, 2009 at 10am
. Cash and Debit sales will go on sale one week after on Monday July 13, 2009.
More Important Dates:
Tuesday July 21, 2009 at 10am: Midnight Madness and Wavelengths Programme information announced
Thursday August 20, 2009 at 10am: Full film list online
Tuesday August 25, 2009 at 10am: Programme Book available
Tuesday August 25, 2009 at 10am: Ticket package order drop off begins
Monday August 31, 2009 at 1pm: Ticket package drop off deadline
Thursday September 3, 2009 at 7am: Ticket package pick up and ticket exchange begins
Friday September 4, 2009 at 7am: Single tickets go on sale
Thursday September 10 - Saturday 19, 2009: Festival time!
I didn't including the info about if you are a donor, which comes with some perks but Richard over at
TIFF Talk
has all the goods for you
right here
on the benefits including information on the effect similar changes had on the festival last year. Thanks Richard!
Important Links:
Important Dates
,
Film List
(24 Titles released so far),
Box Office Infomation
,
How To Buy Tickets
,
Ticket Informations
,
Festival Map
,
Hotel Package Information
and
General Policies
.
The
Toronto International Film Festival
runs from September 10 - 19, 2009 in Toronto, Ontario, Canada.