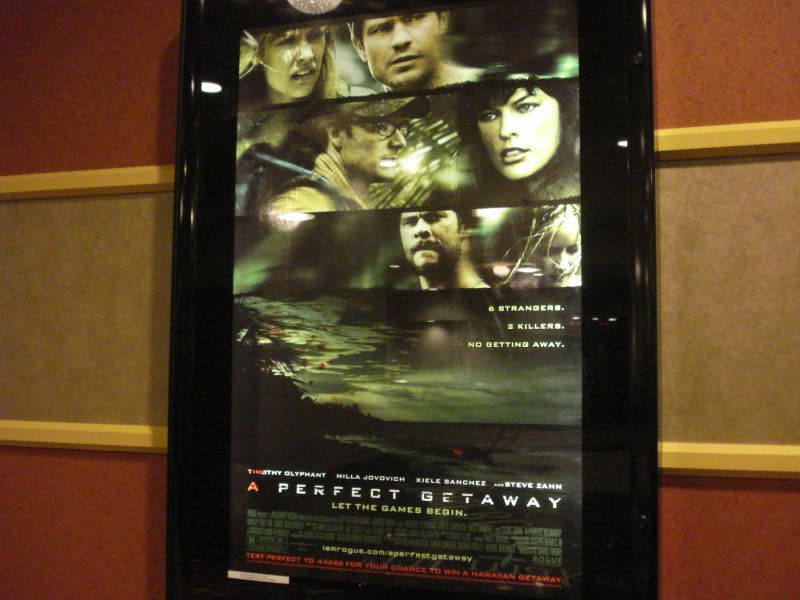 It's no secret that I'm a fan of the scarier side of film. Which means when I watched into the theatre and saw this poster for
A Perfect Getaway
I was confused, perplexed and surprized. With a tagline like "6 Strangers, 2 Hunters Let the Games Begin" and a cast including Milla Jovovich, Timothy Olyphant and Chris Hemsworth (
Star Trek
) directed by David Twohy (Pitch Black)? Why hadn't I heard of it before! And it opens in about a month (Aug 14/09). Sheesh. The
trailer is available
for your scary viewing pleasure.
Halloween is every day? Well it will be on August 28, 2009, again with the release of
H2
(or
Halloween II) as Rob Zombie brings a sequel to his 2007 remake of the 1978 John Carpenter classic horror film. This is not a remake of
Halloween 2
which is probably why they went with H2 as a title. The
trailer looks
very violent, as is expected but I always hope these ones will be more tension than gore. Cast includes Tyler Mane, Malcolm McDowell, Scout Taylor-Compton, Sheri Moon Zombie, Danielle Harris and Brad Dourif.
Originally billed
Final Destination: Death Trip 3D
with a release date of August 21, 2009 we have 2 revisions for the latest Final Destination instalment. Renamed to
The Final Destination
and pushed to August 28
, 2009 but still all the crazy coincidences, accidents and improbably series of events will face us, and all in 3D. You think that with the "The" in the title it really will be the last one? No, neither do it. The
trailer
shows lots of the craziness.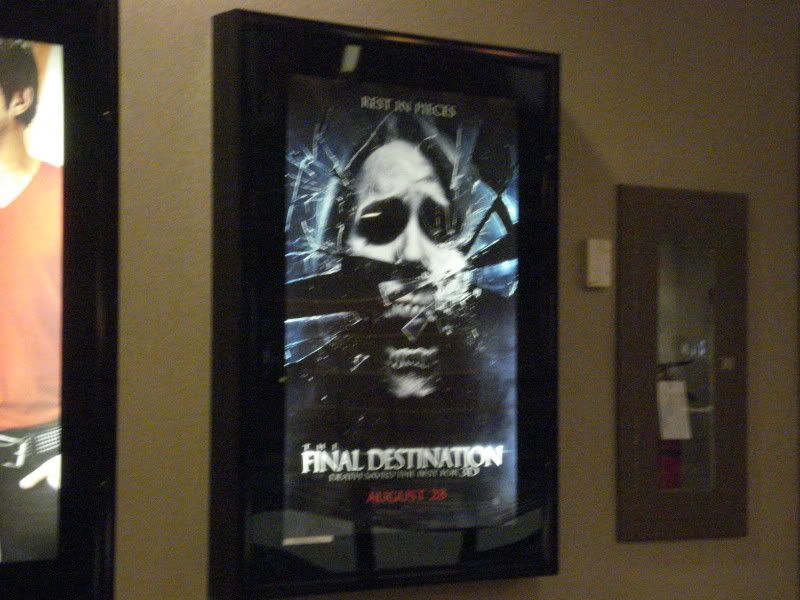 When the
Zombieland
trailer
popped up recently it was all the rage online. I have to admit I felt like when suddenly everyone likes that band you love that is a little indie and your cool band that you like that only some people know. Yep, I'm feeling protective. Of zombies. Zombies aren't for mainstream! Big actors like Woody Harrelson in a zombie film? What has the world come to! Are we reacting zombie oversaturation rate? I guess the saving grace is that it is slated as a horror/comedy and looks more than a little zany. Not that more zombie movies is in it of itself a bad thing, and oversaturation the world is kinda like .. their job. We'll have to wait til October 9, 2009 to know for sure. Directed by Ruben Fleischer and additional casting includes Jesse Eisenberg, Abigail Breslin, Emma Stone and Amber Heard.
Another film that first heard of from the poster,
Stepfather
is strangly notated as a
'broad comedy'
and drama as well as
horror
. The
trailer
certainly looks thriller-like showing a stepfather who may have a hidden past. For and October 16, 2009 release there isn't much else information on it. Stars Penn Badgley, Sela Ward, Dylan Walsh and Amber Heard.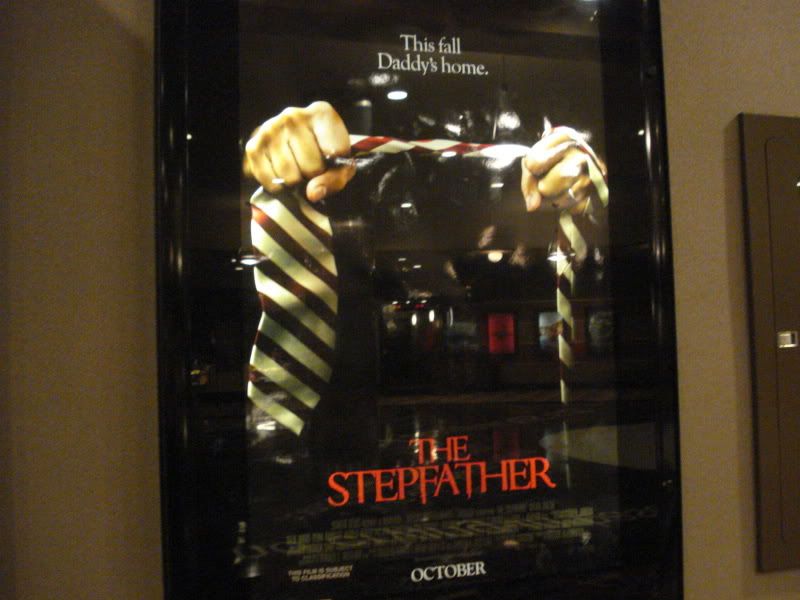 Saw VI
comes out October 23, 2009 one week before Halloween. Not too much more to say, I can imagine it will be another shock gore fest series, do well at the box office considering the release date. Cast includes Tobin Bell, Shawnee Smith, Costas Mandylor and Betsy Russell. Directed by Kevin Greutert. No trailer yet.
Moral dilemma time with
The Box

.
The trailer over at the
official film site gives us a boat load of tension in the age
old question of what would you do? How far will you do? I'm on the fence on this one, but being based on the short story by Richard Matheson and written & directed by Richard Kelly (
Donnie Darko
, Southland Tales) makes me want to give it a chance even though I know how I would answer that What It? question. Stars Cameron Diaz, James Marsden and Frank Langella and will be released just before Halloween on October 30, 2009.
Disaster flick
2012
hits the screens November 23, 2009 and the new
trailer
couldn't be more like
Deep Impact

if it tried.
Directed by Ronald Emmerich (The Day After Tomorrow, Independence Day) ans s
tarring John Cusack, Thandie Newton, Amanda Peet, Woody Harrelson, Oliver Platt and Danny Glover.
I'll give it this, it certainly feels like you know what you are in for!


Jumping into the distant future, a few new films have popped up on the radar. For 2010 we have
Buried
starring Ryan Reynolds plays a man who wakes up buried inside a coffin. Sounds like it will literally be a cast of one on this one. Holy smokes. Directed by Rodrigo Cortés (Concursante).
With even less information available it looks like
The Crow
is getting a remake set for 2011. It has an
IMDb page
but not much other than the year is notated. Will it be emo? Hmm, emo might be done and over by then. Maybe it will set a new trend. Not that it was about the fashion...or the music.. or.. well, let's wait and see.
Check out the lists of
2009
and
2010
to see more upcoming releases.