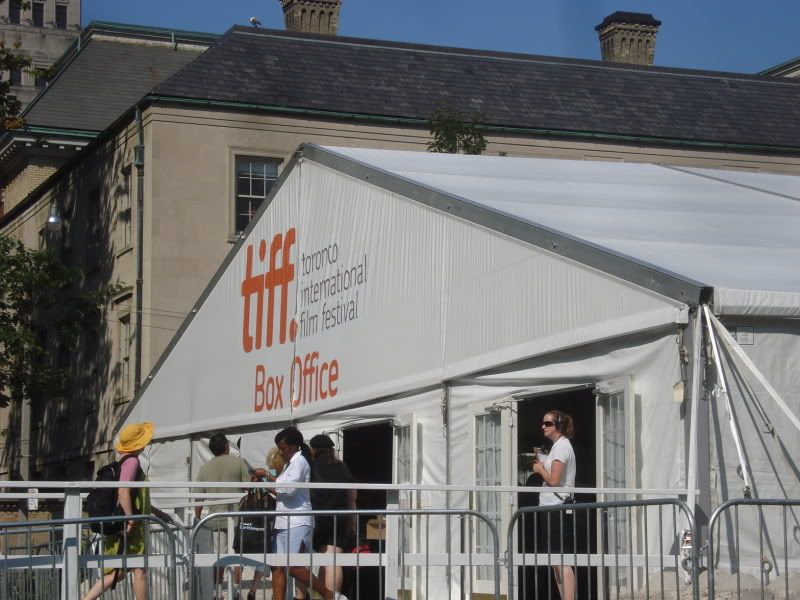 Almost no line up!
It's that time of year again! Today is what I usually call the 'first line up at TIFF' day - when you exchange your package vouchers for the program guide and forms to fill out to make your selections. This year there wasn't much of a line up at 10:20am on Tuesday August 25, 2009 just 20 minutes after they opened. In fact, I got my email order exchanged into vouchers, picked up all my envelopes and was off on my merry way in about 20 minutes. This is about averege, in
2008 it was just 25 minutes
and
2007 it took 20 minutes
(on top of arriving 30 minutes early).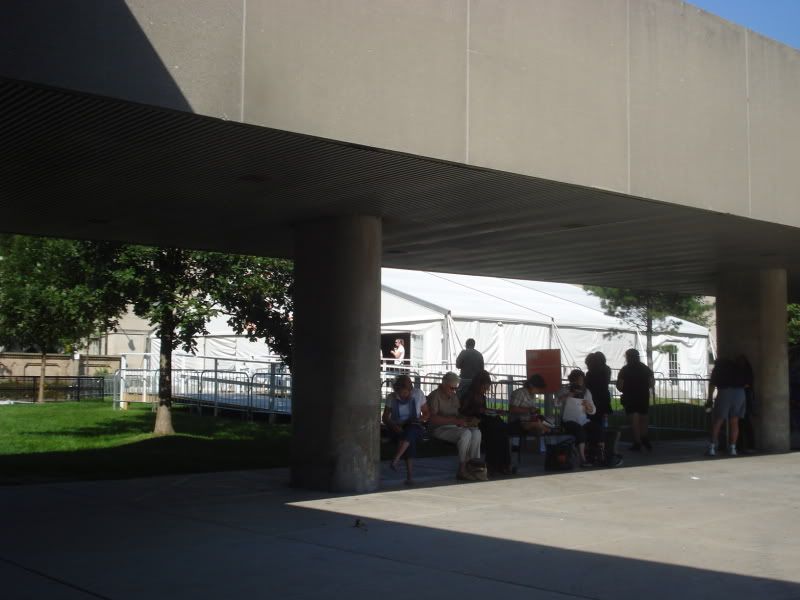 People devouring the new TIFF materials
People were all over Nathan Phillips Square reading the book or even already making selections with their trusty new highlighter. Talk about knowing what you want! Once you have picked up your package order forms they can be dropped off any time during box office hours up until Monday August 31, 2009 by 1pm to be included in the lottery which is oodles of time in comparison to previous years. I still aim to have mine done and in by Friday, how about you?
Although there is no advantage to getting early in terms of selection of films, or even for dropping off your film orders as they are processed through a lottery system, being early has the advantage of getting a swag bag. This year included some familiar along with new fun stuff from beer stein, to coffee, to toiletries and an... orange highlighter? What happened to the yellow/green one you ask? Turns out a modification has been made in the film selection process, instead of highlight in different colours your 1st and 2nd picks, you highlight your first pick and then handwrite in your second. Interesting choice. I've ever had my 2nd choice muffed up due to odd highlighting, but I make a habit of making it extremely clear what my second choice is. If this was the first year I was filling it out I would be thrilled, but as a creature of habit my reaction was "A change???". I'm sure it will be all good.
Now that we have all the information, it's time for me to tuck in and get to know the films and schedule. Good luck with your selections!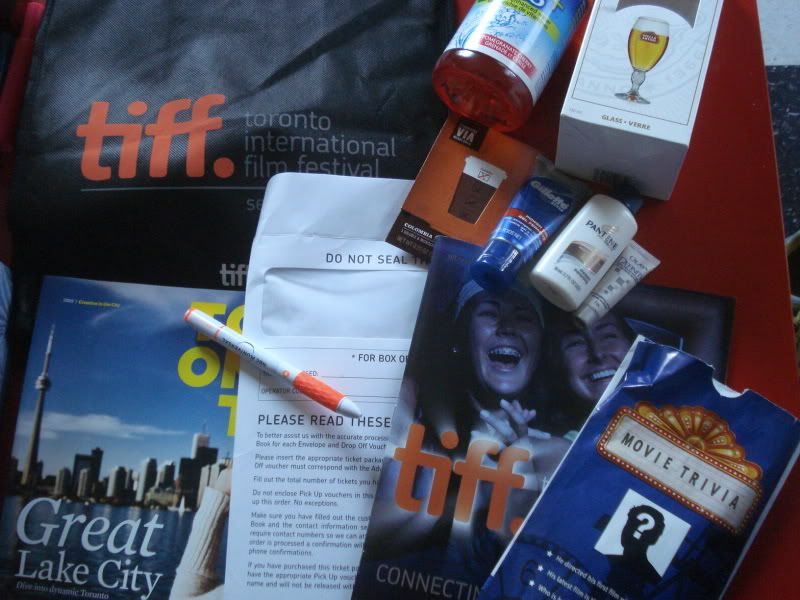 Swagalicious
Festival Box Office Hours - Nathan Phillips Square, white tent on West Side
*
100 Queen Street West
June 1 to September 2, 2009: 10:00am to 7:00pm
September 3 to 18, 2009: 7:00am to 7:00pm
September 19, 2009: 7:00am to 5:00pm
Important Dates
*
Monday August 31, 2009 by 1pm Ticket package drop off deadline
Thursday Sept 3, 2009 at 7am - Ticket package pick up and ticket exchange begins
Friday Sept 4, 2009 - single tickets go on sale
Thursday Sept 10, 2009 - TIFF begins
* always check
TIFF
for the most up to date information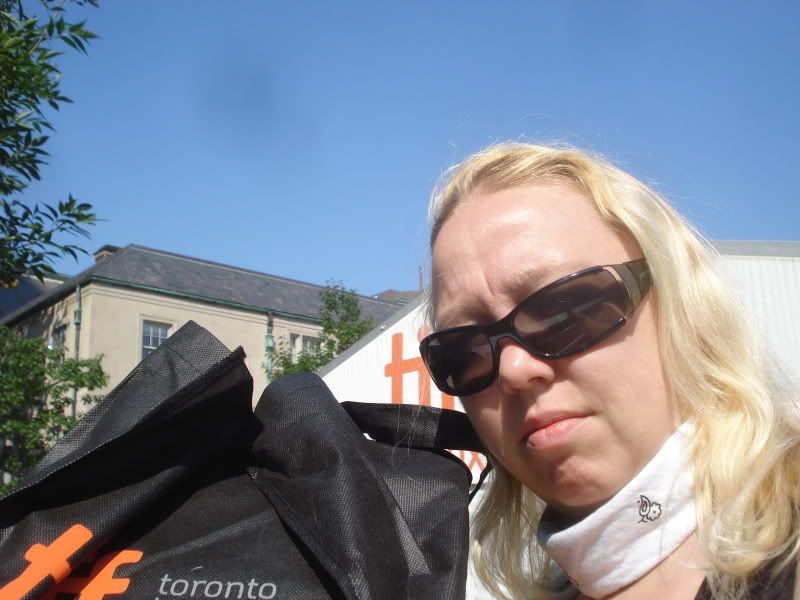 Success, although I forgot to smile... it was sunny out.
The
Toronto International Film Festival
runs from September 10 - 19, 2009 in Toronto, Ontario, Canada.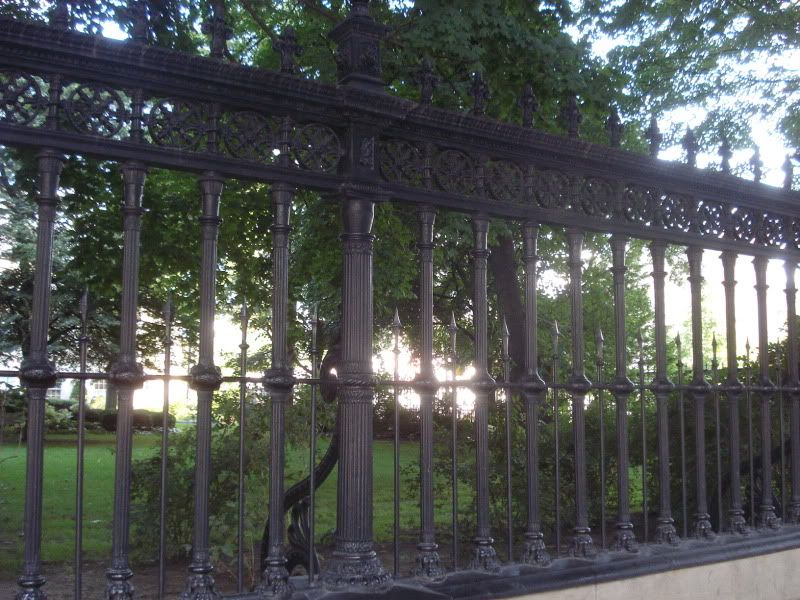 It's funny how the TIFF tent 'glows' through the gate at Osgoode Hall, much like the new tiff. logo 'glows' on the package materials