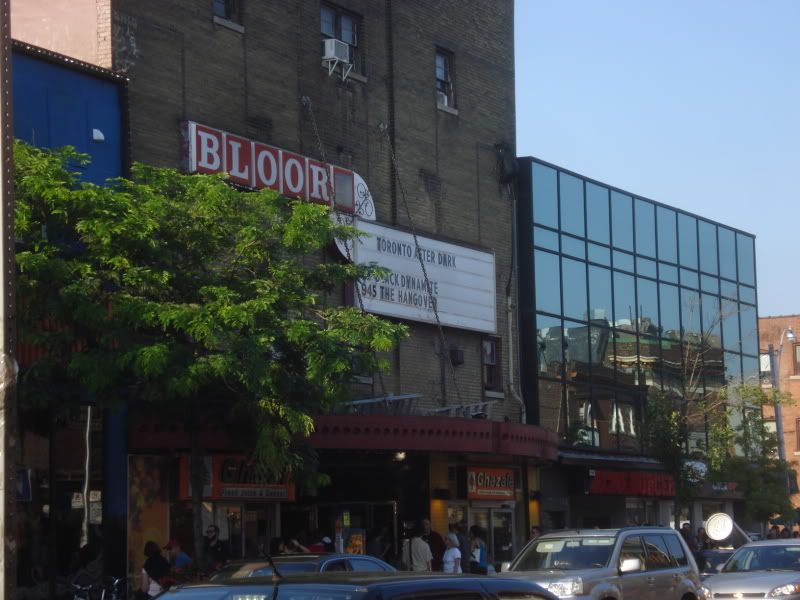 The wait is over! Opening Night of the
Toronto After Dark Film Festival
went off with a bang, starting off of course with... a line up! The opening night selection of
Black Dynamite
had folks all ready to go as we filed ourselves on the sidewalks around the Bloor and people were there early! Even at 6:10pm for the 7pm show it already was already to the corner for passholders and up the street for ticket holders! One thing about a long line is that it means there will be a big house for the film and there certainly was, which is fantastic to have a rowdy crowd on opening night.
To hear and see about Day 1 check out my
TADFF'09 Vlog for Day 1
.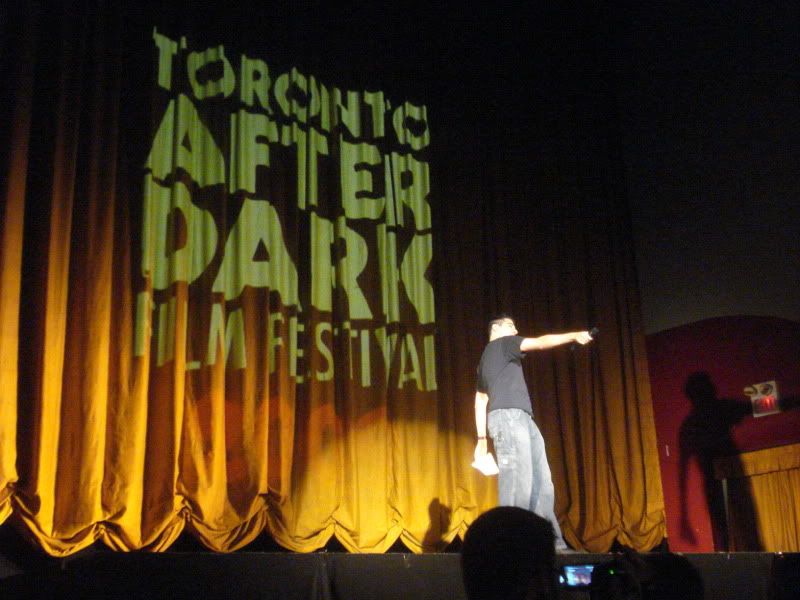 Toronto After Dark Film Festival Director & Founder Adam Lopez charges up the crowd and asks What do we want? We want Brains!!
The festival was introduced by Adam Lopez, Festival Director & Founder who gave a preview of the films to come. Scary Kids! (The Children), Sci-Fi Goodness! (The Dark Hour, Franklyn) and of course zombies, of various kinds - Baby Zombies! (Grace) and the highly anticipated Nazi Zombies in
Dead Snow
. What other festival brings you multiple zombie movies? After the crowd was pumped and reminded only not to
Tweet
during the film (but at other times - go crazy!) the evening began with the Canadian short film
Captain Coulier (Space Explorer)
which the audience got quite a kick out of.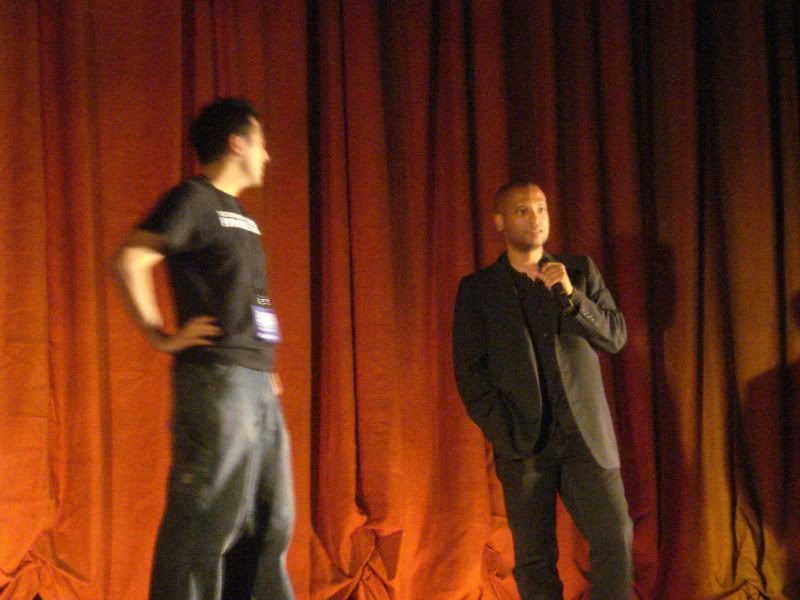 Toronto After Dark Film Festival Director & Founder Adam Lopez with
Black Dynamite
Director Scott Sanders
Black Dynamite
Dir: Scott Sanders (Thick as Thieves)
Cast: Michael Jai White, Salli Richardson-Whitfield, Tommy Davidson, Kevin Chapman, Deidee Deionne, Kym Whitley, Arsenio Hall, Mykelti Williamson, Roger Yuan
USA
A pitch perfect blaxploitation homage, Black Dynamite had the crowd in stitches for the entire film. The 70's vibe runs so strong in the
trailer
, that originally I was convinced it wasn't a new release! But it is, and a hilarious one at that. The dialogue is a beautiful blend of familiar cool cats phrases to pushing well beyond the ridiculous and it all falls into place with style making it highly quotable and perfect for repeat viewings. The comedy lies in so many aspects of the film from the storytelling style to dialogue to action but the real beauty is in the editing. Whether it was image being out of focus or sections of film shown multiple times at different points to glorious bad cuts showing mistakes on purpose from different angles, appearances or even actions, it was a masterpiece to watch it unfold. They even make the fight scenes funny which would feel like a challenge because Michael Jai White who plays Black Dynamite is buff as all get out and looks like he really could take out everyone in the room. But somehow they tweak it to make him look just awkward enough for a win to be unrealistic that which is quite a feat. Michael Jai White's performance is spectacular from smooth and grooving to confused and brooding. Brilliant in every sense of the word, where everything that's wrong feels so right you can't go wrong with
Black Dynamite
.
The Q&A with director Scott Sanders revealed that some of the footage is from the 70's from shows like Charlie's Angels but they also found locations that had no alterations in literally 30 years. Totally awesome. See selections of the
Intro and Q&A with director Scott Sanders here
.
Did you see many familiar faces? So did I. To settle those "Isn't he...?" moments I'll share my of course! moments before and after crawling
IMDb
: Chicago Wind was played by Mykelti Williamson (Bird from Wildcats), Creamed Corn was played by Tommy Davidson (of In Living Colour), Congressman James was played by Tucker Smallwood (Commodore Ross in Space: Above and Beyond), Saheed was played by Phil Morris (Tyrone from The Young and the Restless) and of course Tasty Freeze was played by Arsenio Hall.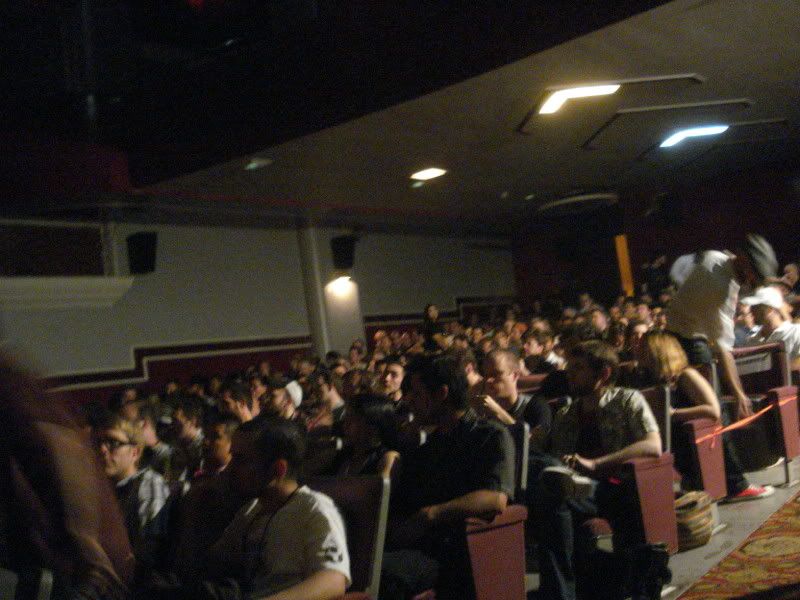 Busy house at The Bloor for Opening Night. Were you there?
The
Toronto After Dark Film Festival
2009 runs from August 14-21, 2009 at the
Bloor Cinema
, Toronto, Ontario, Canada.