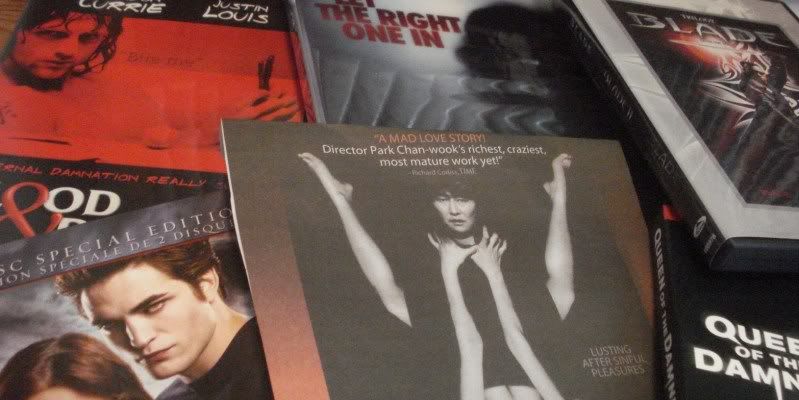 This weeks installment for
Vampathon
: Vampire Film Marathon is now up, film in review is
Near Dark
. I'm currently covering the
Toronto After Dark Film Festival
and happy surprize that there are not one but two vampire films so far so I am including them as bonus reviews for this week. They are the gore-fest of
Vampire Girl vs. Frankenstein Girl
and spectacular UK/Romanian co-production
Strigoi
.
I realized since folks may want to play along, you might need to know what is coming up next! Next week, Wednesday August 26, 2009 I will be reviewing David Cronenberg's
Rabid
and after that is fair game out of these vampire films:
Black Sunday / La maschera del demonio

The Blade Trilogy:
Blade
,
Blade II
&
Blade: Trinity
Blood & Donuts
Bram Stoker's Dracula
Dracula (1931)
Fearless Vampire Killers
The Hunger

Martin
Nosferatu: Phantom der Nacht
Interview with the Vampire
&
Queen of the Damned
I'm hoping to get to all of these and there will be a few more added, but timing and availability do play a part in what will reviewed. See all the details on the reviews original post for the
Vampathon
.
You can play along as we go, you can watch the same film as me, or a vampire film of your own choosing. Leave a comment on the original
Vampathon
post or the review of the same film and I'll link up to your review. Or you can armchair play along and comment as the weeks go by - it's up to you!
*
Vampathon
is a 16 week marathon explore vampire films from
Nosferatu, eine Symphonie des Grauens (1922)
up to the upcoming release of
The Twilight Saga: New Moon