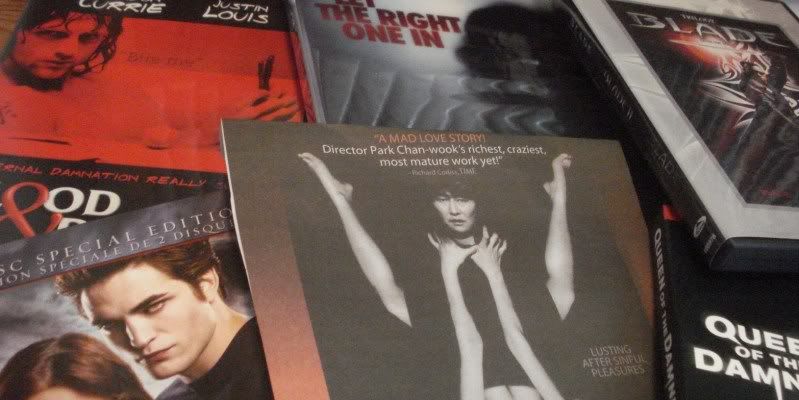 Vampires are all around us. On the big screen, on tv, on the covers of magazines.. they are everywhere.
In 2008 we had 2 hugely successful vampire films:
Twilight
and
Let the Right One In / Låt den rätte komma in
. Although the two films have little in common and both stray from the traditional vampire film we can certainly see from there a resurgence of vampire films.
Upcoming 2009 releases
include Chan-wook Park's
Thirst / Bakjwi
and
The Twilight Saga: New Moon
for vampire films. In
early 2010
we will the release of
Daybreakers
and it is unlikely the vampire films will stop there.
But where did it all start? To answer that question, lets trek down vampire memory land and explore vampire films of past as well as new films that crop up along the way. This vampathon will get started the classic
Nosferatu (1922)
and count down 1 film a week every Wednesday until the release of
The Twilight Saga: New Moon
on November 20, 2009. From tradition to non-traditional, romances to comedies I'll be exploring the trends, the appeal and more. So, grab a garlic necklace and frilly blouse and let's get this party started.
What Films Will I Be Watching?
I'm glad you asked! Films in the running to be explored include:
Black Sunday, The Blade Trilogy, Blood and Donuts, Bram Stoker's Dracula, Dracula (1931), Fearless Vampire Killers. The Hunger, Martin, Nosferatu: Phantom der Nacht,
Rabid,
Interview with the Vampire & Queen of the Damned,
. Timing and availability of the films will play a part in what will be reviewed. To play along feel free to choose from the list or pick any vampire film you like. Recommendations for more vampire films are welcome!
Begins:
Wednesday Aug 5/09:
Nosferatu, eine Symphonie des Grauens (1922)
Wednesday Aug 12/09:
Thirst / Bakjwi
Wednesday August 19/09:
Near Dark
Bonus Films:
Strigoi
,
Vampire Girl vs. Frankenstein Girl
Wednesday August 26/09:
Rabid
Wednesday September 2/09:
Dracula (1931)
Wednesday September 9/09:
Blood & Donuts
Wednesday September 16/09:
Daybreakers
Wednesday September 23/09:
Vampyr - Der Traum des Allan Grey
Wednesday September 30/09:
Black Sunday / La maschera del demonio
Wednesday October 7, 2009:
The Lost Boys
Wednesday October 14, 2009:
Nosferatu: Phantom der Nacht
Wednesday October 21, 2009:
Shadow of the Vampire
Wednesday October 28, 2009:
Interview with the Vampire
&
Queen of the Damned
Wednesday November 4, 2009:
Martin
Wednesday November 11, 2009:
Bram Stoker's Dracula (1992)
Bonus:
Yanggaw
Wednesday November 18, 2009: The Blade Trilogy:
Blade
,
Blade II
&
Blade: Trinity
Ends:
The Twilight Saga: New Moon
- released date: November 20, 2009
Summary:
Vlog - Vampathon: Summoning up the Vamps
You can play too!
Feel free to play along! You can watch the same film as me, or a vampire film of your own choosing. Leave a comment here or on the review and I'll link up to your review. Or you can armchair play along and comment as the weeks go by - it's up to you!
Can't wait for the next review for more vampire goodness? Check out my
vampire film reviews
,
New Moon Mondays
or listen to
Before the Dawn: A Twilight Podcast
.