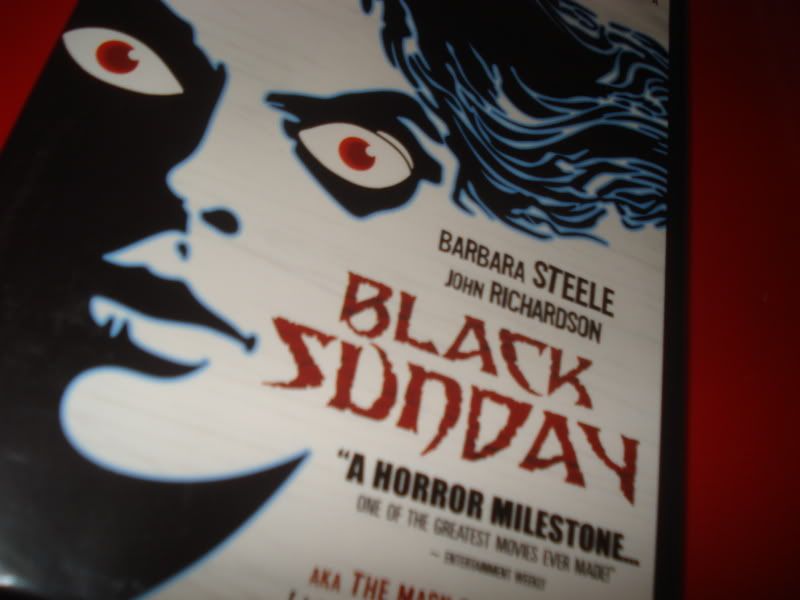 Dir: Mario Bava (Black Sabbath)
Source Material: Short story "The Viy" by Nikolai Gogol
Cast: Barbara Steele, John Richardson, Andrea Checchi, Ivo Garrani, Arturo Dominici, Enrico Olivieri
Italy
,
1960
Seen:
September 26, 2009
Reason to Review:
Vampathon: Vampire Film Marathon
*
Gems like
Black Sunday
are the exact reason I do
marathons
and
to see films lists
, because you never know when you are going to uncover a truly fantastic film. I had preconception of the film other than noting it placed high on a vampire film list. In terms of a vampire film I would say that is stretching the definition a little bit as there are elements of vampirism but overall the film is more in a religious good & evil vein. And yes, I still liked it. Loved it in fact.
It's in beautiful black & white, has a creepy undertone and impressive effects for 1960. There were even moments that grossed me out which I wasn't expecting. Barbara Steele is absolutely fantastic in the film bringing complete and total evilness alive on the screen. Her performance is captivating and steals the show every time she appears. Even thought this was the first time seeing the film, I felt nostalgic about it given the extremely straight forward characters and motivations, the classic settings and it also had a strong adventurous spirit to it which we don't always see in horror. A great film to watch on a Sunday afternoon with a big bowl of popcorn and the curtains drawn.
Also called
The Mask of Satan
Shannon's Overall View:
I love it
I own it
I'd recommend to fans of classic & horror films
Return to Film Reviews
, See all
Vampire Film Reviews
© Shannon Ridler, 2009
*
Vampathon
is a 16 week marathon explore vampire films from
Nosferatu (1922)
up to the upcoming release of
The Twilight Saga: New Moon