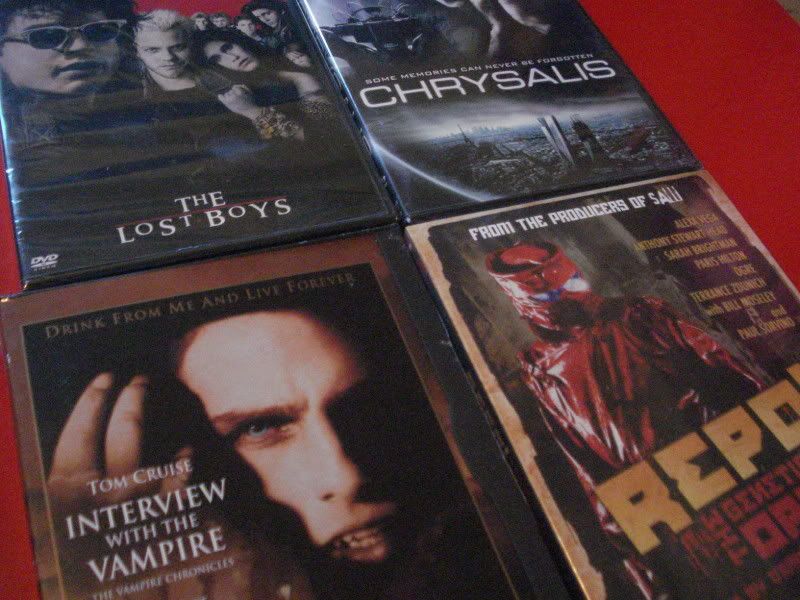 Another month, another
DIY Entertainment Club
! This month was inspired in equal parts of vampires and film festivals.
The Lost Boys
80's classic vampire film with lots of cool boys and a girl named Star. It's also next weeks selection for the
Vampathon
.
Interview with the Vampire
I think I'm becoming a vampire completist or did I just not want ayone to know I own
Queen of the Damned
but not
Interview with the Vampire
? Cat is out of the bag now! Also will be featured as a selection for the
Vampathon
.
Repo! The Genetic Opera
One of the craziest screenings at
Toronto After Dark Film Festival 2008
. I listen to the soundtrack a fair amount and at the time it was on amazon for a steal around $6 so I couldn't say no!
Chrysalis
Great French futuristic SciFi/Action that was one of my faves from
TIFF back in 2007
, which had a Q&A that led me to see the awesome
Eyes Without a Face
as it was inspirational to the film. I'm thrilled to now have it as part of my collection.
Titles available on
Amazon.ca
(Canada):
Titles available on
Amazon.com
(US):